Today is my 45th birthday, and it's also a day for updates. And since I now have a hand me down iPod touch from my son, the photos will all be Instagram. Kind of cool and kind of annoying all at once. (Bonus!)
On the top of today's to-do list is to take my jar of money from the Found Change Challenge to the credit union. My goal had been to find $65 in 2012, (the cost of staying one night at my friend's beach cabin) but I know I'm going to fall woefully short.
However, it's all free money, and I look forward to filling the jar back up again for 2013!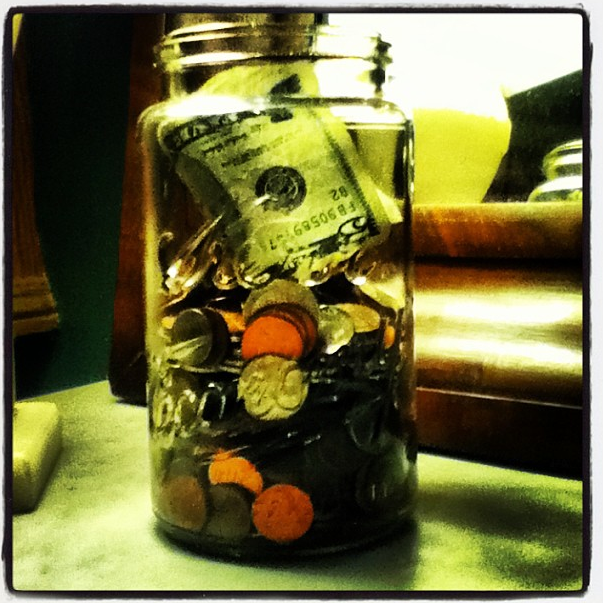 The second photo is of the necklace from last week's Make Do, Repair or Replace gameshow. I went to the nearby beading shop and bought a small bag of jump beads for $1.50. All it took was a pair of needle nose pliers and maybe ten minutes to lengthen the necklace to a non-choke-y length that sits well on the chest without dangling the bottom piece too far into the cleavage.
Because you know, my mother is long past her stripper days. 😉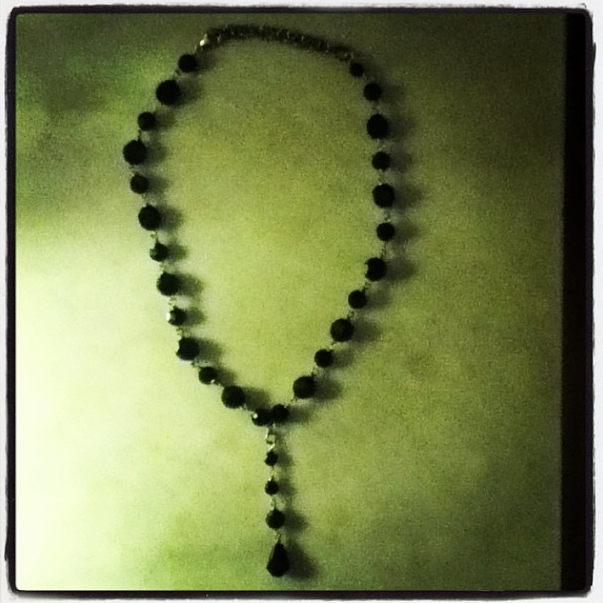 The third photo is of my thrifted midcentury bookshelf that sits in a corner of my living room. This is where I stash my books that are in current rotation. Stuff I'm reading and checked out library materials are close at hand and ready for a quick read.
This is for all the readers who were scandalized by the lack of actual books on my newly styled living room shelves. Worry not, dear Non-Consumer Advocate readers. I do still read.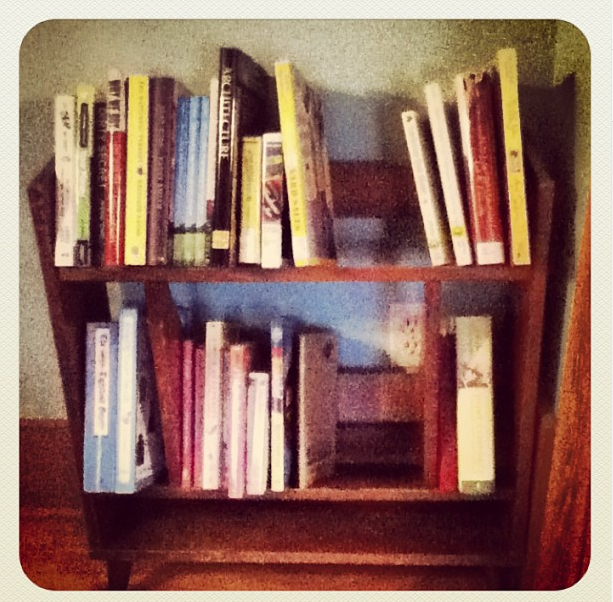 The last photo is of a soap dish tile to install in our bathroom. This is to replace the one that fell, shattering into a million pieces and cutting into my son's leg. I took the freshly replaced kitchen light to the vintage hardware/lighting/plumbing store, and was rewarded with $10 in store credit. I bargained another $5 from the $25 price tag and ended up only paying $10 out of pocket.
My husband is home from work today and will install the new tile. (He must do my bidding on my birthday!)
I am way excited to strike this chore from my to-do list.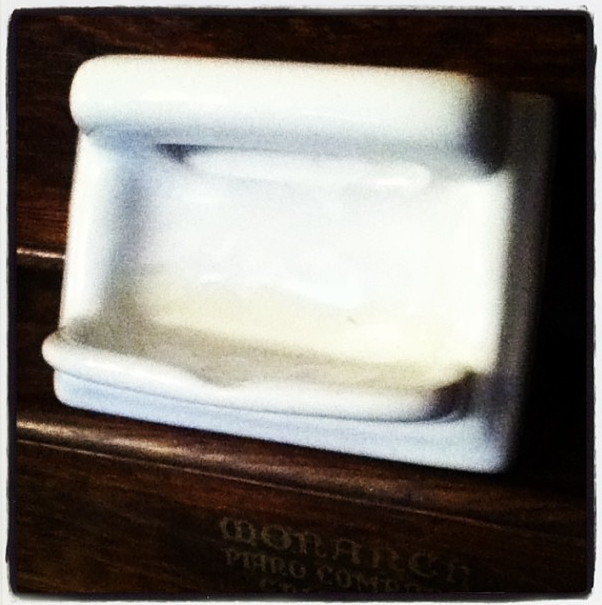 And to answer the rest of the Make Do, Repair or Replace gameshow questions, I will be continuing to make do with the Le Creuset dutch oven, as well as the salad tongs. I was going to snip off the elephant top to even out the pair, but my husband had a surprisingly strong reaction to keep the tongs as-is. So I will let him have his way.
They're salad tongs, people. Not dying on that mountain!
Katy Wolk-Stanley