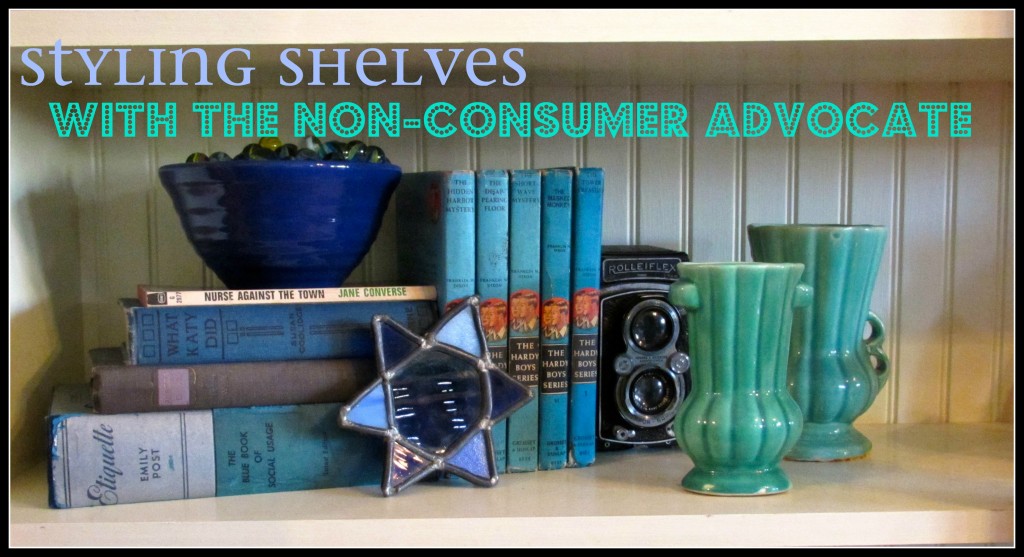 The internet is full of beautifully styled shelves these days. From HGTV's Emily Henderson to Young House Love's Sherry Petersik, there are enough drool-worthy photos and tutorials to make a gal want to clear every shelf in her house just to replace it with fun and engaging new arrangements. (Note — when I say "gal," what I really mean is "womyn,"  as I am a true-blue, card-carrying, flag waving feminist.)
Anyway . . .
The shelves surrounding my fireplace were just itching for a re-style. And you all know that my favorite home decor projects are those that cost nada, zero, zilch. (Note — when I say "nada, zero, zilch," what I really mean is "nothing," as I am a true-blue, card-carrying, flag waving cheap-o.)
Anyway . . .
Here are my shelves before I started the project.
Left side: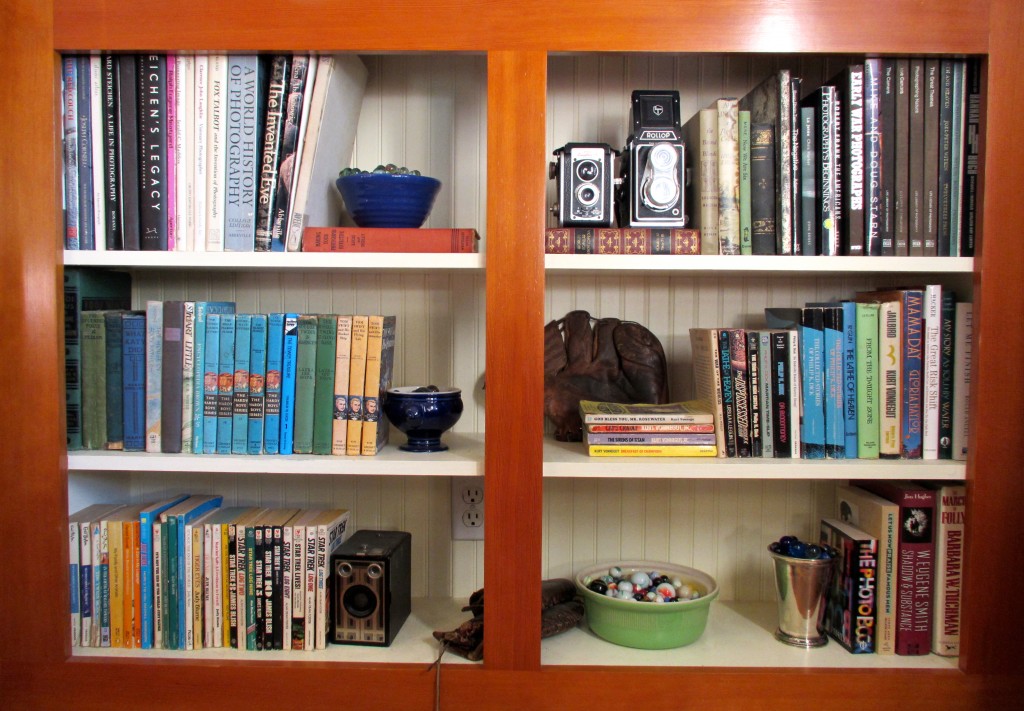 Right side: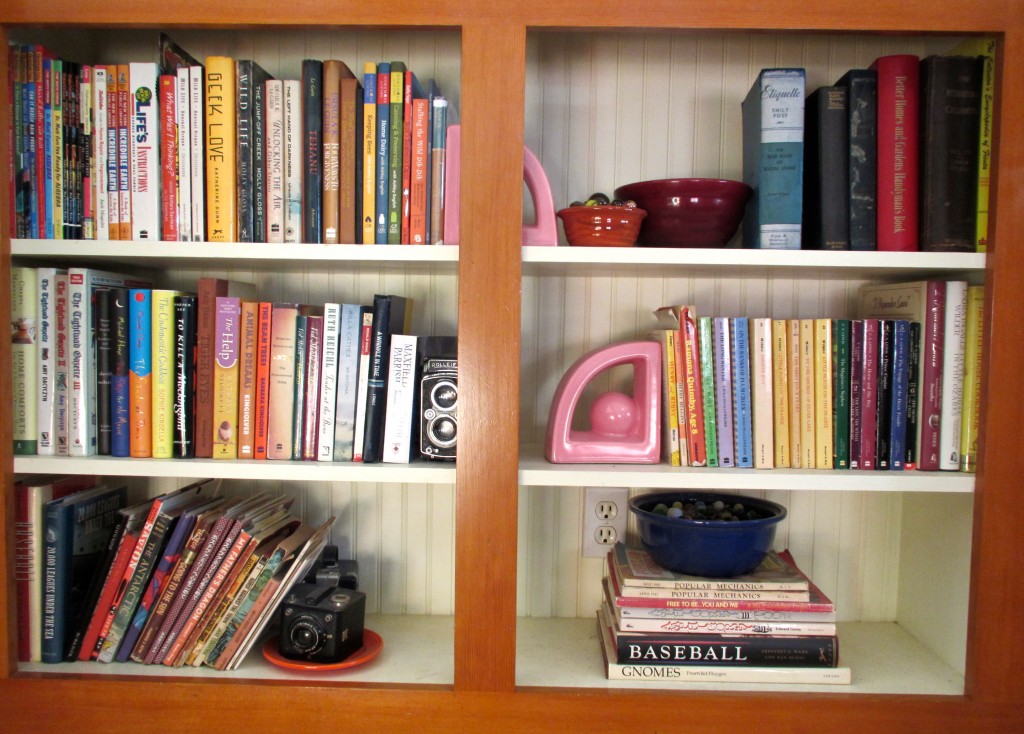 Nothing terrible, just kind of stale. Definitely ripe for a makeover.
First thing I did was to remove all the books, bookends and stray doodads and wipe everything down. I then sorted the books by color and vintage-ness and gathered my bookends, vintage bowls of marbles and some smaller vases and pottery. The shelves are not at eye level, so it was important to keep sight line in mind. I strapped on a library audio book and got to work.
Red books and doodads here, blue books and doodads there.
The first incarnation looked like this: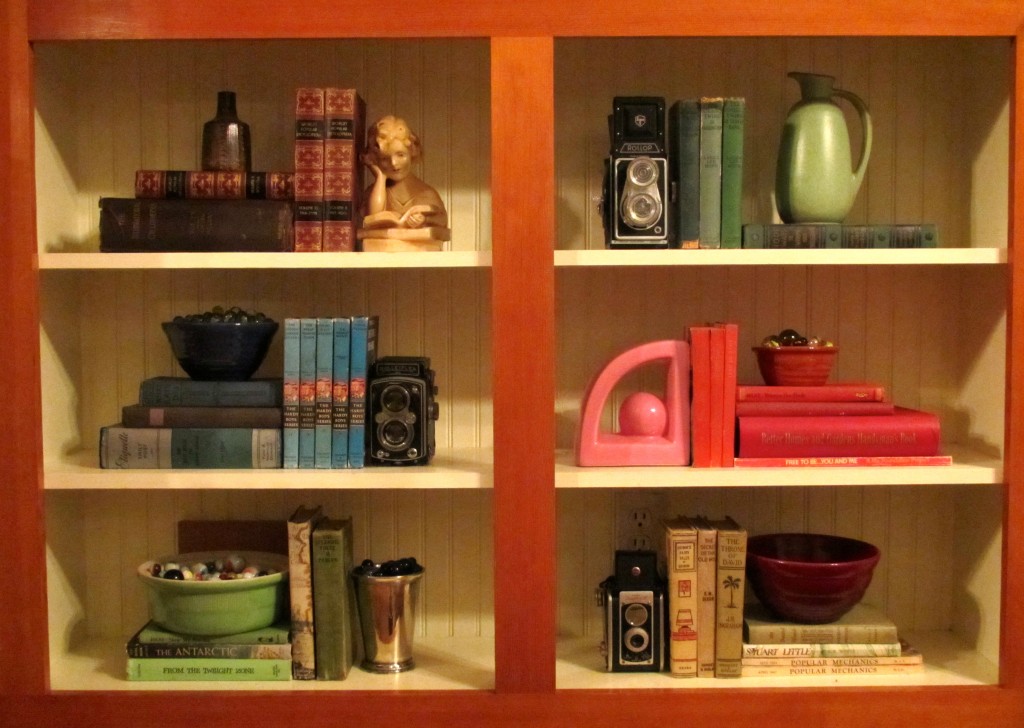 And this: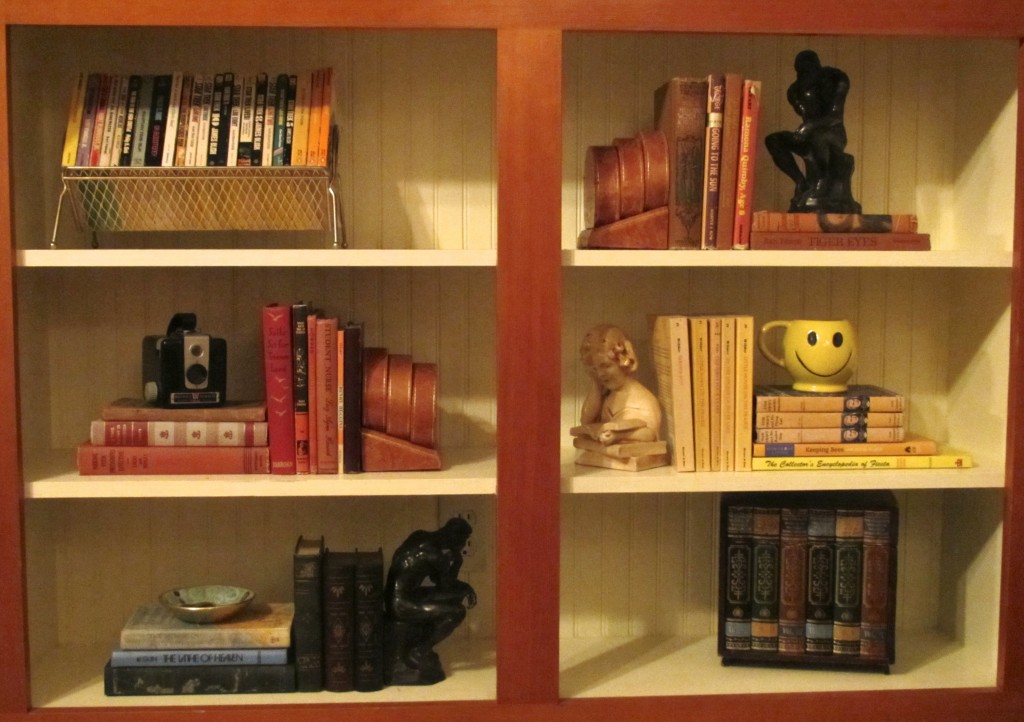 Better, but too literal in their symmetry. I wanted a balanced look without the confines of type-A symmetry.
I got back to work, angling the books, gathering more doodads and looking up my original Pinterest inspiration photos. Stepping back, stepping away and then rearranging a little more.
Here are the shelves in their final stage: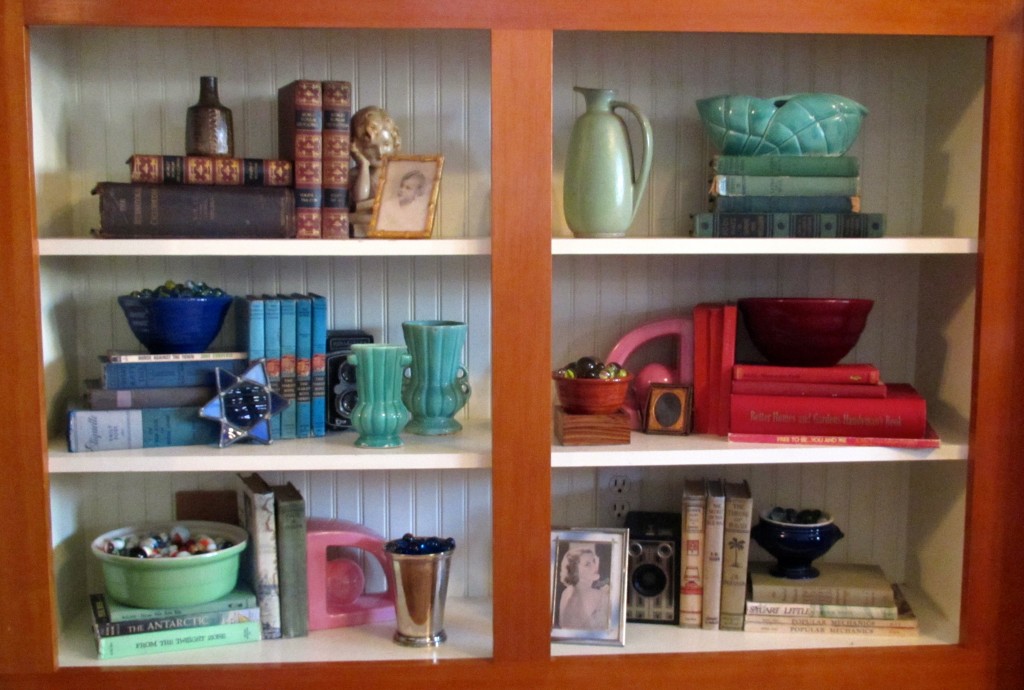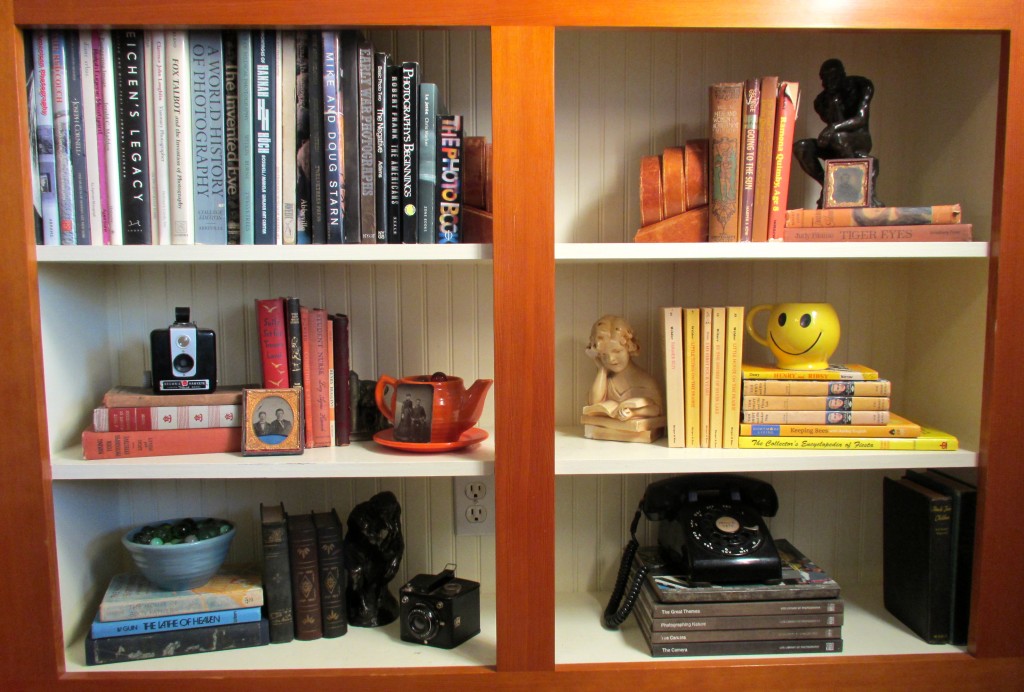 There are two individual shelves that I like the best. The blue one because it features the"What Katy Did" and "Nurse Against The Town" books, as well as a star of David: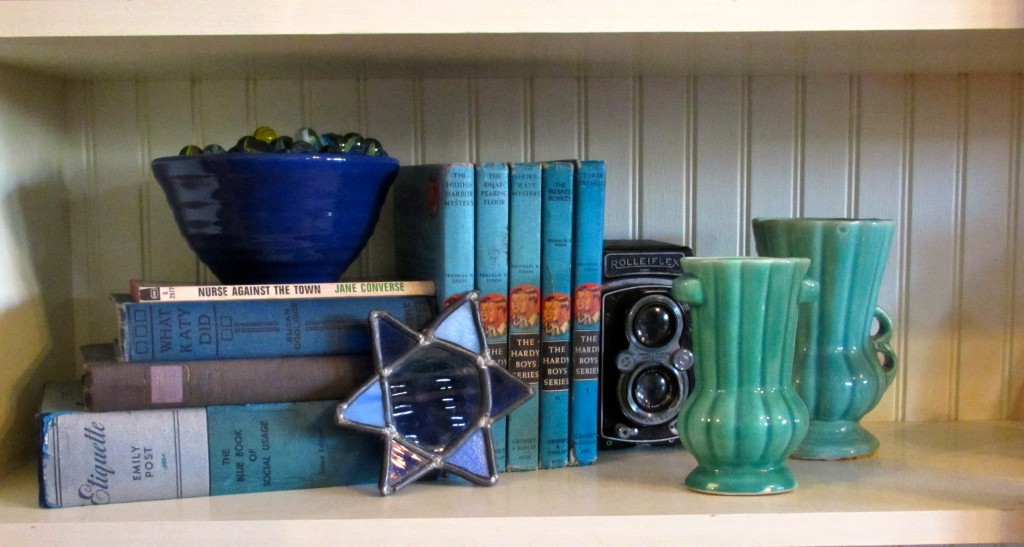 I also like the yellow shelf because of the The Little House books and the smiley face mug. My decorating style often leans too far into the Grandma's Living Room camp, so I try to inject at least a small amount of humorous and contemporary stuff.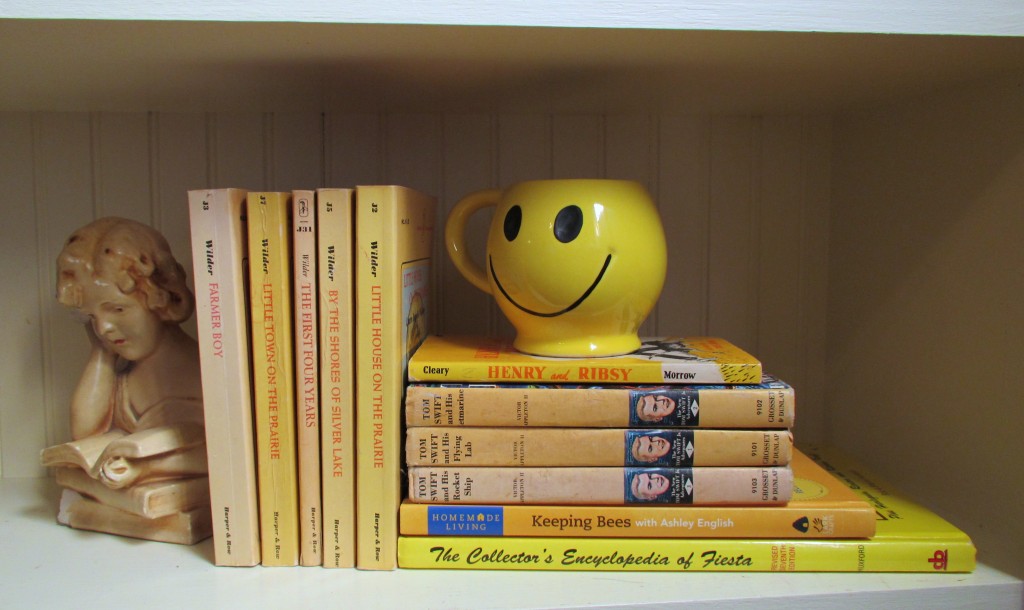 I will likely continue to tinker with the arrangement, as this kind of project is never really done.
So, what do you think? Was it worth the effort? Please share your thoughts in the comments section below.
Katy Wolk-Stanley
"Use it up, wear it out, make it do or do without."
Click 
HERE
 to follow The Non-Consumer Advocate on 
Twitter
.
Click 
HERE
 to join The Non-Consumer Advocate 
Facebook
 group.
Click 
HERE
 to follow The Non-Consumer Advocate on 
Pinterest.