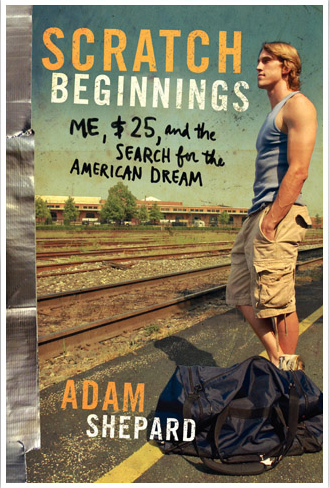 I just finished reading Scratch Beginnings: Me, $25 and the Search for the American Dream by Adam Shepard. In this book, the young author chronicles a year spent in Charleston, South Carolina as he rises from life in a homeless shelter to a comfortable existence with $5000 in savings, a functional car and a furnished apartment.
Shepard's foray into immersion journalism was prompted by Barbara Ehrenreich's Nickel and Dimed: On Not Getting By in America, writing that:
"My story is a rebuttal to Barbara Ehrenreich's Nickel and Dimed and Bait and Switch, the books that speak on the death of the American Dream. With investigative projects of her own, Ehrenreich attempted to establish that working stiffs are doomed to live in the same disgraceful conditions forever. I resent that theory, and my story is a search is a search to evaluate if hard work and discipline provide any payoff whatsoever or if they are, as Ehrenreich suggests, futile pursuits."
And although I really enjoyed Ehrenreich's classic investigation into America's low wage workers, I too had problems with it. I remember wondering why she never pursued group housing options (she always lived alone) or why she never bought a thrift shop slow cooker to prepare her own meals from dried beans. (I recall that she ate at Arby's a lot.)
Shepard was laser focused on meeting his self-set goals, and was smart about pursuing paying work, keeping expenses down and working hard even when that work was wholly unpleasant. (Think picking up dog poop during a hot South Carolina summer afternoon.) And while American policy makers comfortably debate the theoretical issues of poverty, Adam Shepard took the pragmatic approach and put himself, body and soul into his investigation.
Opposite spectrum politicians want you to believe that America's poor are doomed because they're set up to fail, or conversely  that America's poor are that way because they're not working hard enough. Of course, the answer is never so black and white. The answer lies left of center for some and right for others. There is no single answer. Not to mention the issues of layoffs, medical bills, divorce and life's other unexpected goodies. And yes, Shepard is a healthy young white man, but that doesn't mean that his experiment can or should be discounted.
Shepard was able to go from homeless with $25 to housed with $5000 in savings within the span of a single year. And he also writes about a fellow co-worker who at age 25 was able to buy a brand new house employing the same techniques of consistent hard work and sacrifice. He's showing how the American Dream is still possible. It's not easy, but it is attainable.
This is the kind of book that I love, that swirls around in my head after I read the very last word, challenging my assumptions.
I am curious to hear from others who have read this book, (it was published in 2008) or from those who also read Nickel and Dimed and felt that Ehrenreich went in with a defeatist mindset.
Do you think that hard work and sacrifice can still lead to success in life or do you feel that the decks are irreversibly stacked against America's working poor? Please share your thoughts in the comments section below.
Katy Wolk-Stanley