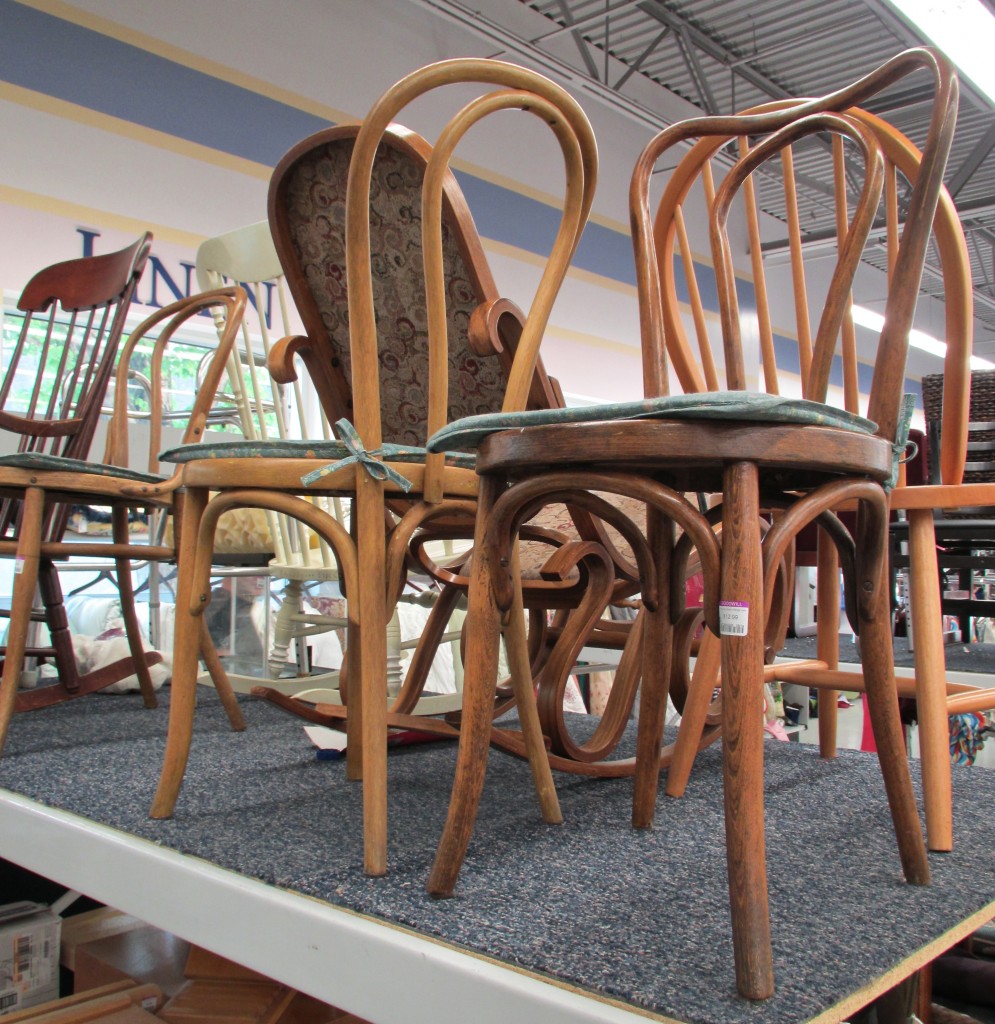 It's time again for Non-Consumer Mish-Mash, where I write a little bit about this and a little bit about that.
Chair Addiction
Regular readers may have noticed that I have a teensy-weensy touch of a chair obsession. I buy them, I sell them, I fix them up and I gaze lovingly at them.
Hello, lover . . .
You know, like HERE, HERE, HERE, HERE, HERE, HERE and HERE.
So it should come as no surprise that a collection of Goodwill Thonet chairs caught my eye yesterday. Priced at $12.99 apiece, I immediately envisioned how great they would look painted bright glossy colors. (This hot pink one is insane!) But then my brain took over and bitch slapped my impulsive nature:
"Why are earth are we considering bring home more chairs? There is barely enough room in the house for the chairs we already own!"
However, I have decided that it would be okay to go back and buy juussst one. (the one on the far right.) You know, for the dining room, our bedroom, the spare bedroom, the laundry room. Oh hell. I'm buying the damned chair, even if I have to screw it to the ceiling.
Maybe a bright sky blue . . .
Update . . . the chair was gone when I went to buy it. S'alright though, as I really didn't need another chair.
The Simple Year is Up For Grabs
Kerry Wright Reifel decided in 2012 that she would do a year-long experiment where her family bought nothing new. Knowing nothing about The Compact, she dove into her project and started a blog titled The Simple Year. (Seriously, how was this perfect domain name not already nabbed?!)
Wright Reifel wrote that:
"So the goal for this year long experiment is to live simply.   The goal is not to do without, I'll still buy consumables (I just couldn't figure out how to live without food, toilet paper and hair color), and we can buy things that are used or repurposed.  Rather than buy replacements for broken or worn items, I'm going to attempt to repair."
However, that year has ended, and Wright Reifel is looking to hand her successful blog over to someone new. Someone who is also looking to do a buy-nothing-new year and she's searching for the perfect blogger. Mind you, she's serious about this, and will want writing samples and a serious commitment.
If you are interested in taking over The Simple Year's reigns, please e-mail Kerry at:
kerry3835@yahoo.com
Non-Consumer Advocate Facebook Discussions
As interesting as I perceive the blog to be, there's often more action going on over at The Facebook Group. Why? Because I am only one person, someone who has a hard time keeping up with blogging since I am gone from the house from 6:30 A.M. – 8:30 P.M. two days per week, plus, you know . . . Mad Men. (I am loving the addition of the actor James Wolk to the cast, and totally called that he was there for Joan.)
Here are just a few recent posts that have been recently bandied about over on Facebook:
"I have been fortunate to always have been in the American "middle class" but my husband came here as a refugee with nothing but a few clothes. His education was interrupted by war and his family has know poverty, but he has been successful in America. At first he took any job he could get- restaurant dish washer, janitor… but after we were married he was fortunate and got a union job and developed skills through experience. But we know that skilled manufacturing union jobs are rare now, he got lucky and has never been laid off or had his job sent overseas. He is also very frugal by nature, not having a need for a lot of stuff, expensive entertainment, new cars, etc."

"Just got back home from moving our daughter out of her college dorm room. I was alone with the car and two big dumpsters. I had always teased the family I was going dumpster diving, so I took a peek in them. The stuff these kids threw out. Saw large plastic cups, oranges, personal products, tote bags, a ream of paper. Everything was either now dirty, damaged, or too deep to reach, bummer…. I managed to score two big boxes of Puffs, still in the store plastic. The school was encouraging the students to donate instead of pitch, hope it worked."

"Does anyone have any recommendations for free (or extremely inexpensive) ideas for outside spaces? We lost all of our outside furniture (which I originally found curbside and repurposed) due to hurricane sandy. We are in a place that has a great outdoor space and we are at a loss over where to start. Living in a very seasonal climate, we do not want to spend a lot of money on furniture and decor that will only be used for a few months. Thank you!!"
Comments and questions often generate dozens of responses. There are thousands of members, so it's great resource for frugal and environmental problem solving. It's a positive community, and I highly recommend it.
Click HERE to join the free group.
Katy Wolk-Stanley