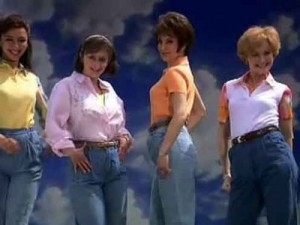 I went out for a day of thrift store shopping yesterday with the singular goal to buy myself a pair of jeans. Unlike the sterotypical American woman, I find zero pleasure in clothes shopping. In fact, I derive negative pleasure in clothes shopping. The net result of this is that I tend to err on the side of not having enough clothing, especially with pants.
So a clothes shopping did I go.
I aimed the mini-van in the direction of a hipster neighborhood, as I figured that the donations would be better.
My first stop was a thrift shop that prices their clothing less than Goodwill, (plus I had a gift certificate) and although I did bring two pairs of jeans into the dressing room, I didn't find anything that either fit or was the style I had in mind.
Next stop was the Goodwill thrift store, where I found three pairs of jeans that looked like they might fit. (Jeans shopping does make me feel like I have body dysmorphic syndrome, as almost every pair is either way too big or way too small!) One pair even had a black tag, which meant it was half price. I went into the dressing room without much faith, but came out with a smile on my face and a half-off pair of  jeans slung over my arm. And not just any jeans, but a perfectly fitting pair of brand new looking Levi's mid-rise boot cut jeans, which in case you were wondering — are not mom jeans.
And the price? $3.49. Cause yeah, they were the half price pair.
Some times it is all in the jeans.
Do you ever buy second hand clothing? If so, what was your greatest score? Please share your stories in the comments section below.
Katy Wolk-Stanley
"Use it up, wear it out, make it do or do without."