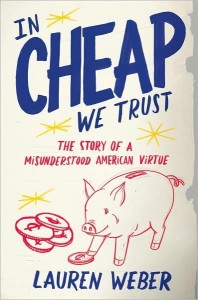 The following is a guest post by Lauren Weber, author extraordinaire of the fabulous In Cheap We Trust: The Story of a Misunderstood American Virtue. (You can find more info at her website www.laurenweber.com.)
Thank you very much to Lauren Weber for writing this pice for The Non-Consumer Advocate, and to her publisher Little, Brown and Company for providing the book for this giveaway!
To win a copy of Weber's book, just describe in the comments section what you do to live your life in a cheap manner. I will randomly pick a winner Wednesday, February 16th at midnight Pacific time zone. Sorry foreign non-consumers, this giveaway is just for U.S. residents. One entry per person please.
Katy Wolk-Stanley
"Use it up, wear it out, maker it do or do without."
In Freeganism I Trust
Visitors to my New York City apartment are usually subjected to a tour of my trash-picking treasures. There's the goo-covered metal table that I lugged home from Chelsea (on a subway and then a bus) and scrubbed clean with a steel sponge; the vintage cotton kimonos my sister and I fished out of a garbage can in the East Village; and the 300-pound antique dental cabinet I dragged 6 blocks home, enlisting the help of several kind Samaritans and sacrificing a toenail along the way.
I've never been squeamish about taking furniture or clothes out of garbage piles. But for a long time I drew the line at dumpster-diving for food. That just freaked me out a little too much.
That is, until I started writing a book about frugal living in the United States. As part of my research, I began going on regular "trash tours" with freegans, a band of anarchists who try to live outside "the money economy" (they squat in buildings instead of paying rent, and scavenge basics like food, clothes and bikes).
I thought I was pretty hip to how much stuff Americans throw away every day. But I was totally unprepared for the amount of food waste – much of it in perfectly good shape – I saw on trash tours. In front of one supermarket, we found a bag filled entirely with muffins, donuts and pastries. All my reservations flew out the window as I stood on the street corner with a cinnamon roll in one hand and a croissant in the other, alternating bites. A few more went into the bag I'd brought along with me.
I was more nervous about the veggies, but then one night I found myself elbow-deep in a bag of lettuce. Sure, some of the bunches were turning brown. But there were plenty of fresh greens in there, and with a little judicious tearing, we were able to hand out a few salads' worth of lettuce to over a dozen people.
At a gourmet food chain called Garden of Eden, employees regularly set out massive black trash bags stacked with the day's prepared foods. On any given night, we might find dozens of containers of soups and sandwiches that had just hit their sell-by date (and I have a feeling markets are skittishly conservative about those dates anyway).
My trash scores eventually included baguettes, bagels, pastries, limes, veggies, containers of hummus, tubs of mascarpone cheese, a sack of vine-ripened tomatoes, an organic cauliflower, a challah bread that I turned into French toast for a few days, fresh sage, walnut bread and cheese-scallion muffins from my favorite organic bakery, a never-opened 10-oz. bar of Scharffenberger's baking chocolate, and sealed bags of parmesan-garlic pita chips thrown out for no apparent reason (maybe a new shipment arrived and the store had run out of shelf space?).
I still occasionally go diving on my own, though I've never fully conquered my self-consciousness (I've even thought of nonchalantly saying to people who stare, "oh, I threw out my wedding ring by accident."). And I'm happy to say I've never gotten sick from anything I found in the garbage, and neither have any of the freegans I interviewed.
So if you can handle feeling a little embarrassed (and, really, isn't the waste the embarrassing part?), think of dumpster-diving as an amazing source of fresh, edible free food. Here are a few tips for novices, gleaned from experts and experience:
Going through trash is legal as long as it's on public property, such as a sidewalk. Dumpsters in parking lots are a little trickier, so tread carefully.
Stay away from household and restaurant trash; stick to markets and bakeries.
Go out after 9 PM, when most supermarkets are closing or putting out their trash.
Bring a friend; there's confidence in numbers, and it turns your outing into an adventure.
Feel the bags first to get a sense of what's in them; often, you can tell if a bag holds loaves of bread, firm produce, prepared foods – or just garbage.
Wear latex gloves if you're nervous about germs or food slime; however, it's a lot easier to judge what you're feeling if your hands are naked (and if you cared that much about germs, you probably wouldn't be rooting through trash in the first place).
Always untie the bags; never rip them. And re-tie them when you're done. Leaving a mess is rude and annoys store managers and sanitation workers.
Bagel shops and bakeries are gold mines. Those signs that say "Baked fresh every day?" That means they're tossing out the leftovers every night.
Bruised fruit and vegetables can almost always be rescued. Think smoothies and stews.
To be on the safe side, do like freegans do and dive as a vegan – don't take meat, fish or dairy (I break this rule occasionally when it comes to cheese).