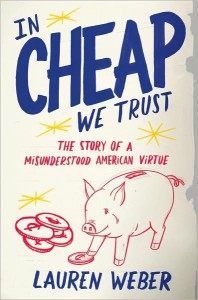 The Non-Consumer Advocate is currently running a giveaway for a copy of Lauren Weber's fabulous In Cheap We Trust: The Story of a Misunderstood American Virtue. To enter, readers have been commenting about what they do to live cheaply, and these comments have been informative, inspired and downright incredible. I normally wait to publish comments after the giveaways end, but a few of the comments were just too good to wait!
Click HERE to enter your comment on what you're doing to live cheaply. Giveaway contest ends Wednesday, February 16th at midnight, Pacific time zone. U.S. residents only.
From Bellen:
I have a degree in Home Economics from the 60's – during Pres. Johnson's War on Poverty – and was taught how to get 5 cents from every penny. So – I buy used clothes, except underwear, and those only on sale. We buy what husband calls 'used' meat and bread – priced to sell, usually 30-50% off, because they are at the sell by date. We shop yard sales, thrift stores, and pick from the garbage if possible – stores in our area use closed & locked dumpsters but sometimes we luck out. We cook from scratch and only eat out if someone's treating or we have a gift card – maybe 6 times a year.

I sew, repair and repurpose anything made of material – an odd kitchen curtain became an apron, a sweatshirt with frayed cuffs became a vest.
My husband can fix almost anything mechanical. We garden in containers, have a rain barrel made from a free 55 gal container, drip irrigation made from free 5 gal buckets and some tubing, have some raised beds made from odd sized not needed hurricane shutters. We buy trees, fruit bearing citrus, from the clearance racks at Lowe's or Home Depot because their return policy works for clearance items also. Our veggies are grown from seed, heirloom when possible, and we are saving seed also.

We rarely buy books and only if they are non-fiction – we use the library constantly, we read the newspapers on line, surf the web for garden sites, frugal sites, and even prepper sites altho not the ones emphasizing guns.

We take advantage of as many free entertainment opportunities as possible including musical acts at a local mall, the beach, local parks, state parks and museums on free admission days.

Our grocery shopping is based on the BOGO deals weekly, store brands and really good sales but ONLY on the items we would normally buy. I follow a rather strict menu that reduces our intake of meat/fish/fowl and increases the veggies and complex carbs. We grind our own WW flour, bake our own bread, rolls, muffins, and have even made our own pasta.

We recently bought a bank owned house needing only a stove and refrig for 1/3 of the purchase price 3 years ago. It has increased in value by $35,000 over what we paid just 9 months ago. We bought our refrig & stove from someone who was losing their home, unfortunate but a fact of life.

Because we are frugal we are able to live quite well on our SS and not touch our other retirement accounts.
From Elizabeth Kountouris:
I too, would love to win this book. Listed below are the things I do in my everyday life to live cheaply, more sustainably and more in harmony with the earth.
1. I live a 15 minute walk away from work, so I gave up my car.
2. I live in a co op where all of us work together and have wonderful apartments. This way we take up less space but have control over our environment.
3. I and other co opers compost our kitchen scraps so that we can use the resulting fertilizer on our grounds.
4. I cook 90% of my food from scratch. I don't grind my own flour but have considered it.
5. I have a community garden plot and grow many of my own organic veggies, and buy others at our city farmer's market to support our local growers.
6. I freeze food for the winter, make jams, pickles, etc so that I know what is in my food, as well as saving mega dollars by doing this.
7. I go to thrift stores first, when I need something, before even considering purchasing new.
From Valerie Heck:
I buy old furniture at the goodwill and restore, clean it up, repaint and add some new drawer pulls if needed. That way the furniture is made of real wood, lasts longer, and it's recycling! I also do all the repairs around the house (I'm the woman in the relationship). I figure I'll give it a try to fix things and if it really can't be done by me I can call someone. So far I've patched drywall, taken down wall paper, put up a rod in the closet, and much more. I love fixing things up myself.
Thank you to everyone who is sharing their cheap living stories, keep 'em coming, you can't win unless you enter!
Katy Wolk-Stanley
"Use it up, wear it out, make it do or do without."