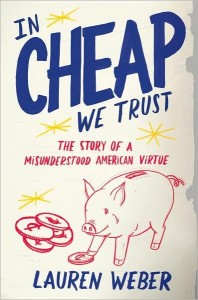 Thank you to everyone who commented on Lauren Weber's In Freeganism I Trust guest post. As always, your input was beyond what I could have hoped for. Unfortunately, I could only (randomly) pick one reader to win a copy of In Cheap We Trust: The Story of a Misunderstood American Virtue.
Congratulations to Elizabeth B. whose comment was randomly chosen as the winner of Weber's book. Here is her comment:
I try to buy used as much as humanly possible. Aside from socks (which to me are investment pieces because I wear them until they just won't stay up any more) and underwear (which I buy at Macy's with coupons), I haven't bought a new piece of clothing for myself in a long time. A lot of my housewares purchases are from Goodwill, too. Books are definitely a guilty pleasure, although I try to use the library as much as I can. Don't get me started on craft supplies; although I try to get a lot of them from the East Bay Depot for Creative Reuse, Joann and Beverly's are my Waterloo.
Here are just a few of the incredible reader comments:
From Kim Caron-Lohman:
1. Stopped buying new books and started using the library! I used to buy all new books from Amazon. Now I use Amazon to search for books and then head on over to the online library catalogue to order for free. Wow, how cool is that? Sorry Amazon!!!

2. Moved in with relatives to weather the current economic crisis. We're living in an area with almost 20% unemployment and my husband is currently unemployed. We're able to share utilities and some food and it's working out great!

3. I started cooking all our meals from scratch and being super careful to buy only what we can use before it goes bad. We buy only what's on a really good sale and plan our meals around those sale items.

4. We stopped paying for services, and now do everything we can ourselves. My son fixes our truck for us, I cut my husband's hair for him, etc.

5. We've become minimalist and have sold many things we didn't need on Amazon, Ebay and Craig's List.

6. Started shopping at thrift stores and garage sales and only buy what is absolutely necessary.

7. I'm learning to Use It Up, Wear It Out, Make Do or Do Without!!!

Like I said, I'm a newbie! Very glad to have found your site – it's a great resource!
From Jennifer H:
I know this has been mentioned, but I find the biggest way to live cheaply is to eat at home.

My husband cooks most of our dinners and has made some wonderful dishes including Greek moussaka and green curry using whitefish. We very rarely have a meal where meat has the starring role. Most of the time we do have meat, but it's in a combination dish with lots of veggies or rice or legumes or all three! There are many weeks that between the two of us, we consume only 1-2 lbs of meat during the seven days.

We always pack our lunches. As a Christmas gift, I bought my husband a food slicer. He loves to cook up hams and turkey breasts and slice them up for lunches. It's so much cheaper than any lunch meat you can buy in the store. I tend to eat meatless lunches, but love the fresh ground peanut butter from our local store. I also tend to bake a lot of cookies and other treats for the lunches, so that we don't have to rely on store-bought snacks.

Both of us love to preserve food. We take full advantage of our neighbor's apple tree by making lots of apple sauce for the winter. (They encourage us to strip the tree. They don't use the apples and just end up having to clean them up). This past fall we made our own spaghetti sauce, salsa, stewed tomatoes and chili base from tomato "seconds" that were being sold at the local farmer's market. It's so satisfying to see the rows of glass jars filled with goodies in your kitchen cabinets. We also make our own jam and tend to freeze in bulk anything that we can buy in season for later use.

We tend to save going out for special occasions. Most of the time what we can make right at home tastes so much better anyways!
From Amy H:
The most recent thing that I'm proud of for "living cheaply" was taking our 9- or 10-year-old blender to a local small appliance repair shop. It had started making horrible grinding noises and didn't blend. The shop owner took it apart, determined it needed a new clutch, put a new one in and now it works great! It cost us only $35 for the part and labor. Since this was commercial-grade blender, it would have been many times that to replace it. I'm mostly so happy about this b/c my husband is not yet anywhere like the cheapskate/frugal person I grew up as, and in earlier days he would have just thrown out the blender and bought a new one. So this is huge progress! 

I also rent textbooks for my grad school classes; compost; don't use A/C or heat (our apt. has radiators); unplug appliances; walk everywhere (or take MUNI); don't get haircuts very often and never color my hair; stopped buying music and listen to pandora.com instead; get books from the library. Where we could be more frugal — moving to a smaller apt. in a different part of town. Haven't managed to bring ourselves to make that decision yet, so we're trying to appreciate our space and our neighborhood as the wonderful things that they are every day.
From Michele H:
Here's what I do to live frugally:
–If I am going to buy something new (including groceries and services), I try to combine a sale and a coupon to get the best price.
–I try to let my toddler have real (and cheap or free) experiences like splashing in puddles instead of buying him more toys. I also potty-trained my son earlier than is average nowadays, in part to decrease the laundry load (we used cloth diapers) and diapering expenses.
–I read online reviews for products, but then try to buy them used–or at least at the best price. If you decide you are going to buy something online, at least look for a Facebook fan page first: they often have coupon codes.
–I use the library and inter-library loan instead of buying books (for both myself and my son).
–We use cloth napkins and real plates and cups all the time.
–My husband and I plan ahead for major purchases and keep an emergency fund for home repairs, etc., so as not to charge anything we can't pay for at the end of the month.
From A. Marie:
I'm joining the conversation a bit late, and most of the specific suggestions I would have offered have already been put forth by other folks, so what I'm submitting is a matter of attitude adjustment I first learned 35 years ago. I was attending an Orthodox Jewish wedding (as a Gentile friend of the bride) and happened to overhear a conversation between the mothers of the bride and the groom. Groom's mom kept kosher and other religious practices more strictly than Bride's mom, and evidently there had been a mildly heated debate about this. (Bride's family and I came from a part of the country where there wasn't a lot of external support for keeping strict kosher.) I strolled up just in time to hear Bride's mom say, "Well, we all keep kosher just as much as we can do. I do it as much as I can, and you do it as much as you can." I've always thought this was a very sane and balanced approach to many things. In the context of thrift, we all do as much as we can–and while we should always be trying to do more, we shouldn't beat up on ourselves because we're not doing as much as we think other people are doing, either. I think Amy Dacyczyn made a similar point in one of her books.
I especially love this last comment, as we all practice frugality in a different manner, yet we're all doing our best.
Thanks again to everyone who took the time to share your personal stories of cheapness. And a big deserved shout out to Lauren Weber and the fine folks over at Little, Brown and Company.
Katy Wolk-Stanley
"Use it up, wear it out, make it do or do without."