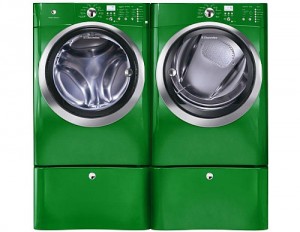 Part of how I feel good about following The Compact and that by only buying used, I'm able to choose much higher quality items than I would be able to otherwise afford.
My family's Goodwill clothes are Nordstrom instead of Target, and the boys wear Vans brand sneakers instead of Payless Shoe Source. This may sound elitist, but the higher price usually translates to higher quality, which means that our stuff lasts longer.
But what about when it is okay to settle for less than the very best?
I have a friend who feels that it's very important to buy the very best for her family. Her tricycles are Kettler, her vacuum cleaner is Dyson and her son's clothes are Hanna Andersson. She would sooner shave her head than load up a cart at Goodwill.
My instinct is always to strive for the higher quality item, but I'm also aware that a lesser quality item will often do the trick. An example of this is my washing machine, which I bought for $45 from Craigslist around ten years ago. In my dream world, I own a high efficiency front loading washer in metallic apple green with hot rod-style flames that lick up the sides. In reality, my washing machine has been a boxy white number, which was most likely manufactured in the mid-1970's. (The faux-computer-style lettering is clue #1.)
But this make it do washing machine is completely functional, even though I'm fully aware that it uses more water than a high efficiency model would. Unfortunately, the closest approximation of my dream model is currently on sale for $1222.49. (I do have a recent model clothes dryer though, as current ones are far more energy efficient.)
My mother owns three guest cottages, which translates into a lot of sheets and towels to wash, and her washing machine was simply not heavy duty enough to keep up with her needs. So she went to the appliance store and bought a high efficiency metallic red set and offered up her old machine to me. Hmm . . . it wasn't my dream machine, but it was certainly newer than my Carter administration era washer.
So out went the old-old machine and in came the new-old machine.
The new machine is great! It may be twenty years old, but it spins the loads much drier than my old one which means less time to dry in the dryer or on the line. (An important factor in our damp climate.)
Maybe someday I'll own the washing machine of my dreams, but until then I'm completely content to wash my family's clothes in a perfectly functional white box of a washer.
I don't have to own the very best.
Are you are able to be satisfied with less than the very best, or do you strive for the best-of-the-best? Please share your thoughts in the comments section below.
Katy Wolk-Stanley
"Use it up, wear it out, make it do or do without."