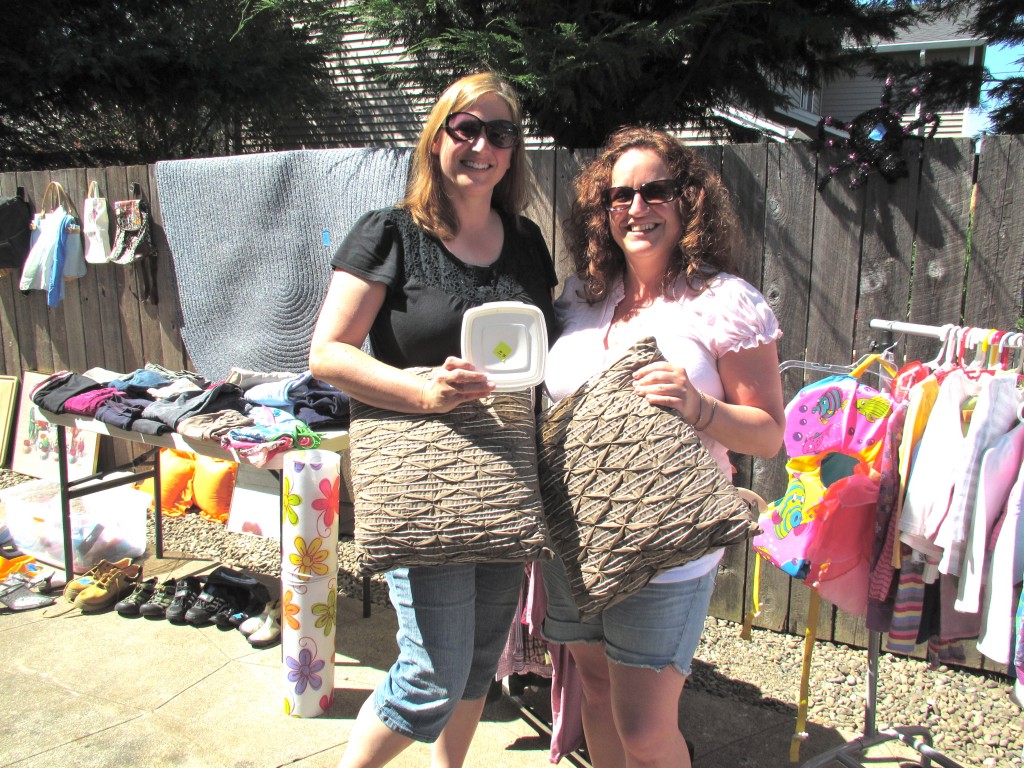 I wait all year for the sun to come out in Portland, Oregon. Not because I can finally hike, bike and rock climb, but because with the sun comes Garage Sale Season. Driving my son to go hang out with a friends, I passed dozen of signs for garage sales which set my heart aflutter. However, I already have a house full of stuff, so I have to be judicious in my quest to find more, more, more.
I had seen on Facebook that my friend Darcy (who I like to call "Mr. Darcy" ) was hosting a garage sale, so I decided to swing past her house for a shop and a chat. It was towards the end of the day, so business was light and we got to catch up on each other's lives.
What did I buy? A single square Rubbermaid container for $1 that's exactly like the one my husband uses on a daily basis for his work lunches. (I figured it would be nice to have a backup one.) And when I was leaving, I noticed a neighbor's free pile from which I plucked two throw pillows to use on my patio loveseat which sits on my front porch.
Ahh . . . garage sale season.
It's the best!
Katy Wolk-Stanley
"Use it up, wear it out, make it do or do without"
Click HERE to follow The Non-Consumer Advocate on Twitter.
Click HERE to join The Non-Consumer Advocate Facebook group.
Click HERE to follow me on Pinterest.