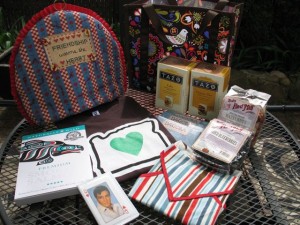 I wrote a few weeks ago about the challenge of finding gifts ("omiyage") for my son's Japanese host family that would neither clutter up their home, nor set me back an arm and a leg. To have these gifts be locally grown or produced was also a goal, as I have no interest is giving gifts that are cheaply produced in another country. I really don't like items that are produced for the souvenir market, so my foray into the Made in Oregon store was short indeed. Anything heavy or breakable was also out of the question.
A tall order? You betcha!
Here's what I ended up buying:
Handmade tote bag from my neighbor and co-worker Lorraine: $15
Two handmade fabric sandwich/snack wraps, also from Lorraine. $8
Handmade tea cozy made with vintage linens that read "Friendship warms the heart" and "Love is the heart in blossom" from my mother. Free!
Two boxes of Tazo tea, which is a local company. $6.40
One package of naturally wild "Premium Smoked Salmon." $3.50
Three bars of Dagoba organic chocolate in the Chai flavor. $4.50
One package of roasted Oregon hazelnuts and one of dried blueberries from Bob's Red Mill. $11.50
One Oregon T-shirt with a green heart in the center. $15
One handmade Elvis Presley card holder from a local shop $11
The last two items are for the 9th grade host sister, the rest is for sharing. I know I may have gone overboard, but I know from experience what a huge commitment it is to host other people's children. When I have done it, I end up taking an entire week off from work.
I used a half-off coupon for the blueberries from my Chinook book, (thank you Lindy!) and bought the salmon and chocolate at the Grocery Outlet, using a Chinook Book coupon as well.
In all I spent $74.90, which is a fair chunk of change. But I feel like I chose great gifts that will be both appreciated and enjoyed. This is a situation where being a non-consumer and being cheap definitely do not intersect. But my son will spend a week with this family, and I'm sure they'll spend much more than $75 on him.
So arigato gozaimasu Japanese family whose name I don't know. (The information is written in Japanese) Enjoy my son, and take good care of him.
Katy Wolk-Stanley
"Use it up, wear it out, make it do or do without"