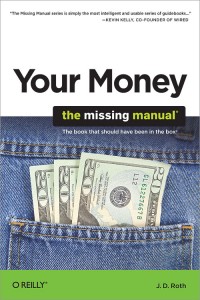 I spent last evening at the downtown Powell's bookstore listening to J.D. Roth of Get Rich Slowly talk about his new book Your Money: The Missing Manual. A lovely time was had by all, and a number of interesting topics floated to the surface. But the one that really got my mental gears whirring was:
What is your financial goal?
For the last year, my financial goals have have been:
Continued debt reduction.
Putting aside the $1500 or so for my son would need for his class trip to Japan.
Saving enough money to pay for a web designer and self-hosting for The Non-Consumer Advocate.
I have met all these goals while sticking to my somewhat odd method of using regular paychecks for debt reduction, and any extra money (like the garage sale or maid service money) for the Japan trip and web designer.
So what are my goals now? I'm still working on debt reduction, (%%$###$ money pit of a house!) and I suppose I should start tucking money aside for my younger son's 8th grade trip to Washington D.C., as well as my older son's 11th grade summer trip to Sapporo. (That kid is sooo freakin' lucky!)  And once I get the debt abolished, I suppose I'll start investing beyond my 401k. Beyond that, I'm not really sure.
What I really want to know, is what is your financial goal? What's the motivation that keeps you working hard and living in a non-consumer manner? Are you saving for early retirement or living on a single income to stay home with your kids? Trying to be a millionaire by age 30? Please share the carrot at the end of your stick in the comments section below.
Katy Wolk-Stanley
"Use it up, wear it out, make it do or do without"
P.S. This book is really good and worth the $21.99. It's a great resource to have at hand and has tons of great financial information.