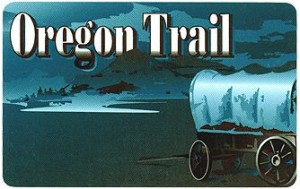 Today is day eleven of the June Food Stamp Challenge, and it's starting to become routine. Like yesterday, I drove to my mother's neighborhood in order to help clean one of her rental cottages. This commute takes me by a Trader Joe's store, and I usually pop in as I consider myself to be the Supreme Empress of batching my errands. However, there weren't any particular items that I needed from Trader Joe's, so I drove past without a second glance. This is a huge break from my routine, and probably saved me a good ten dollars in impulse buys. (I do love their hummus, but I have a can of garbanzo beans that I gleaned from a rental cottage last week!)
I am also looking in my cupboards to see what needs to get used up, rather than thinking about what I need to buy.
Yesterday I used up:
Two boxes of Cheerios that each hold held a small amount of cereal.
A bag of marshmallows.
The last of the electric blue frosting from my son's birthday party. (Yes you guessed it — I made frosted Rice Krispie treats as a special after school snack for my rather surprised sons. I included that handful of Cheerios.)
The last of a jar of mayonaisse. (Tuna salad sandwiches in the school lunches.)
The last of a container of bleu cheese crumbles.
The last of a head of lovely organic red leaf lettuce.
The last of a jar of marinara sauce, to which I added a can of organic canned tomatoes and a can of tomato paste. (The canned tomatoes were left behind by someone at one of my mother's rental cottages.)
A cut up orange that went to school in a school lunch and then came home again.
It may seem like an odd hobby, but I get a very satisfied feeling knowing that something got completed used up rather than become stale, rotten or simply forgotten.
I did bring home a few items from my mother's rental cottage, that I will also use up. This food is free, and I have no qualms about working it into my family's diet.
Here's what came home with me yesterday:
Half of a quart of 1% milk.
Half of a pint of whole milk.
A quarter bottle of red wine.
A quarter jug of nice orange juice.
This food was left behind by very nice people who were renting my mother's rather pricey cottage. I am not a germ-o-phobe, and have no qualms about the food safety issue here.
I guess this would be the "Use it up" in the whole "Use it up, wear it out, make it do or do without!"
Are you becoming more aware of using up your food? Please share your thoughts in the comments section below.
Katy Wolk-Stanley
"Use it up, wear it out, make it do or do without"