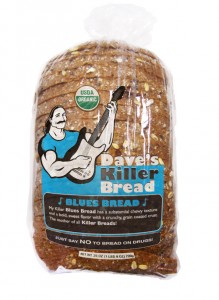 Today is day twelve of the June Food Stamp Challenge, and all is going well. My family has been enjoying very nice meals on our $101 per person per month food stamp budget. We've  spent $142.78 so far, which includes stocking up on items that we'll be eating far into July. Our $404 budget tallies down to $13.47 per day. $13.47 x 11 = $148.17. So I'm $6.61 under budget.
I'm actually hoping to come in significantly under budget, but a fair amount of the money spent so far has been stocking up on items when they were super on sale, which is simply how I shop. (For example, I won't need to buy cereal, flour, sugar or tuna again for at least a month.)
Just yesterday I stopped at the Dave's Killer Bread "Breadquarters." I used the Groupon coupon that I bought last week, ($10 store credit for $5) and was able to buy six loaves of bread plus a package of buns for $7.20, ($12.20 total) which is a screaming good deal! This fantastic bread normally sells for $4.50 per loaf. It's organic, vegan and frankly —  addictive. And my freezer is now chock full of bready goodness!
However, this was a case where I could have gotten a better deal ($2.10 per loaf instead of $2.60) had bought a dozen loaves. And this made me think about how there are deals to be had if you can buy in bulk, but the initial cash outlay can be a deterrent to those on a tight budget. I was able to buy the bread for $1.74 per loaf, instead of $4.50. But if I didn't have the $12.20, then I would have had to either cough up the $4.50 or buy a cheaper, less nutritionally sound loaf. (Although . . . I wasn't able to buy the dozen loaves due to freezer space, not a monetary issue.)
I am at a point in my life where I don't have to think twice about having enough money to buy food for my family. If there's a great deal to be had, I can take advantage of it. Even if that means spending more money in the short term.
There are other ways in which my financial stability equips me to live less expensively. I have a computer and internet access at home, which allows me to print coupons, read money saving blogs and get daily e-mails from Groupon in the first place. (Although this was the first time I actually bought one.) I have a reliable car and can buy large amount of food at once, and can go across town to take advantage of different deals.
I also have a well paying job as an RN that allows me to work part-time, thus freeing up the time and energy to take the time to shop in the somewhat labor intensive manner that I do.
Those working full time but low wage jobs are going to have a much harder time freeing up the money or energy to take advantage of money saving opportunities.
A great book that takes an in-depth look at how those living in poverty have a hard time getting ahead is Barbara Ehrenreich's Nickel and Dimed: On Not Getting by in America. In this book, the author spent time working in various low wage jobs, and is a fascinating read.
Have you had a hard time getting ahead because you've been unable to take advantage of food deals? Please share your thoughts in the comments section below.
Katy Wolk-Stanley
"Use it up, wear it out, make it do or do without"