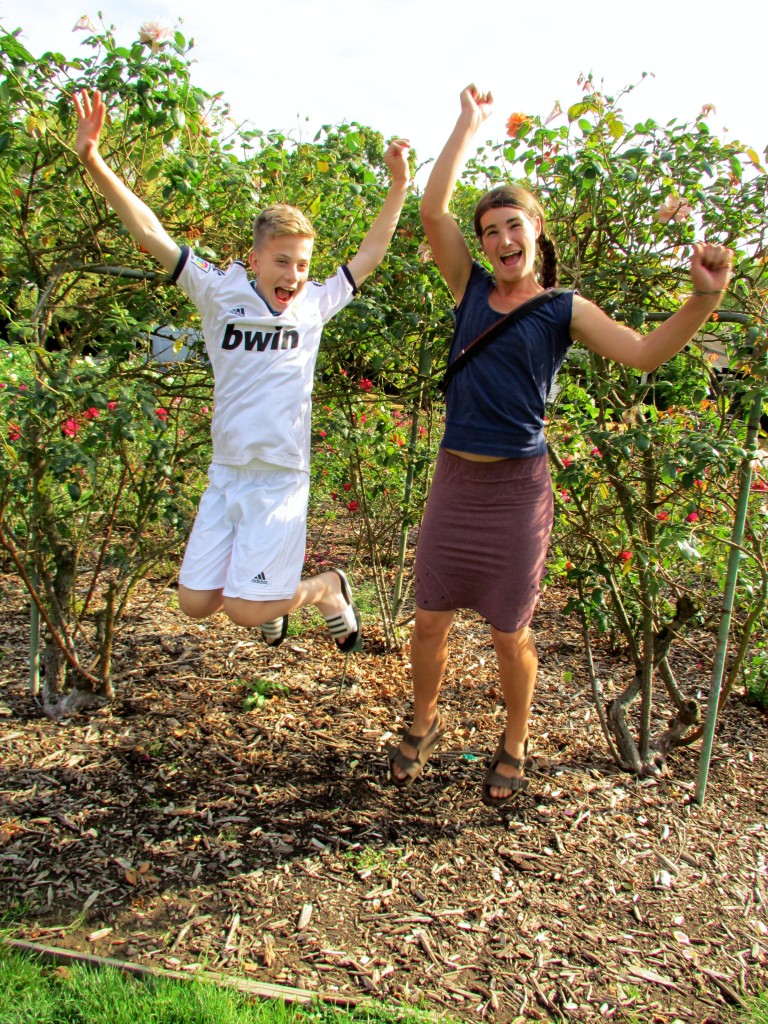 Although it may make me sound a bit single minded, you would be hard pressed to find even one day of my life that isn't focused on frugality. This isn't as joyless as it sounds, as I have a radar for taking advantage of all the great cheap opportunities in life.
Just yesterday I:
Made dinner from my own pesto, which used up the last of some parmesan cheese left behind by one of my mother's guest cottage tenants, some gifted pecans and basil from the garden. The noodles were actually from our bulging stash of Japanese food, which my husband seems to buy without realizing that we rarely cook with them. I had worried that the flavors would not pair well, but all was good. I also mixed in some over-ripe tomatoes that my sister brought over from her organic community farm.
Took my sister and younger son to Grand Central Bakery, where pumpkin muffins were free if you mentioned their Tweets for Treats program. We also bought drip coffees and make sure to leave a nice tip.
Walked around the Ladd's Addition neighborhood, whose rose gardens make me proud to live in The Rose City.
Walked over to our neighborhood block party, where I spent a couple of lovely hours chatting with neighbors I knew, and meeting ones I hadn't. (The block next to me is three blocks long, so I always meet new people at these parties.)
Washed and hung up my towels, which always make me happy. (So pretty on the clothesline!)
There was nothing earth shattering about the day, yet it was all so perfect. Time spent with family, delicious meals and getting to know the people in my own neighborhood is exactly what I love to do with my time.
And the above photo? A graphic of family deprivation. 😉
What frugal activities have you been doing lately? Please share your stories in the comments section below.
Katy Wolk-Stanley
"Use it up, wear it out, make it do or do without."
Click HERE to follow The Non-Consumer Advocate on Twitter.
Click HERE to join The Non-Consumer Advocate Facebook group.
Click HERE to follow The Non-Consumer Advocate on Pinterest.