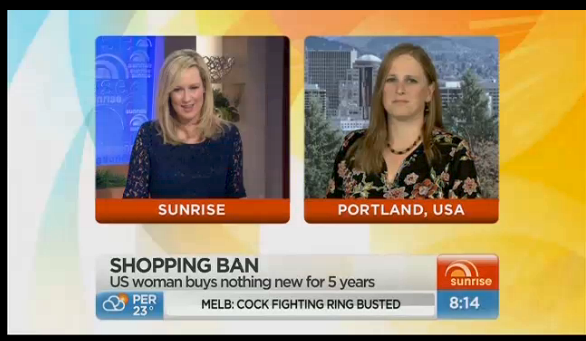 Yesterday was a fun day day for me. Not only did I get to do a short appearance for the Australian breakfast show Sunrise, but I also got to take my sons with me to the studio since it was a weekend. They sent a car for me, and arranged it so far in advance of my actual appearance time that the people at the Portland studio had no idea of who I was or why I was there. But that was okay, as we ended up with a tour of the local ABC affiliate station and had time to goof around a bit.
My entire TV segment was just a little over four minutes, which went by quickly. I'm pretty happy with the interview, although I did get a bit rambly when answering a few questions. The Sunrise show did not mention the name of the blog, so I made sure to say it LOUDLY and CLEARLY at the end of the interview. 😉
Thank you to the lovely Mel B who interviewed me, and everyone who worked to make this interview possible. And of course, a big welcome to all my new Australian readers!
Click HERE to watch the interview.
And make sure to enter my Happier at Home giveaway which ends tonight at 9 P.M. P.S.T.!
Katy Wolk-Stanley
"Use it up, wear it out, make it do or do without."
Click HERE to follow The Non-Consumer Advocate on Twitter.
Click HERE to join The Non-Consumer Advocate Facebook group.
Click HERE to follow The Non-Consumer Advocate on Pinterest.