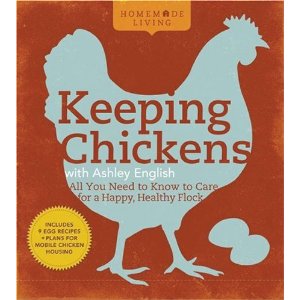 Congratulations to Sue Smith, whose comment was randomly chosen to win her an autographed copy of Keeping Chickens with Ashley English: All You Need to Know to Care for a Happy, Healthy Flock. In all, 85 readers wrote their dreamy poultry plans in the comments section. Not bad, considering what a niche interest chickens are.
Thank you to everyone who entered this week's giveaway, you are the best mother-cluckers (and fathers) a blogger could hope for. Click here to read all the fan-cluckin'-tasic comments. Cluck.
Katy Wolk-Stanley
"Use it up, wear it out, make it do or do without"
Sue Smith:
"We have 6 laying hens at our B&B here in Kona Hawaii, and they are a kick! At the present time, Goldy is setting on 12 beautiful blue eggs trying to hatch them. She sneaked into the shrubs near the spa and laid her eggs one by one until she got the urge to incubate them. We finally found out where she was when we trimmed the plants. Not sure how long it will be for the chicks, but it takes 21 days to hatch from the time she stays on the nest continuously.
We also have 2 Rhode Island Reds, Penny and Sparkle, 1 black feral hen, Coffee, and 2 Auracana mix hens Bluta and Jenny. 2 lay big brown eggs, one lays a dark olive green egg, 2 lay white eggs, and Goldy is our blue egg layer.
I have many stories about my chickens, and we have a lot of fun with them.
Aloha, Sue"
"I had a pet chicken when I was a child that I raised from a chick. Her name was Chickenelli and she was tame and I loved her. Then one day "she" started crowing at four in the morning. I lived in surburban Miami and she had to go. It was the saddest day of my life up until that time. I've always dreamed of having a chicken again and would love to win an autographed copy of the book."
Maggie O:
"This reminds me of a joke… So a chicken walks into the library, goes up to the Librarian and says "book…book…book." I can't remember the entire punchline, but it's something about her friend the frog saying "read-it…read-it…read-it." Anyway, I've read-it and I'd like my own copy of the book…book…book, please! Thanks for the opportunity." 

"I have no chickens, but our coolest friends do.
Some of the eggs come in such pretty colors too.
Urban homesteading is a fun way to have your own zoo."
"Ashley English is one of my reasons for swallowing all my fears and getting chickens! We bought 3 laying hens who'd not had a happy home, and now they are all feathered and fat and happy and so funny to watch! They lay big, beautiful brown eggs, each one a day! I love my biddies, and hope to free-range them one day…but there's wandering dogs and hawks here… *sigh*"
Penelope:
"Well since you mention chickens, I woke up like I'd been pushed off the bed this morning at 3:23 am. I'd been dreaming about chickens and that I'd found half my flock torn apart by raccoons, piles of feathers, odd limbs. It was really horrible. Then I thought about my real flock. Half of them sleep safely tucked away in the fancy new coop we just built for them but the other half refuses to go in for the night. Instead they roost in a pine tree. They get up too high for me to have any chance of catching them but I know that one night a raccoon will discover their secret and my dream will become reality."
"Neat! My husband is building a barn/garage (barage) this winter, which means we'll finally have somewhere to keep chickens (my mother-in-law dropped some teenage chickens–not even cute little chicks–at our house one Easter morning a few years ago and suggested that we keep them in the basement when we took them back). We get our eggs from a nearby farm, but it would be nice to just walk outside to get them."
Eric Gottlieb:
"I live in midtown Memphis and have been thinking about getting chickens for several years. A bunch of my friends have them now. I'm hoping to take the plunge soon. I'd love to see my flock scratching around in my compost pile."
"I'm a huge backyard chicken enthusiast. I go for some of the crazier looking breeds that aren't the best layers but I love to look at them. This year I took the big leap to chicken farming poultry. For someone who had hardly every cut into a piece of raw poultry it was definitely a learning curve (a very gross learning curve)."