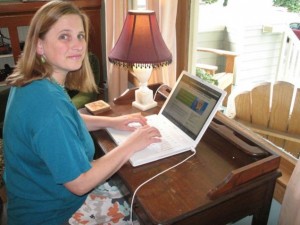 The role of a blogger is unique. I write an almost daily personal essay, which while not exactly soul baring, still opens my life up to thousands of strangers. You all know that I'm a Portland, Oregon labor and delivery nurse, parent to 12 and 15-year-old sons, frugality geek, green living enthusiast and large house/simple living wannabe.
There are of course areas of my life that I do not write about. I am deliberately vague about my husband and sons, and try not to share my bad moods, which are inevitable. Truth be told, I probably share too much about some areas of my life, and not enough about others.
But here's the thing, I want to know about you.
Are you male or female, do you live in the U.S., and if so what area? Do you have a blog, kids, chickens? Are you frugal, how about green? Are you a hip twenty-something or a seasoned sixty-something? A hundred things in your house, or a hundred things on your coffee table? Do you read The Non-Consumer Advocate regularly, or are you a first time visitor? Did you come to frugality out of choice or unexpected life changes? You get my drift.
Please share your stories in the comments section. If you read this blog but never comment, today is your day. It's time to turn the table around and let you share your life.
Katy Wolk-Stanley
"Use it up, wear it out, make it do or do without"