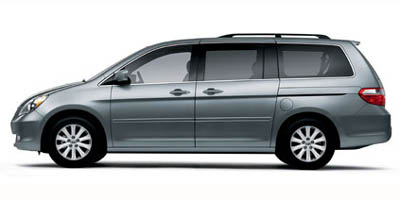 My husband and I are just starting a conversation about going from two cars down to one. And frankly, this makes me nervous. It's not that our neighborhood isn't walkable, or that Portland, Oregon doesn't have great public transportation, but it still seems slightly undoable. However, I do get a free public transportation pass through my workplace.
We currently drive a 2005 Honda Odyssey mini-van and a 1997 Subaru Outback.
The Honda Odyssey is great because it seats eight people and can fit an enormous amount of stuff in the back. It's also super comfortable and trouble free. And I don't know about your kids, but my kids do better on car trips when they have a little elbow room. We've owned this car since it was brand new and it has 36,500 miles on it. The safety ratings on this car are the best of any mini-van, (which is why we bought it) and it has a gas saving feature where it goes from six to three cylinders when it hits a cruising speed. This package came with leather seats and a built in DVD player. Because the car is so freakin' big, it has a number of dings and scratches which I need to get taken care of. I have a bad back and driving this car feels like steering a Lazy-Boy through town.
The Subaru Outback just hit 100,000 miles and appears to still be going strong. It seats five people, has cloth seats and smells a little funny on the inside. (My husband thinks a homeless person spent the night in it while he was at work last year.) It's a four wheel drive, which when we need it comes in very handy. This car may have a few dings and scratches, but because it's an older car we don't freak out about it as much. Driving this car feels scratchy.
My husband and I both work, and our sons both play soccer. My husband has biked to work in the past, but he dislocated his elbow a couple years ago biking over a railroad track and hasn't enjoyed cycle commuting since. His work hours are erratic, and often have him not coming home until 8:00 P.M. or leaving for work at 2:30 A.M. My workplace is too far to cycle, although I could take the bus. However, I would have to catch the 5:54 A.M. bus. Right now, I drive to work and leave at 6:35 A.M., so I suppose it's not that big of a difference.
I wonder how we would get the kids to their two different soccer practices, which run concurrently. I wonder what we do if I wanted to take the kids to the beach or to Mt. Hood for a weekend.
Our high school age son takes public transportation back and forth to school, which is free. Our middle school age son takes a district school bus. Although, he has to picked up two days a week when he stays after school for Japanese tutoring.
I am aware of options such as Zipcar, which allow you to borrow a car without paying for insurance or gas. There is one parked a couple blocks away, so this would actually be a decent plan B.
With all these thoughts swimming around in my head, I took the bus yesterday to pick up a few staples at Trader Joes. I ended up waiting awhile for the bus to come, but I had a good book in hand. Of course, I chose this experiment during daylight hours on a bright and sunny afternoon.
I think we are going to spend a month pretending we have only one car and see how it goes. It will either be much easier or much harder than we anticipate.
Has your family figured out how to get by with a single car? Please share your ideas in the comments section below.
Katy Wolk-Stanley
"Use it up, wear it out, make it do or do without"