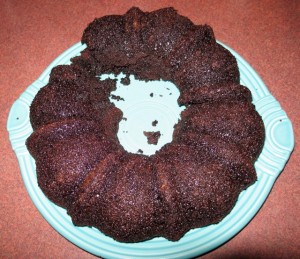 Today's post will be pretty short. I'm actually stealing a moment during my 15-year-old son's birthday party. It's a casual party, with just a handful of friends, a lot of snacks and an excursion over to an old-timey arcade. (They have Skee-Ball!)
As easy as this sounds, I ended up making the cake not one, not two, but three times! The first batch of homemade chocolate cupcakes turned out all collapsed in the center, which I attributed to undercooking them. (I was preparing a meal for nine people at the time, so my mind was elsewhere.) The second batch was a cake, not cupcakes as I no longer had enough paper liners. This cake also collapsed and refused to budge from the pan, and then came out in pieces. At this point I realized that my oh so brag worth organic, fair trade unbleached sugar was not to be used for baking! So this morning I went out into the rain and bought a can't screw it up cake mix.
Luckily, the assembled masses devoured last night's mess up cupcakes, and I'm saving the ugly but still tasty cake for the party guests. (seriously, they are 15 and 14-year-old boys not Martha Stewart!)
Anyway, gotta go!
Katy Wolk-Stanley
"Use it up, wear it out, make it do or do without"