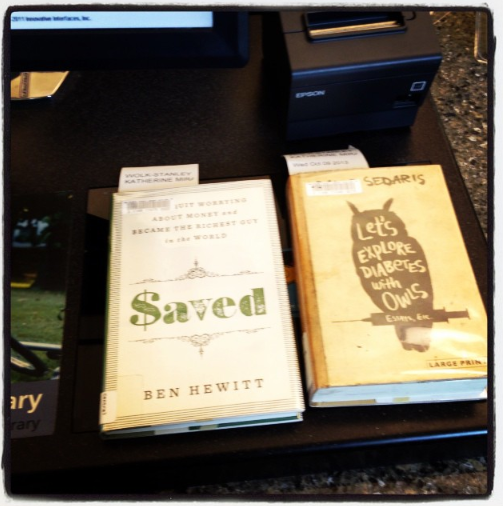 I have written before about the connection between happiness and having something (or somethings) to look forward to. And sometimes these somethings happen spontaneously, but more often than not they have to be deliberately and consciously created.
Right now I am really looking forward to taking my younger son to New York City for my nephew's Bar Mitzvah. Yes, this is far from a frugal endeavor, but that's not all that I'm looking forward to.
I'm also looking forward to:
Eating tonight's dinner in front of the fireplace. My husband is out of town for the weekend, so it's just me and the boys. The last few days have been very chilly, which I see as the perfect excuse to make a roaring fire in the fireplace. I'm not sure yet what I'll make for dinner, but I'm thinking either homemade chicken soup or pasta with homemade kale pesto. Either way, super cheap and super yummy.
Choosing a Redbox movie with the kids. I have a code for a free movie, (MCPC413S) so we can snuggle up and watch a recent release.
Diving into my fat stack of choice library books. Right now I have Let's Explore Diabetes With Owls, How I Quit Worrying About Money and Became the Richest Guy in the World, Cheap: The High Cost of Discount Culture, A Perfect Mess: The Hidden Benefits of Disorder  and Farewell, My Subaru. (BTW, bonus points to anyone who got the "fat stack" reference.)
Taking advantage of today's sunny weather to hang a load of laundry.
My probable return to NYC the week of the 23rd to film an appearance on a national TV show. (Not going to announce it until it's sure thing, and right now it's only at 93%!)
Note that all of these things are either free or almost free, (The TV show would pay my travel expenses) and nothing is complicated or out of reach for most Americans.
The thing about happiness is that you have to decide to take control of it yourself. No one else will do it for you.
What are you looking forward to? Please share your thoughts in the comments section below.
Katy Wolk-Stanley