I was reading on Kveller this morning about How Family Purim Went Down for the Almost Divorced Mayim Bialik, and I was struck by how the practical (and wealthy) Bialik put the costumes together for her family.
"For both boys, as we have in the past, we secured items for the costume which could be used as "regular clothing" throughout the year. Tintin wears a white collared shirt (we used the boys' Shabbos shirts), a blue sweater (thank you, expensive but wonderful Hanna Andersson catalogue), brown pedal-pushers (plain brown sweatpants tucked into knee-high sport socks), and dress shoes (Fred wore his Shabbos shoes, Miles wore saddle shoes)."
That's right, this famous yet practical mother tried her best to pull costumes together from what she already had and clothing that could be worn the rest of the year. Bialik could have easily bought the stars and the moon for her young sons, but instead she went the frugal route to avoid the waste of clothing to be worn once and never touched again.
This reminded me of costumes my family has pulled together throughout the years. The Michael Jackson costume my older son wore a few years ago that included a pair of Goodwill penny loafers that still get used once a week or so, and this skeleton costume my younger son wore in second grade: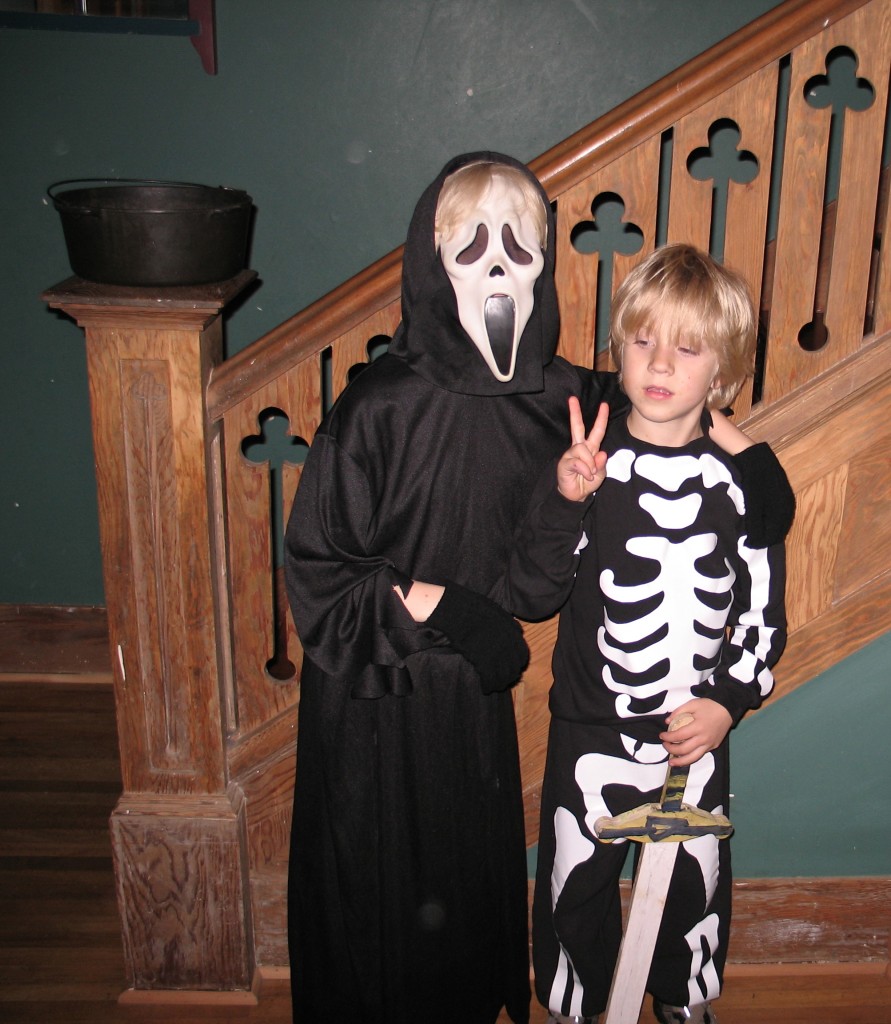 I don't remember where I got the idea, but the entire costume was constructed using black sweatpants, a black turtleneck and a roll of white contact paper, from which I cut the bone shapes. At the end of the day, we peeled the bones from the garments, and voilá, my son had comfy yet practical clothing that he then wore until he grew out of them. And my older son's costume? It was from our dress-up bin.
The mindset of working to avoid single use items is not common in our culture. And I'm guessing it's even more rare in the Hollywood culture. Not only is it expensive to buy something that has that single use, but it's also entirely wrong. Wrong because of what it took to manufacture these products, but also wrong because this practice clutters our homes with stifling and unnecessary stuff.
So whether it's Purim, Halloween or simply a Friday, please think twice before you buy single use items.
Katy Wolk-Stanley