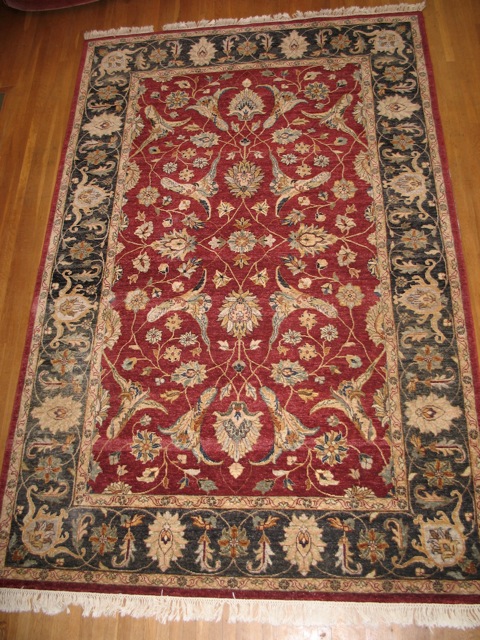 I have an on again, off again series on The Non-Consumer Advocate called Fabulous Frugal Finds. It's quite simple. Readers send in pictures and descriptions of their fabulous frugal find and I publish them. We've seen some very cool stuff, but it's been awhile since I've solicited for submissions.
But I came across the fabulous frugal find of a lifetime, and I want to sing it from the mountaintops. I have been keeping an eye out for a nice oriental rug for years and years. I always glance over at the rugs when I go to thrift stores, but I'd never found anything that really floated my boat. That is, until Saturday. The day that will forever be known as:
"The day I found that I found the brand new, 6′ X 9′  hand knotted wool oriental for for $49.99." (Minus my 5% Goodwill Club Card discount.)
I'd been using a hand me down acrylic rug which sported a precise iron shaped burn that pretty much dictated my furniture placement. It looked okay, but I knew it was crap. It attracted cat hair and dust like nobody's business, and truth be told, was kind of too big for the space.
I am guessing that it would cost at least $700 to buy this rug in a regular store.
I can now die a happy woman. Because this non-consumer is all about buying high quality/beautiful items that last forever and are as close to free as possible.
Do you have a Fabulous Frugal Find to share with The Non-Consumer Advocate community? Please send me your photos and description at nonconsumer@comcast.net and you too can sing it from the mountaintops.
Katy Wolk-Stanley
"Use it up, wear it out, make it do or do without"