A few years ago my friend Sasha knitted me a beautiful scarf. The yarn is buttery soft, and the pretty blue colors brighten up Portland's oppressive grey weather. It's really long, which makes it super versatile. I'd been admiring the on-trend look of infinity scarves, so I hatched an idea to sew the scarf's two ends together to create my own one. I figured if I didn't end up liking it, I could always pick the stitches out.
So I walked over to our bin of outdoor accessories and dumped everything onto the ground. I looked at the gloves, scarves and hats piled into my entry and I had to laugh. Why? Because both of my sisters knit and crochet, which means that I'm the Imelda Marcos of hats. And the funny thing is that while I truly appreciate my sisters' knit hats, I actually prefer a store-bought fleece hat that I picked up in 1992. (Look, I even added a cute felted flower to it!)
C'mon, you know the hat. I'm wearing it in every freaking winter photo that's ever graced this blog.
Recognize it?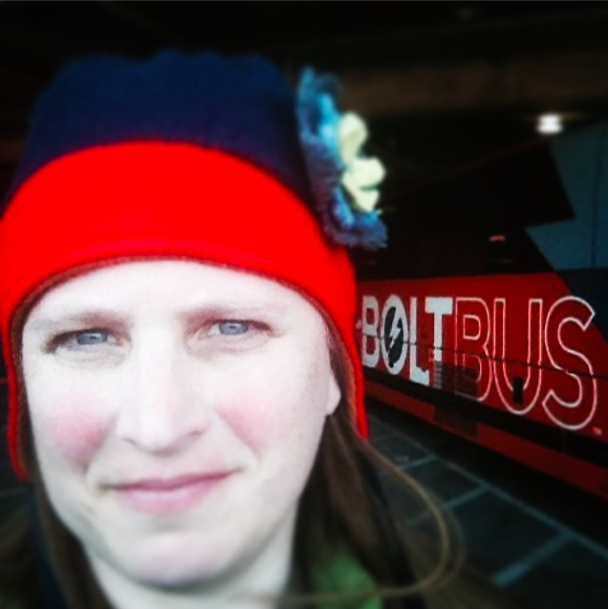 A true dyed-in-the-wool minimalist would choose the single hat they wear and donate the excess. But I've never claimed to be a minimalist. I live in a big house and actually have the space to hold onto nine (yes nine!) extra hats. I do get rid of meaningless extra stuff, but these hats? My sisters created them for me, and they are knit with meaning.
Since I was in a semi-decluttering groove, I moved onto the closet, where I pulled out the coats and held them up one by one so my husband could make his own decisions.
Here's how it went down:
"That's the coat I wear when I'm coaching soccer in the rain."
"That's the coat I wear when I'm waiting in line for Timbers soccer games."
"That's the coat I wear for cold weather formal occasions."
"That's the coat I wear when I'm bicycling in the rain."
"That's the coat I wear for work."
"That's the coat I wear for watching soccer indoors."
And on and on . . .
In the end, my husband let go of two coats and kept thirteen. Thirteen coats! I teased him by saying I was going to start a new TV show called "Coat Hoarders," and that there would be very sad music that played over his segment.
But here's the thing. He somehow wears all these coats, and we do have space for them.
Me? I have one rain jacket, one decent fleece coat and one scrappy one for when I'm working in the yard and likely to get smeared in mud. Three coats. And when it's super cold out, I layer one fleece and the rain coat. And to balance my excessive haberdashery, my husband owns just three winter hats. One from when he was a teenager, and then two Timbers knit hats.
Sadly, I was unable to locate the scarf. I doubt I lost it, which means it's probably hiding in plain sight. Maybe it's just hidden in one of my husband's coats.
Coat Hoarder, coming soon to your local TV station!
Just because I work to keep my house decluttered and free from the excesses of life doesn't mean I'm not allowed to hold onto the nine hats that my sisters knit for me. There are no rules in simple living, and anyone who tells you otherwise is not living in the real world.
Do you keep an minimum of possessions in some areas, yet hold onto a maximum in other areas? Please share your thoughts in the comments section below.
Katy Wolk-Stanley
"Use it up, wear it out, make it do or do without."