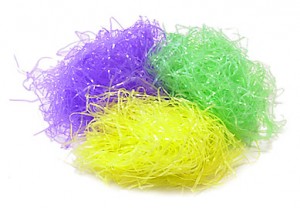 As long time readers know, I'm not one to shy away from a strong opinion now and then. And as much as I abhor the hate mail that this will invariably bring me, I'm going to go out on a limb and commit myself to another inflexible statement.
I hate plastic Easter grass!
I hate the way it feels on my fingertips, I hate the way it wraps itself around the inside of the vacuum cleaner and I'm certainly not a fan of its plastitude. (Wow. I've said it, and I feel so unburdened. Such catharsis!)
I know some people grow their own wheat grass from seed as a beautiful homage to nature, but that would require foresight and planning ahead. Two things that are not exactly in my repertoire.
I have a alternative Easter basket filler that I find to work out really well, which is whole peanuts. Not only do the peanuts look great in the baskets, but they're a healthy addition to the not-so healthy Easter diet of jelly beans and chocolate. I buy the low sodium variety, (which is still pretty salty) but I don't worry about it since we hardly ever eat salty snacks and none of us have heart problems.
The rest of our Easter is completed with long ago bought thrift store baskets, a small gift (my younger son will get a from Goodwill Starbucks Easter bunny bear, the older one a Buffalo Exchange $5 gift card.) The plastic eggs are from a co-worker who years ago gave us her surplus and a chocolate Peter Rabbit bunny from The Dollar Tree.) No fuss, no muss.
The best part is that when the kids have finished gorging on their Easter treats, the shells go into the compost and there's not of the nasty, stringy easter grass snaking its way under the couch and into the cats.
I think the Easter bunny would approve.
Do you have Easter traditions to share? We are not Christian (I am Jewish and my husband is nothing) so our Easter traditions are wholly about the bunny. Please share your ideas in the comments section below.
Katy Wolk-Stanley
Use it up, wear it out, make it do or do without"