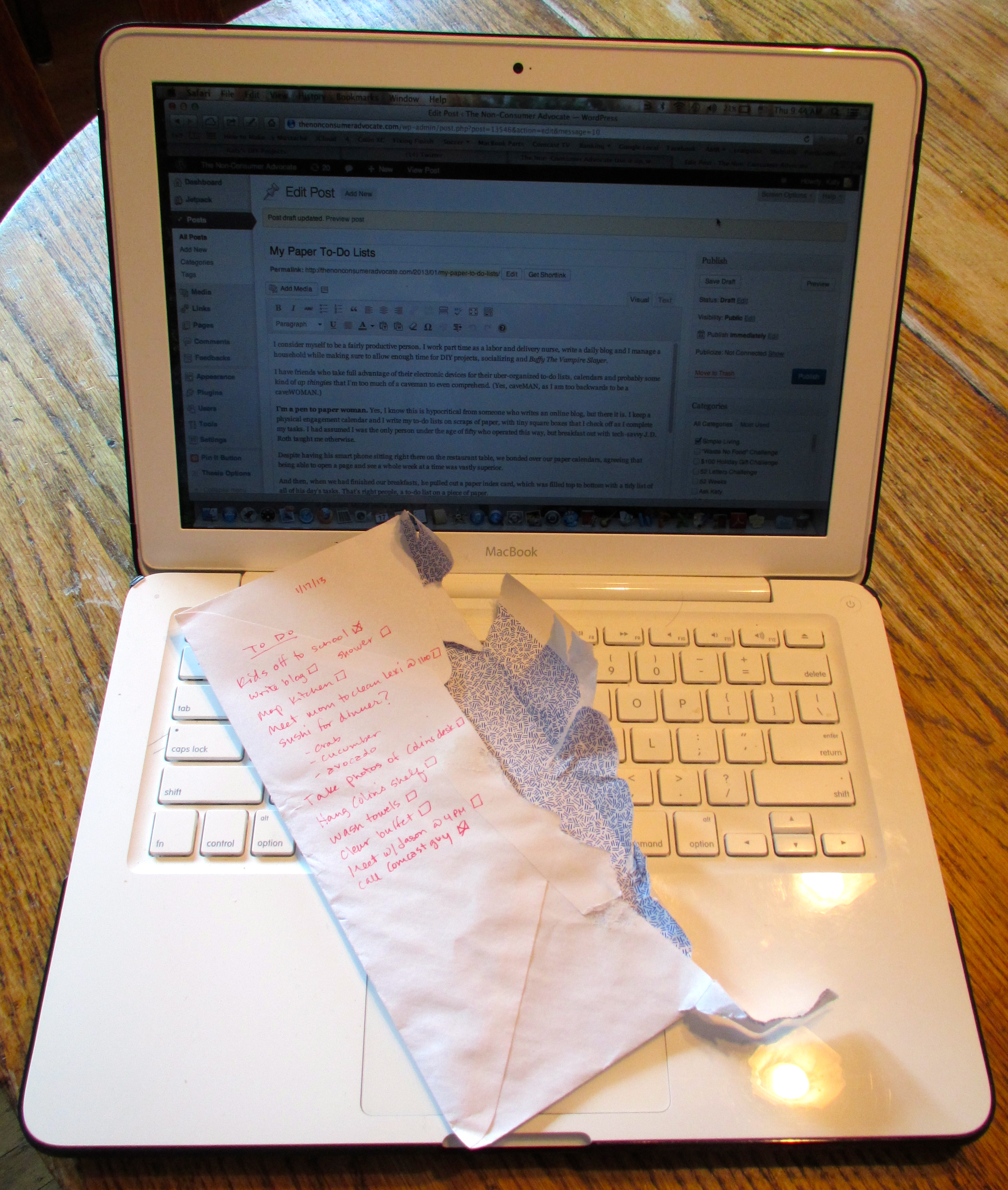 I consider myself to be a fairly productive person. I work part time as a labor and delivery nurse, write a daily blog and I manage a household while making sure to allow enough time for DIY projects, socializing and Buffy The Vampire Slayer.
I have friends who take full advantage of their electronic devices for their uber-organized to-do lists, calendars and probably some kind of ap thingies that I'm too much of a caveman to even comprehend. (Yes, caveMAN, as I am too backwards to evolve into a caveWOMAN.)
I'm a pen to paper woman. Yes, I know this is hypocritical from someone who writes an online blog, but there it is. I keep a physical engagement calendar and I write my to-do lists on scraps of paper and old envelopes; with tiny square boxes that I check off as I complete each tasks. I had assumed I was the only person under the age of fifty who operated this way, but breakfast out with tech-savvy J.D. Roth taught me otherwise.
Despite having his smart phone sitting right there on the restaurant table, we bonded over our paper calendars, agreeing that being able to open a page and see a whole week at a time was vastly superior.
And then, when we had finished our breakfasts, he pulled out a paper index card, which was filled top to bottom with a tidy list of all of his day's tasks. That's right people, a to-do list on a piece of paper.
I knew there was a reason we were friends.
Do you write your to-do lists on paper or have you made the leap out of the cave and into the electronic age? Please share your thoughts in the comments section below.
Katy Wolk-Stanley