It's time again for Non-Consumer Mish-Mash, where I write a little bit about this and a little bit about that.
The Reincarnation of a Roasted Chicken
Believe in reincarnation? How about meal reincarnation? Because, this week our meals went a little something like this:
Tuesday — Roasted chicken, served with roasted new potatoes and a salad.

Wednesday — Yakisoba noodles with chicken pulled from the chicken leftovers. Mixed with leftover cauliflower from last week and broccoli.

Thursday — Mexi-bowls, which were layers of rice, beans, carmelized onions, leftover potatoes, broccoli, cheese, avocado, tomatoes leftover from last week's tacos, salsa and sour cream.

Friday — Chicken soup made from the last of the chicken, stock was homemade, and leftover rice from the Mexi-bowls was added.
My favorite part of all these meals was that one chicken was able to be stretched into three separate meals. And I spent $3.88 to buy it.
Unlike Kristen over at The Frugal Girl, I do not schedule out a meal plan. Instead I stock the cupboards and buy a few ingredients here and there to supplement. However, I might be singing a different song if I had to pack up four small children every time I went grocery shopping. We both are doing what works best for our individual situations. ♥ her.
Motivation
I have a hard time staying motivated with the stupor inducing more routine tasks of daily life. Putting laundry away, doing dishes and keeping on top of paper clutter just don't hold my attention. I've found that motivational tricks have a very short lifespan, and I have to constantly be on the lookout for fresh ideas.
I was going about my household routine the other day when it occurred to me that I would be much more likely to jump on my chores if I got a small chocolate at the end. Right then and there, I came up with the idea of a paper wrapped chocolate printed with the words "To-Do."
Finish an item on your to-do list, get a treat. Very behavioral therapy, very Pavlovian. This, I decided was my million dollar idea.
So I bought a bag of Peppermint Patties at the store today fulling intending to put my idea into action.
But first I needed to check my e-mail to see if there were any blog comments to moderate, and while I was at it, I should probably have a chocolate mint to get the ball rolling. Mmm . . . maybe one more, and perhaps another?
The boys came home from school and descended on the bag like hyenas on a particularly tasty rotten zebra.
I put the bag into the freezer to try and salvage my original plan. And guess what? Frozen Peppermint Patties are really delicious!
At this point, there were so few candies left that it wasn't even worth trying out my original plan. *Urp*
So what did I learn from this experience? That the kind of person who needs candy as inspiration to get the laundry put away is not the kind of person who can be trusted with a bag of candy. Period.
So much for that million dollar idea. I guess I'll have to stick with scratch-off lottery tickets.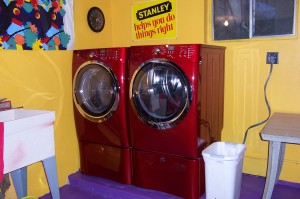 As a complete aside, check out my mother's revamped laundry room. As the owner of three guest cottages, my mom does more laundry than your average former beauty queen grandmother. So she turned her awful laundry room into a thing of beauty, with bright colors and even a motivational poster. Who among us could resist the motivation to run yet another load of laundry if this was lurking in our basement?!
Doesn't it look like Peter Max might be tossing in a load of  wash?
Katy Wolk-Stanley
"Use it up, wear it out, make it do or do without."