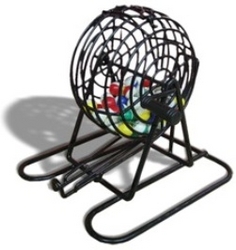 Today was a really busy day and I didn't find the time to write anything. Usually I post a previously published column on days like this, but today I decided not to.
Instead, I'm using this mini-column to ask Non-Consumer Advocate readers to cut yourself some slack. Leave that laundry on the line an extra day, prepare a super easy dinner and hide that To-do list.
When my son asked after dinner if would play Bingo with him and a friend, I actually said yes, even though I hadn't cleaned up from dinner yet. And you know what, we had a lot of fun. (I do like cranking that cage!)  Normally, I would have told him that I didn't have time.
I still have laundry on the line, dinner was french toast with orange wedges and my To-do list is sadly neglected.
Eh, who cares? I highly doubt I'll be on my deathbed wishing I'd been more efficient with household chores. Seriously, cut yourself some slack.
Katy Wolk-Stanley
"Use it up, wear it out, make it do or do without."