It's time again for Non-Consumer Mish-Mash, where I write a little bit about this and a little bit about that.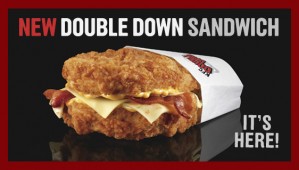 Double Down? I Say Double Trouble!
I have yet to watch Jamie Oliver's Food Revolution, the TV show where the British celebrity chef teaches us Yanks how to eat healthfully. Not that I wouldn't enjoy the program, it's just that I'm not much of a TV person, and I hate to watch commercials.
Having said that, I did catch a commercial (probably while watching "Lost.") for the new KFC Double Down Sandwich. This monstrosity of American fatty goodness is constructed from two pieces of fried chicken that cushion two slices of cheese, two pieces of bacon and the "The Colonel's secret sauce." With not even a slice of tomato to redeem itself, this sandwich brings 32 grams of fat to the party, (the venerable Big Mac boasts a mere 29 grams!) and may represent the pinnacle of fast food.
I stared in open mouthed horror at this commercial, (which seemed like an SNL joke) and told my husband that "this is exactly what brings people to the United States to try and teach us how to eat!"
I think Jamie Oliver saw the same commercial and decided we needed an intervention. How embarrassing.
Strangers in Paradise
The column that I wrote a few days back about talking to strangers has continued to resonate with me. My job as a labor and delivery nurse requires me to have extremely intimate conversations (and contact) with virtual strangers on every single work day. And you know what? I really like this aspect of my job. (The conversations, not the contact.) By the end of my shift, I feel like I know these women and their families extremely well. Sure, I'll most likely never see them again, but the eight or twelve hours that I've just spent with them is rarely without a number of deep and meaningful conversations.
I'm not really sure how this relates to Non-Consumerism, but I love how I to get to know these women who come from every background you can think of. I have a great job, I really do.
Top Ten Ways You Know You're a Non-Consumer
Family asks you what you want for your birthday and you can't think of anything.
The newest, most popular movie hits the theaters, but you're too busy planning your garden to be bothered with it.
You turn down an offer of free stuff because you realize you have no need for it.
You plan your meals based on what needs to get eaten up first.
You delay errands until you can batch them all together.
Your idea of a hot date with your honey involves the words library, walk and leftovers.
You step out of your way to pick up change, however small the amount may be.
Your idea of garden art involves a clothesline.
You no longer forget to bring your reusable bags into the grocery store.
Your bank account has mysteriously plumped, even though you're not bringing in any more income than usual.
Katy Wolk-Stanley
"Use it up, wear it out, make it do or do without"