It's time again for Non-Consumer Mish-Mash, where I write a little bit about this and a little bit about that.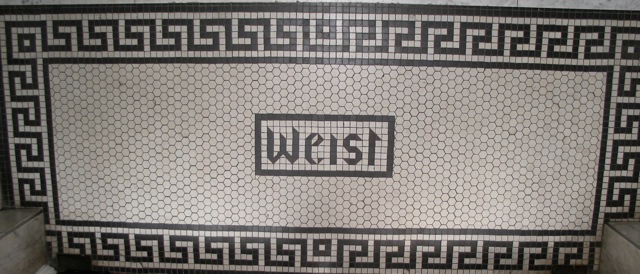 Tile Style
My husband and I are still in the planning phase of the addition of a second bathroom into our five bedroom house. (I know, it's weird.) I have been fantasizing about a second bathroom for years, and have obsessively torn photos from magazines and newspapers for inspiration. One of my favorites shows a hexagonal tile floor with a Grecian-style border. Sadly, only a tiny bit of floor is shown in the photo, so I was going to have to figure out the details on my own.
That is, until yesterday when I walked into the vestibule of Tammy Strobel's apartment building and was hit with exactly the tile pattern that I want for my new bathroom. Which, (and this is very important) shows how the border maneuvers in the corners. I know Tammy thought I was on the weird side of nutso, but I snapped a ton of photos for reference.
It's a good thing my husband and I are taking our sweet time with this project, or the tile would be finished by now.
Choosing a Microproject Over Routine
I have written before about how I could do house and yard work every waking moment without ever finishing the job. The dishes, laundry, cooking, organizing and gardening are on an endless loop that can make a gal go postal if she's not careful. (And yes, I do the majority of household maintenance, as my husband works 44 hours per week and I work 16.)
So sometimes I ignore the general household duties in order to tackle a project that will actually have a lasting effect. (Dishes so do not have a lasting effect!) Just today I pulled everything out of the medicine cabinet, scrubbed it down, tossed empty vials of goo and reorganized everything.
The result is lovely, non-crowded and will be a delight to behold when I open it up every morning. And had I spent the same amount of time doing dishes, they would all be a post-dinner mess at this point anyway.
Library Geek, Thy Name is Katy
I am such a library geek that I am even Facebook friends with my favorite reference librarian. And when I saw that her status was to come in to The Belmont branch today to get your picture taken with your card I got all tingly and excited.
Why would I be so excited to have my picture taken with my library card? Because I still have my first library card from 1977, which is adorable as my signature could best be described as "chicken scratch." And yes, I also still have my card from the eighties, which is silver and rather rock star cool.
And perhaps I did dress a little nicer than usual today, and maybe, just maybe I spent a few extra minutes on my hair. But I really want The Multnomah County library to use my photo on their website. The photo taken of me posing with my three library cards!
It would be better than when I was in The National Enquirer.
Rock star cool. Non-Consumer style.
Katy Wolk-Stanley
"Use it up, wear it out, make it do or do without"