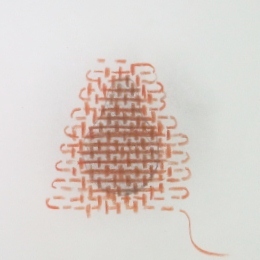 Darning illustration from The Zero Waste Home.
It's time again for Non-Consumer Mish-Mash, where I write a little bit about this and a little bit about that.
Talking Smack About Libraries
British children's author, Terry Deary recently stirred up some controversy with some rather odd views about the current role of libraries.
"We've got this idea that we've got an entitlement to read books for free, at the expense of authors, publishers and council tax payers. This is not the Victorian age, when we wanted to allow the impoverished access to literature. We pay for compulsory schooling to do that."
At the "expense of authors?" Does he think that all library readers would automatically buy his books if it weren't for libraries? Does he not realize that those library copies were bought in the first place, and that book buyers often discover authors and decide to buy books after reading library copies?!
What a gassbag!
Click HERE to read the full article.
Click HERE to read my Love Letter to the Belmont Branch Library.
Non-Consumer Advocate Book Club in Full Swing!
Did you know there's a Non-Consumer Advocate book group? They're currently discussing Your Money or Your Life: 9 Steps to Transforming Your Relationship With Money and Achieving Financial Indepenence, by Joe Dominguez and Vicki Robin.
It's awesome book, which I highly recommend!
The book club is run by Crystal, a Non-Consumer Advocate reader and is happening over at the Facebook Group.
Come join in!
A Great Tutorial for How to Darn!
I am a fan of darning my family's socks when they find the lord. (Get holey.) And even though readers have asked for a tutorial, I've never quite gotten around to it. Luckily, other people are better about these things than I am. For example, Bea from The Zero Waste Home.
Click HERE for a great sock darning tutorial, complete with illustration.
And Ms. Bea Johnson is coming out with a Zero Waste Home book next month, and I'll be hosting a giveaway for five, count 'em, five books!
You are some lucky readers.
Katy Wolk-Stanley
"Use it up, wear it out, make it do or do without."
Click HERE to follow The Non-Consumer Advocate on Twitter.
Click HERE to join The Non-Consumer Advocate Facebook group.
Click HERE to follow The Non-Consumer Advocate on Pinterest.