Remember Fabulous Frugal Finds? Well they are back with a vengeance! And Katy has a bad case of chandelier envy!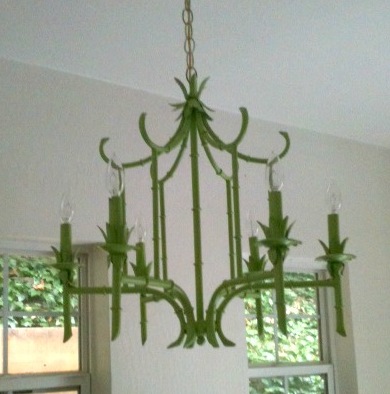 From Julia Park Tracey, the writer behind The Doris Diaries  (www.thedorisdiaries.com) and the novel, Tongues of Angels, to be published in April 2013.
Look at what I did with a can of spray paint! I transformed a basic chandelier and a vanity stool. I got both items free; the chandelier was free on Freecycle, and the vanity stool had been my mother's, and then my daughter's, and then abandoned in my garage. I wanted to use both, but not as-is.
The chandelier was begging for a coat of paint to un-blah it. It was basic white to begin, but I wanted some color.  I bought one can of spray paint from the hardware store for about $5 – Rustoleum for metal, apple green. I took the chandelier outside and put down newspapers and gave the can the necessary shakes. It took two coats, and most of a day to dry properly. I love the look! It took another couple of months to get someone to install it for me, but Arturo, an electrician pal of ours, put it up in just a few minutes.
I still had a lot of paint left – at least half a can. So when I was looking at my vanity stool and trying to decide "keep or give away?" I thought about painting it, too. I also had an idea about using hand-embroidered linen for the seat. I took a stained dresser scarf and pieced it so it would fit a round seat. That meant I had to cut and realign the pieces. I really like how the crocheted edge lies across the center. A few seams on the sewing machine fixed that, and I added batting and used my handy staple gun to affix the fabric. In the meantime, I took apart the stool and sprayed the separate bits – the base and the chair back. It had been a shiny brass for decades (I remember the Christmas my father gave this vanity set to my mother, in about 1971).
The apple green went on in two coats, and dried quickly. I let it sit a few days more in sunshine to be sure it was cured before re-attaching the seat and back to the base. I love the results – classic reuse, vintage vibe, charm in abundance. Total cost? $5 for the paint.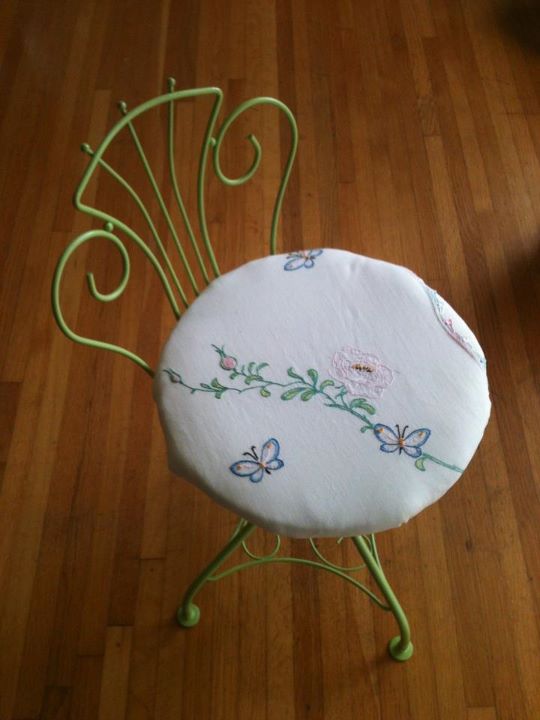 If you enjoyed this Fabulous Frugal Find,  please enjoy these previous posts:
Katy Wolk-Stanley