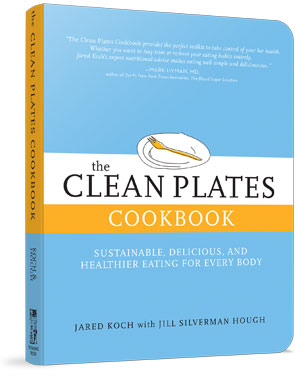 Note: This giveaway has ended. Congratulations to Kim and Deborah who each won a copy of this great cookbook!
I have a special treat for you today, which is a giveaway for The Clean Plates Cookbook: Sustainable, Delicious, and Healthier Eating For Every Body, by Jared Koch and Jill Silverman Hough. (Running Press.) I will be giving away copies of this cookbook to two lucky winners!
This beautiful cookbook is crazy full of absolutely delicious and healthy looking meals that I wish someone would fix for me. But it also features tons of inspiring information about what it means to be a lifelong healthy eater. Although it contains recipes for meat based meals, there are also a lot of vegetarian, vegan and gluten-free options. So seriously, something for everyone!
To enter to win a copy of The Clean Plates Cookbook, write your favorite healthy meal in the comments section below. I will randomly choose two winners Monday, February 25th at 9:00 P.M. PST.
Here, I'll start. My favorite healthy meal is pesto made from kale instead of basil. Not only is it a year-round cheap option, but keeping a jar of it in the fridge has saved me from takeout pizza hell on multiple occasions. And yes, it's just as delicious as regular pesto.
Now, your turn! What's your favorite healthy meal?
Please enter one time only, U.S. residents only.
Katy Wolk-Stanley