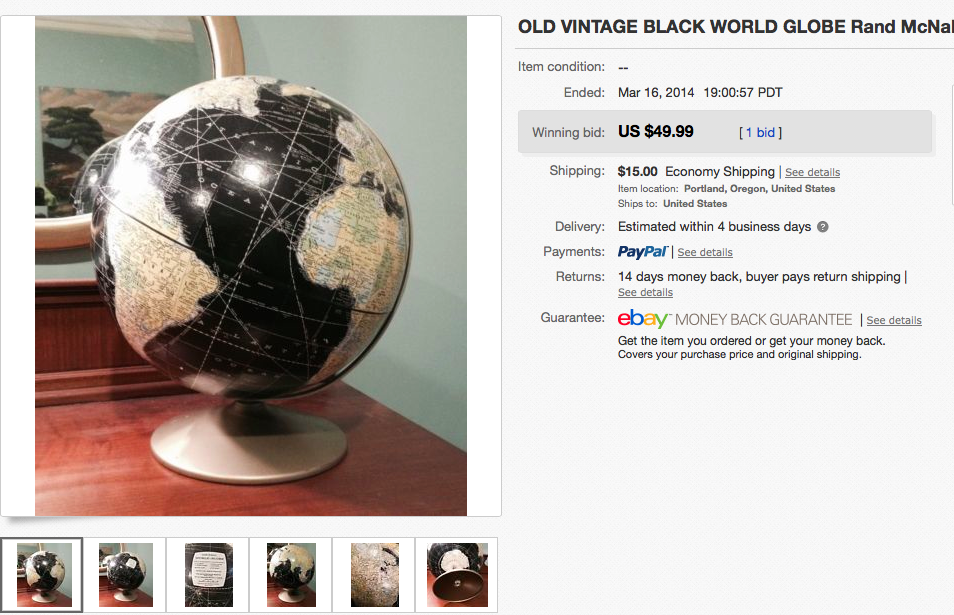 It's time for another Non-Consumer Mish-Mash, where I write a little bit about this and a little bit about that.
The Luxury of Time Allows For Creative Problem Solving
It may seem as if I'm able to come up with frugal hacks without batting an eye, but that's simply not the case. Each wheel that I invent requires lengthy periods of watching The Walking Dead, contemplation and rumination. (Okay, okay, maybe I'm not always inventing the wheel, but some days sure feel like it.)
Two recent examples come to mind.
I just sold a uber-cool vintage black globe on eBay. I normally try and stay away from selling large items, as they're a pain in the tuchus to ship, but I figured the relative lightness of the globe would negate the size. Of course, I didn't have a big enough box in my packaging stash. Resignedly, I realized I would have to buy a box, so I took some measurements and began walking to The UPS Store in my neighborhood. Halfway there I decided I would check at the art supply store where my son works to see if they could spare a big ol' box. They did have one, and although it was big, it was too short to fit the globe.
I brought it home anyway.
I recut and re-bent the box until it met my needs, and then I taped it within an inch of its life. Not pretty, but it was functional, zero waste and free. (To buy a box would have been around five bucks!)
My other example is shoe related. I'm somehow currently down to just a couple pair of shoes, which normally is a non-issue as last time I checked I'm only able to wear one pair of shoes at a time. However, I specifically lack non-boots, no-sandals, non-sneakers, which is a problem for our upcoming trip to the east coast. I've been trolling the thrift shops, but since I wear a size-10, the supply is limited.
I was perusing the shoe racks at Goodwill today when I realized that I could just wear my work shoes, which are black patent leather Danskos. (After first wiping them down with antiseptic wipes. Shoes from a labor and delivery unit are, umm . . . body-fluid-tastic.)
Bam. Done. Problem solved!
Both of these non-consumer challenges took time to figure out. I had the answers all along, but they took awhile to float to the surface. If I were to buy stuff the second I realized a need, there would be no time for creative problem solving.
Give it time, people. Give it time.
Washington D.C. Meetup!
I have arranged a Washington D.C. meetup for Non-Consumer Advocate readers at the Library of Congress for Tuesday, March 25th at 10:45 A.M. We will meet at the main information desk next to the entrance security. This is all thanks to "Katie" who is a blog reader, and Library of Congress docent. She'll be giving us our own personal tour!
Please let me know if you're able to attend, so I can have a sense of how many people to anticipate.
Meet me *and* my teenage sons who are likely to be both bored and embarrassed!
Katy Wolk-Stanley