It's time again for Non-Consumer Mish-mash, where I write a little bit about this and a little bit about that.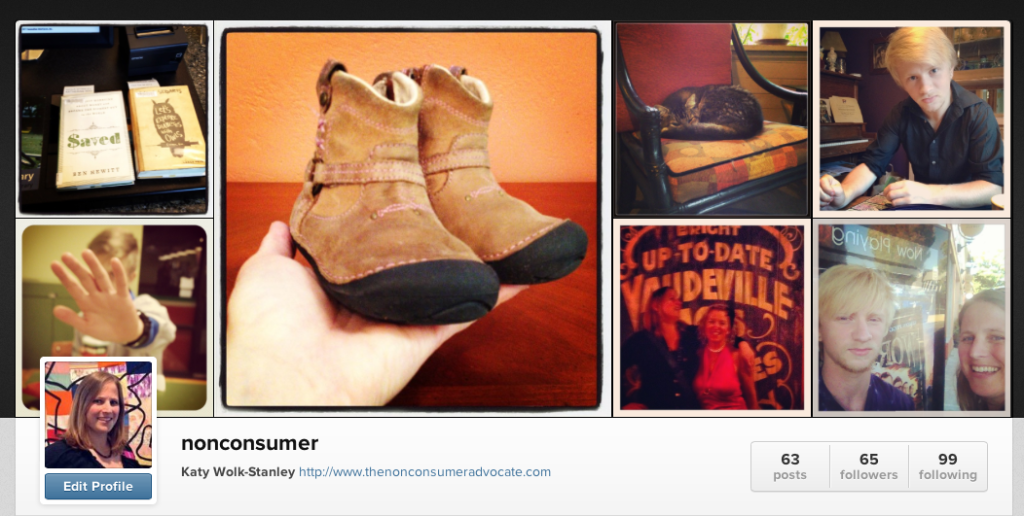 Follow Me on Instagram
My son and I fly out to New York City tomorrow and we won't be back in Portland until next Monday. I'll bring my laptop, but I'm not sure how much time I'll have for blogging. However, I'll keep my Instagram account updated.
So this is a perfect opportunity to start following me on Instagram, where I post pictures from my daily life. And you know I'll make sure to snap photos of any and all things frugal in New York!
Click HERE to follow me on Instagram.
Link-O-Rama-Mama
There are always a ton of great links being put up on The Non-Consumer Advocate Facebook group, and as much as I'd like to dedicate a full blog post to each and every one of them, I simply don't have the time or mental focus. So how about a little linky love instead?
Extreme Frugality at The Grocery Store
Because my hospital work shifts have dried up recently, I've taken the proactive step to be extremely careful with money. (You may have noticed a glaring lack of Goodwill, Badwill, Questionable-will posts lately, but that's because I've been staying away from the temptations of thrift shopping.) It's been an interesting experiment with extreme frugality without making it a blog stunt. Just the other day I did a big Safeway grocery shopping trip where I clipped coupons, matched them up with store sales, and took full advantage of digital coupons.
I also bought all our Halloween candy, as coupons were matching up with sales. But since no Halloween bargain is a bargain when it's gobbled up before the 31st, (I'm looking at you, Katy Wolk-Stanley!) I bagged everything up and took it over to my next door neighbor's house for storage. (They know I'm crazy, but still love me unconditionally.)
Here's what I bought at Safeway. Total price was $72.42
7 boxes of cereal.
3 jars of pasta sauce.
1 bag of pretzels.
8 boxes of pasta.
2 jars of 100% juice.
9 bags of Halloween candy.
1 can of clams.
2 bags of string cheese.
3 boxes of cream cheese.
1 round roast.
1.7 pounds of broccoli.
2.97 pounds of bananas.
1 head of green leaf lettuce.
2 red onions.
2.81 pounds of carrots.
A 10-pound bag of potatoes.
By combining sale items with couponing, I was able to shave 49% from my grocery bill. I did buy a $10.45 roast, which hardly seems frugal, but it fed the four of us plus an extra teenage boy with leftovers. Which I categorize as a bargain!
I do not consider myself a couponer, but with a few minutes a week, I'm able to find bargains like BOGO string cheese, to which I added manufacturer's and double coupons. I also used digital coupons for the lettuce, avocados, cereal, broccoli, onions and cream cheese. Paper coupons were used for the pasta sauce, candy, string cheese and cereal.
I know that the cliché of a couponer is someone who's filling their basement shelves with air fresheners and unusable amounts of shampoo, but there really are ways to make couponing work for the rest of us.
Katy Wolk-Stanley