It's time for another Non-Consumer Photo Essay, which today features stuff I didn't buy, stuff I did buy and an rather fantastic chair makeover.
First off I have another goofy savings bank, this time for a "Retirement Fund." I don't know about you, but I'm kind of hoping that I'll have more money than will fit in a small ceramic bank by the the time I hit retirement age. (I do love these save-for-a-specific-purpose-reason banks, as I showed in this earlier post.) Needless to say, I did not buy this bank.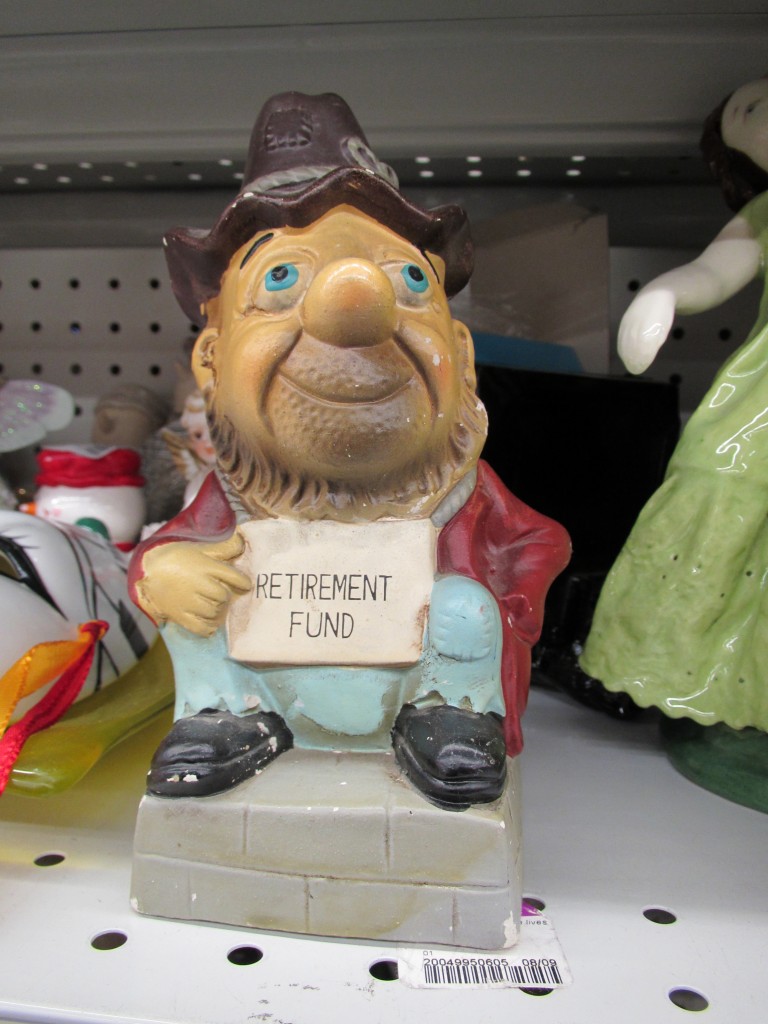 You know that I like to "make do," and not immediately replace my household items. However, when something is so messed up as to be non-functional, it needs to go. I give you the example of my pastry cutter. Not only had two of the five pieces snapped off, but the remaining three were always bending to the side. In other words, it was freakin' useless.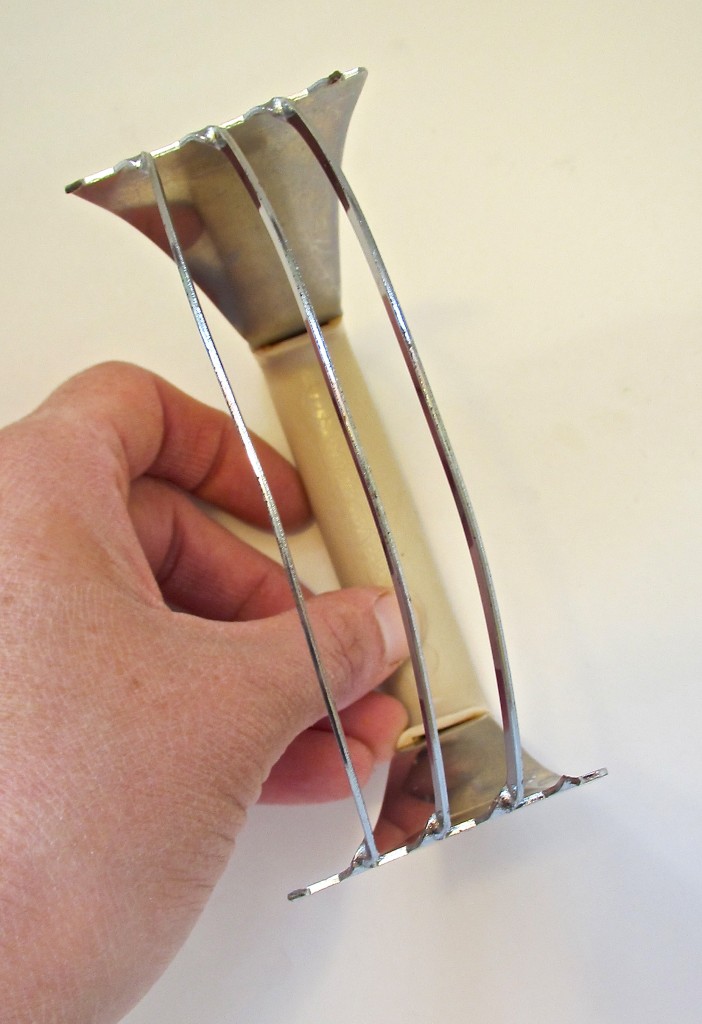 So I've been keeping an eye out for a replacement pastry cutter at thrift stores, (as well as discovering that food processor pie dough is crazy easy, although I'm not a fan of the extra cleanup.) I was finally able to find an Oxo brand pastry cutter for the low, low price of 99¢ at Goodwill.
Which I say calls for a celebratory pie!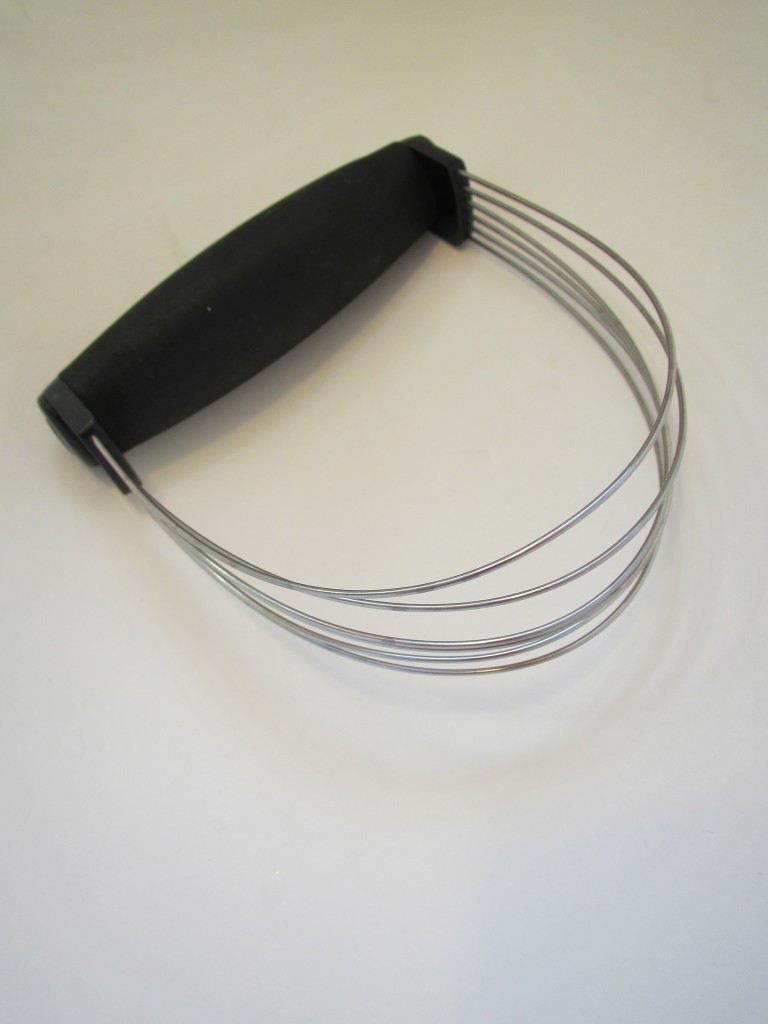 My older son turns 17 today, which is absolutely flabbergasting to me. How on earth did this happen?! It really does seem like he was a baby just a few years ago. *Sniff*
For his birthday we're giving him  Adobe Photoshop & Illustrator, which the grandparent and my sister will chip in for. (This is super expensive, although we will use my father's educator discount.) My son has been an artist since the day he ate held his first crayon, and he's taking two art classes at school this year, one of which is a graphic design class. He will get so much use from this gift, as will I. (Prepare for my blog photos to start looking a lot better!)
But I wanted to give something fun as well, so when I saw this bent-wood chair at Goodwill, my mind started whirring. I had seen a similar chair on Pinterest, which had been Mod-Podged with a vintage-style poster.
See? Very cool. I really like how the single piece of wood looks when decoupaged: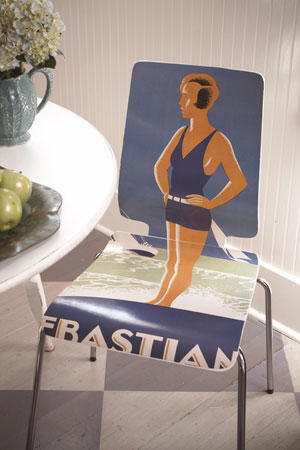 At $20, the chair was completely overpriced. However, it was one of those brand-new Target items, so there was no wiggle room on the price. (Believe you me, I tried to haggle.) In the end I decided to buy the chair, as I could envision the end product, plus it was, ahem . . . yesterday, the day before my son's birthday! (Leaving gift giving to the last minute is always an expensive endeavor!)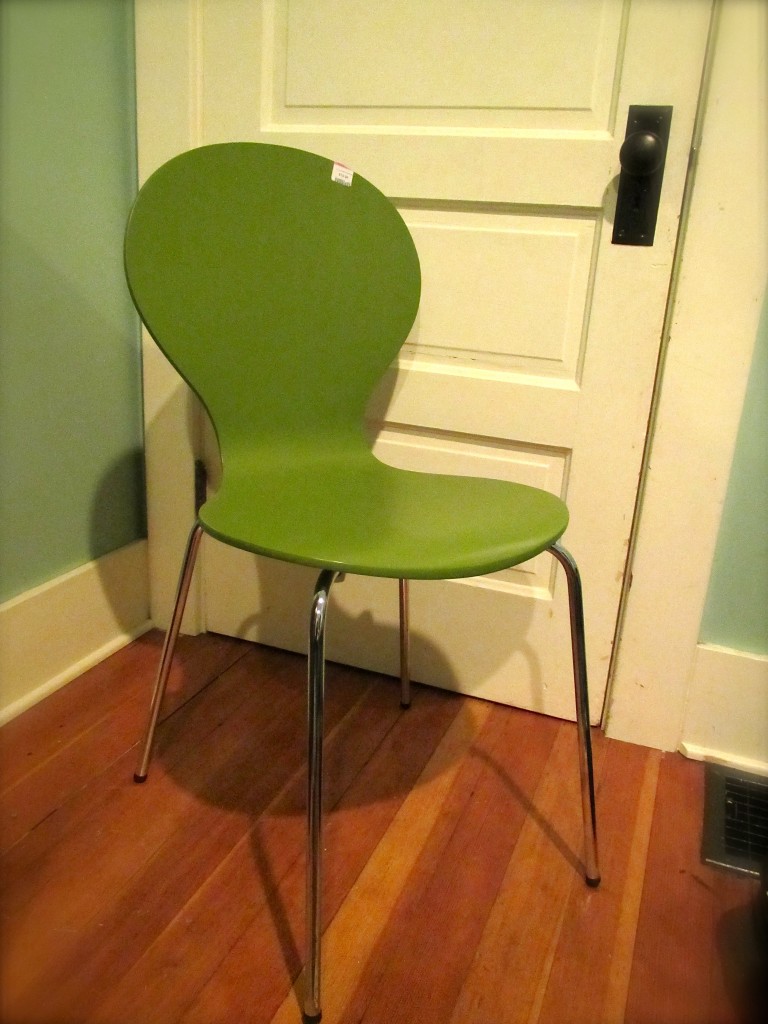 My plan was to Mod-Podge Japanese Manga onto the chair, which is totally up my son's alley, as he's been studying Japanese since kindergarten. So I spent  yesterday evening cutting and pasting, while my son was under strict instructions to not come into the spare bedroom.
So, drum roll please . . . here's how the chair turned out: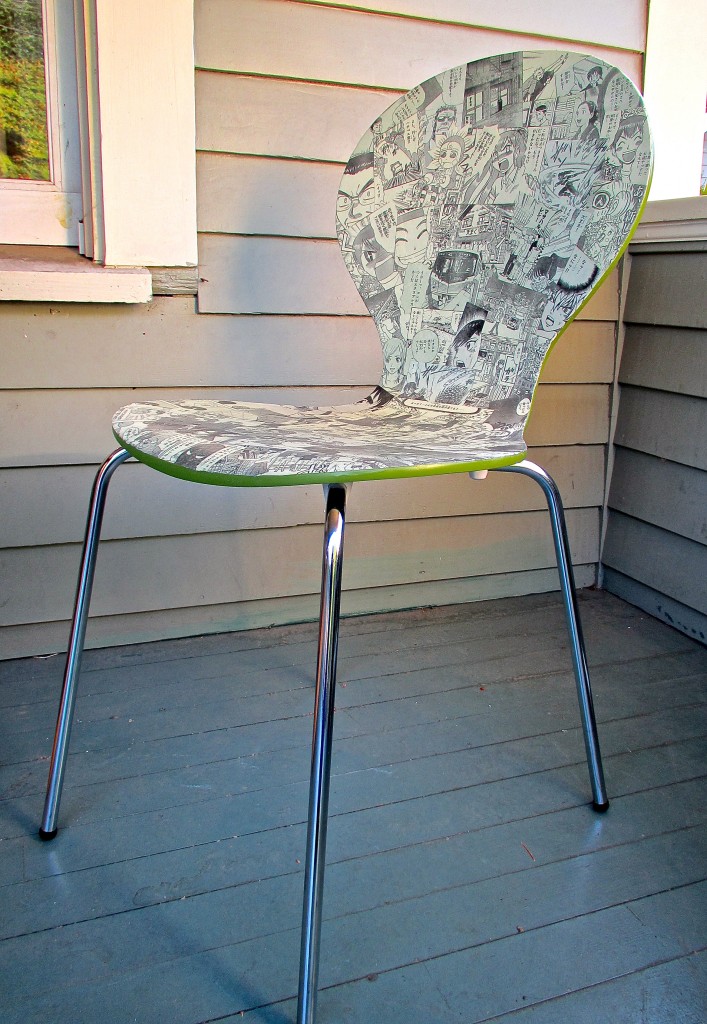 And doesn't all the Manga look so cool?!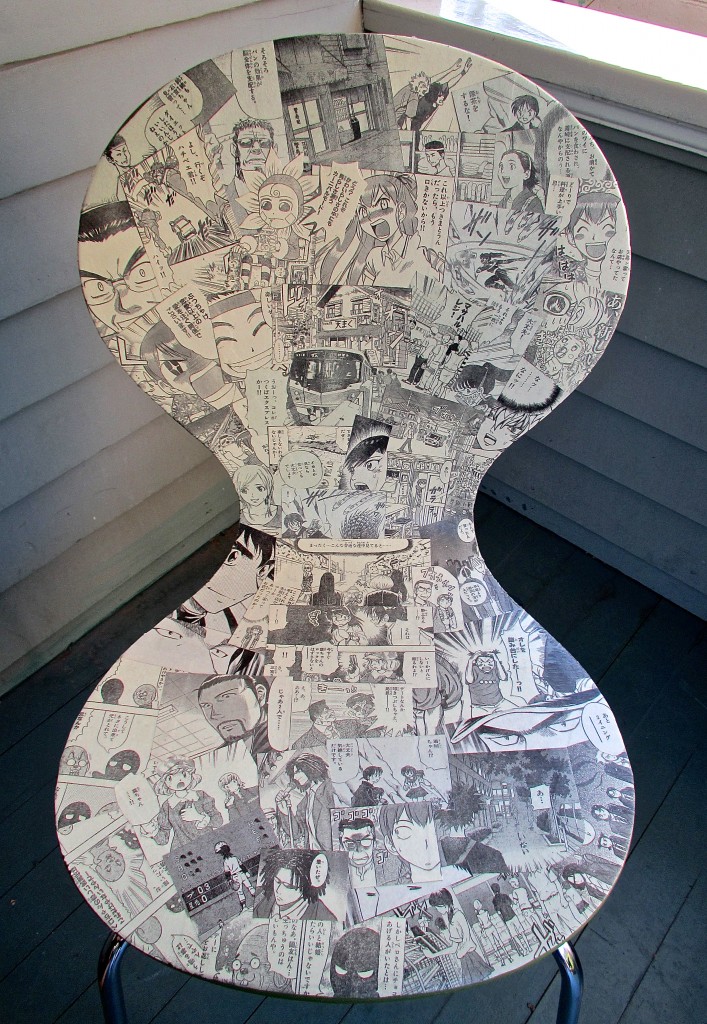 And of course, a detail shot: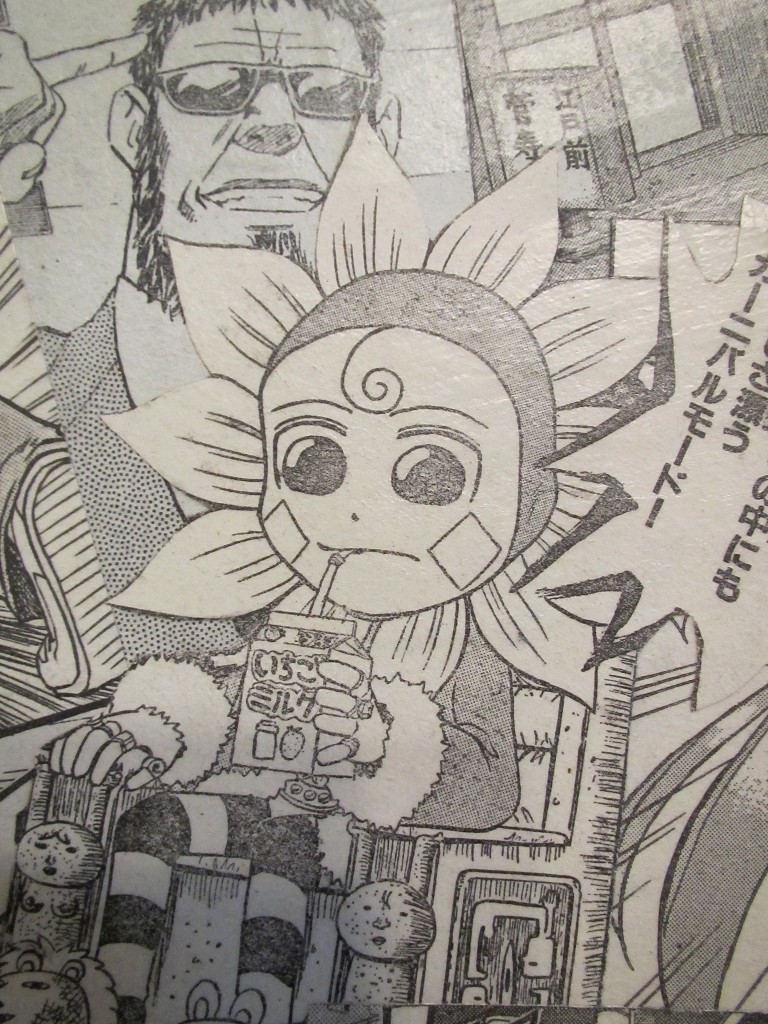 I haven't given the chair to my son yet, as he's still sleeping.
After all, he is 17 now. Man, do I love that kid, er, umm . . . young adult! *Sniff*
Katy Wolk-Stanley
"Use it up, wear it out, make it do or do without"
Click HERE to follow The Non-Consumer Advocate on Twitter.
Click HERE to join The Non-Consumer Advocate Facebook group.
Click HERE to follow The Non-Consumer Advocate on Pinterest.