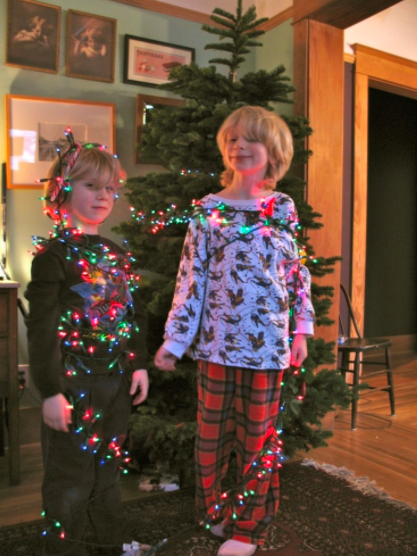 Like many others, I internalize the pressures of  holiday gift giving. Sure, I like the creative challenge, but however much I try to keep the expenses under budget they always seems to spiral out of control. I try not to get too anxious about the holidays until after Halloween, but the subject keeps coming up over at The Non-Consumer Advocate Facebook group, so I thought I would address it head on.
Because I try to only buy used, thrifted gifts need to be picked up throughout the year. However, I'm going to thrift stores a lot less often, so my normally plush stash is thin and puny.
Thin and puny!
I did screw up my nerve a few years and approached certain family members about no longer doing gift exchanges, and with the exception of a few people, everyone was up for it. So we no longer exchange gifts with cousins, adults on my father's side of the family or adult siblings. My husband and I stopped exchanging gifts as well. (We continue to give each other birthday presents.)
My husband's family tried a choose-a-name gift exchange a few years ago, but it was an enormous disaster for us as the person who set it up included my children, which meant that they were then just as responsible for buying gifts as an adult would be. Also, the organizer didn't want to set any general amount to be spent, which made the whole endeavor very vague and subsequently expensive. Everyone else saved money, and my family spent at least four times the amount we normally would have spent. (I picked my own son, which meant I had to give him the level of gift he normally would've received from his generous grandparents.)
Thankfully that experiment was not repeated.
Here's who we do exchange gifts with:
My mother and step-father.
My niece and nephew.
My mother-in-law and father-in-law.
Our 16 and 19-year-old sons.
However, there are also a number of holiday birthdays to contends with, so I lump those into the holiday budget as well. (December 11th, 16th, 23rd and 27th!)
This may not seem like much to others who have larger families and multiple nieces and nephews, but it really does add up.
Luckily, I've got a few tricks up my sleeve:
My husband was awarded a catalog from his employer for blah-blah-blah years of service and he gets to choose one item for free. (They sent two, as apparently they'd forgotten the last milestone year.) We'll look through the catalog with an eye for checking off a substantial gift for one of the kids.
We have a Sears credit card which awards points to be exchanged for gift cards. (We use the card for expenses related to the non-profits that my husband volunteers for, so all expenses are reimbursed.) Last year we chose a Shell station gift card, as that was money we'd be spending anyway, but this year my husband chose $80 in Sears gift cards for some reason. But we'll figure out something, anything from Sears that can work to winnow down our gift giving needs. Hopefully we can stretch this credit using sales, coupons, etc.
I was sent a review copy of a book about making earrings, which despite being a lovely book was too off topic for the blog. However, my ten-year-old niece loves to make earrings, so she'll get the book. I also found a darling child size bracelet on the sidewalk and will include that as well.
I'll take books into Powell's bookstore for credit and use that towards gift giving. (I have an enormous box of my childhood and teenage era books in my father's attic that I need to go though.)
I have two gift certificates for 100 free photo prints from Costco, leftover from a long forgotten camera purchase. Since these gift certificates lack expiration dates, I'm going to figure out a way to use them towards some kind of gift project.
I have a number of $5 Amazon gift cards I earned from doing my web searches through Swagbucks. Plus, I use my mother's Amazon Prime account to get free shipping.
I do like to make some of my own gifts, whether they're food related or a craft project. Last year's Portland Timbers-theme painted stool was a huge hit with my younger son, and gets daily use and appreciation. (And remember the manga chair I made for my older son? I'm here to tell you that teenage boys can appreciate homemade gifts!) I also give the boys a new pair of pajamas every year, which I'm always able to find brand new at Goodwill. (Many men apparently receive pajamas as gifts and then just turn around and immediately donate them.)
I like to give what I call the "anchor gift" along with a few "satellite gifts." In other words, one main gift with a sprinkling of smaller gifts. And as much as I grumble, I really do like the creative challenge of figuring out the perfect gifts for those on my list.
Whew . . . sorry about the brain dump of a blog post. And P.S., aren't my kids cute? I think that photo is from 2003 or 2004.
Have you been able to simplify your holiday gift giving traditions? Or do you even want to? What are your sure fire gift ideas? Please share your thought in the comments section below.
Katy Wolk-Stanley
"Use it up, wear it out, make it do or do without."