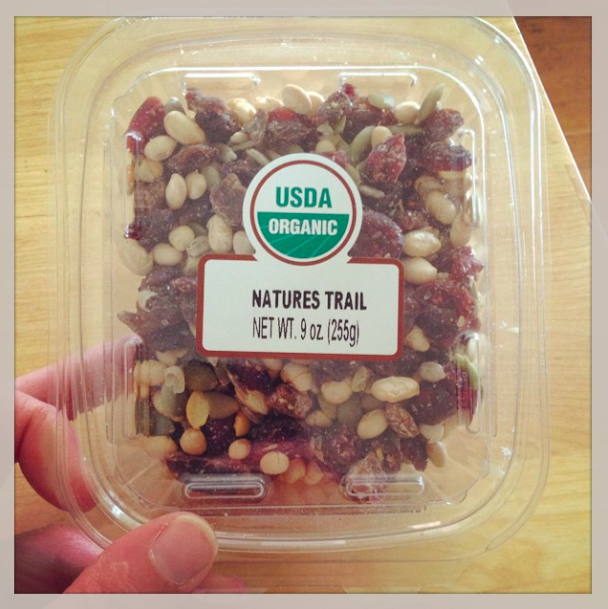 I worked with my mother to clean both of her guest cottages yesterday. Not only did I make a little money, but I also brought home a full container of fancy organic trail mix which prompted me to mix up a batch of The Prudent Homemaker's granola. And since Fred Meyer had another gallon of milk marked down to $1.69, we've got very cheap breakfasts and snacks set for the week! Not to mention that I added it sparingly, so there's enough for one more batch!
My next door neighbor brought over her soon to expire Chinook Book yesterday. And since she and I gravitate towards different coupons, the ones that I use, (like the buy-one-get-one-free Bob's Red Mill coupon) are still in place. I think I'll use the coupon to buy 25-pound bags of flour.
I worked both Friday and Saturday and made sure to bring food to last throughout the entire 12-1/2 hour shift. The hospital provides free coffee and tea, and I always drink at least two cups of their nice Tazo brand mint tea. A free and completely guilt-free treat!
I used up three of the 28-ounce cans of crushed organic tomatoes that I picked up at The Grocery Outlet to make a huge batch of marinara sauce. I did add a pound of nice New Seasons bulk sausage, but there's now enough sauce for last night's spaghetti, pizza tonight and two baked ziti casseroles to put into the freezer. Not bad for eight dollars and change of ingredients.
I mended my very favorite pair of flannel pajamas, which are a little too long for me and had torn down by the heel. (They're actually my husband's pajamas bottoms, but he never wears them.) I love them because they have deep pockets, are thick but soft and don't have that obnoxious low women's-style waistline. I suppose I should hem them now, but I don't want to rush things. 😉
Now your turn. What frugal things have you been up to?
Katy Wolk-Stanley
"Use it up, wear it out, make it do or do without."