I am a thrift store geek! And because I live in Portland, Oregon, I am loyal to Goodwill. (Okay, okay, I sometimes cheat with the William Temple House thrift shop across town, but I promise it means nothing to me. I swear, It's purely physical!) I hear from readers across the country about how their Goodwills aren't as good as our Goodwills, and I admit it, I get a little smug. Portland cultivates its hipster reputation with its food carts, bicycle culture and Portlandia vibe, but I vote that it's our Goodwill thrift shops that put us on the map.
Because the Goodwill Industries of The Columbia Willamette (GICW) know what they're doing. Clean, organized and filled to the brim with treasures for the eagle-eyed customer.
So when I got an e-mail from the PR department, asking if I would like a behind the scenes tour of the Goodwill of my choice, there was no hesitation.
Why yes, I would enjoy a behind the scenes tour of Goodwill. (Understatement of the year!)
When I, the thrift store geek frugal queen of Portland think of Goodwill, it's all about the thrift shops. But of course, the shops are just a means to an end. A way to raise money to support their mission, which is:
"To provide vocational opportunities to people with barriers to employment."
And because the Goodwill thrift shops are so very successful and profitable, they're able to do an amazing amount of outreach throughout the community.
But I'm getting ahead of myself here. Let me start at the beginning.
I met up with Dale Emanuel, the public relations manager of all things Goodwill and instead of going into the retail space, we walked into a different entrance which was kind of a through-the-wardrobe Narnian experience for me. (What? This was here the whole time?!) There's a long bright hallway with offices and classrooms, and the entire length is dotted with framed photos of Goodwill employees and clients. And Ms. Dale knew the detailed back story of each and every single one of them. I madly scribbled notes trying (and failing) to keep track of all of the inspirational stories. From a woman whose traumatic brain injury left her with profound short term memory issues, to a young mother with a history of substance abuse, to developmentally disabled individuals, Dale shared their moving histories. (Goodwill does extensive outreach to homeless shelters, prisons and domestic violence shelters to locate people who would benefit from their programs.)
So many different backgrounds, yet all having Goodwill's employment career enhancement services in common.
All the while, we're poking our noses into their English as a second language (ESL) classrooms, the computer programming school, meeting co-workers and clients who all greet Dale by name and have a smile to share. Goodwill is proud that their entire mission is supported through their retail stores, and receives not a single penny in government funding.
Before I could ask about the controversy surrounding employees being paid less than minimum wage, I was given the full story and told that not one employee of GICW is paid less than minimum wage. None. (I also need to point out that each regions' Goodwills are run completely separately, and the trainee whose family was upset was from a different region.) Also, GICW pays their job training participants. And because there are strict wage restrictions on persons receiving state or county benefits, training wages can result in diminished benefits. Each trainee does have an Individual Service Plan. And training wages are decided as a group and in accordance with Oregon Labor recommendations. (I imagine that paying a caseworker to put in the time to cut through all this red tape is extremely time consuming, and thus is not done as a cost cutting measure!)
We then walked across the street to the Day Services Center where I was introduced to a dozen or so developmentally delayed adults who spend their days finding community and learning important life skills. (Dale also knew the name of each and every one of them!) Clean, bright and filled with great resources, I learned more and more about where the money from my Goodwill purchases have been going. (Since I buy almost all my family's clothing, gifts, furniture and household goods from Goodwill, it's a sizable part of our household budget!)
Of course, no behind the scenes tour of any Goodwill would be complete without a look through the donation sorting area. I tried not to geek out too hard, but I'm afraid that I failed miserably.
Hence, this selfie: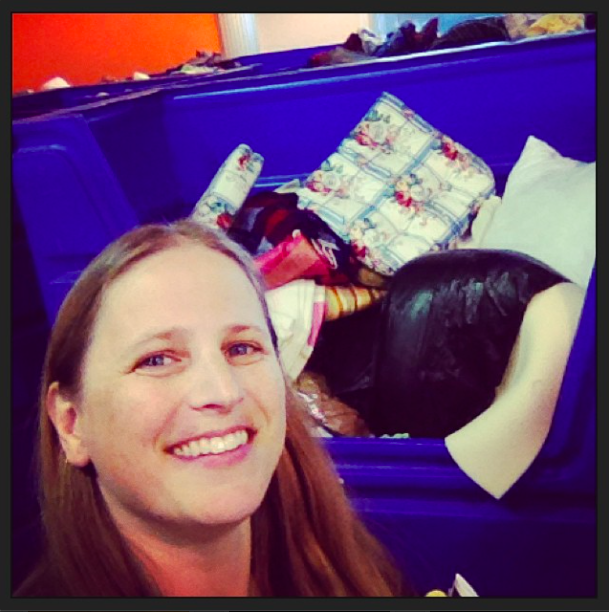 I call it "Still Life With Goodwill Donations."
And here I am standing inside the back of a Goodwill 18-wheeler: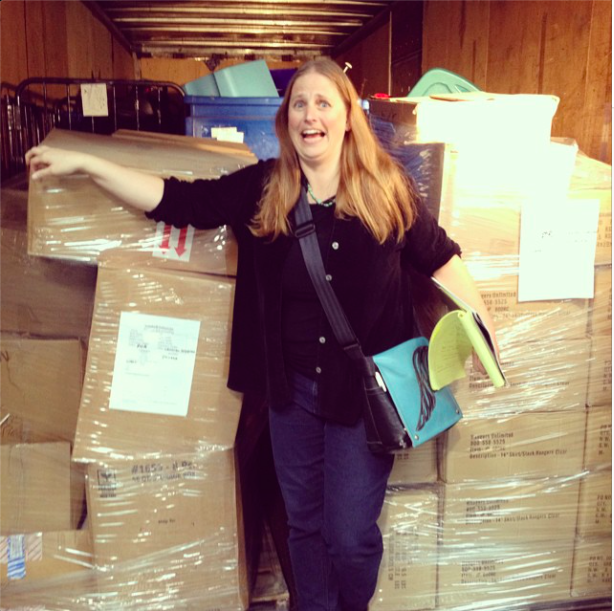 So yeah, I kept my cool.
I learned a few new things about Goodwill, for example that employees are not allowed to buy any donated item until it's been on the floor for three days. But I'm not too proud to brag that was able to teach Dale a thing or two, like that the pink tags, (which are new-from Target items) are never discounted. And when I pointed out that their mission is much more about employment than providing cheap goods, Dale responded that "We don't raise money like a garage sale, we raise money like an auction."
Then it was my turn to asking my burning questions:
How does Goodwill feel about dealers that snap up the good deals from the thrift shops?
"We love it. There are beaters and beemers in the parking lot."
Are bedbugs are problem?
Donation sorters receive "training to know what to look for."
What was your favorite Goodwill purchase?
A $47 white gold and diamond ring from ShopGoodwill.com.
What are some of the strangest donations that have come through the donation center?
"Bags of chicken feathers and false teeth."
What was the most valuable Goodwill donation?
The most expensive donation ever was back in 2006. It was a mixed-media painting by masterpiece painter Frank Weston Benson, and it sold for $165,000 on ShopGoodwill.com!
The time finally came for my tour to end, and we decided to take a photo together. And when Dale asked me where I wanted to snap a pic, I knew the perfect backdrop. "In front of the wall of creepy dolls." She knew exactly what I was talking about.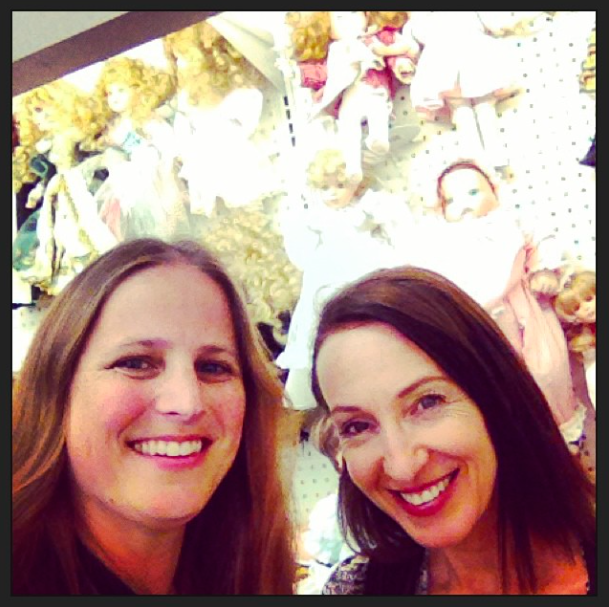 Goodwill Industries of The Columbia Willamette is about to open a brand new pay-by-the-pound Outlet store on Airport Way, their 50th retail location! I was invited to be part of the festivities, but tragically, it's on a day that I'm scheduled to work.
It tears my heart in two, but I guess I'll have to shop as a regular customer.
A huge thank you to Dale Emanuel, who took an enormous amount of time from her busy schedule to take an unabashed fan-girl through every nook and cranny of the main Goodwill!
Impressive Goodwill Statistics:
In 2013 GICW served more than 62,700 people with barriers to employment  through their Job Connection, Employee Career Enhancement and ESL programs.
Total 2013 revenue was 152.4 million dollars!
GICW has been the #1 Goodwill-retailer in North America for 23 consecutive years.
Goodwill's administrative costs are less than 5% of annual revenues.
For more information about Goodwill, please visit MeetGoodwill.org.
Katy Wolk-Stanley
"Use it up, wear it out, make it do or do without."