Frugality is like any other discipline, It only works if you make it a part of your daily routine. It doesn't matter if you got a free pair of boots from a friend if you then celebrate by taking everyone out for drinks. If you're in a position where you really need to be frugal, it requires that you unapologetically put it front and center.
I'm frugal every single day. I have no breaks, and that's okay. Choosing a frugal life does not mean a life of deprivation. I still eat delicious meals, get together with friends and want for nothing whatsoever. I cook 95% from scratch, socialize without spending money and would rather mend something that replace it with something new (or even used) any day of the week.
That chicken soup with dumplings that I made from the drumstick bones? It became my lunch yesterday and then my breakfast for today. It also created an extra quart of chicken broth, which I used as the base for last night's Rosemary White Bean soup. And when I walked over to Fred Meyer yesterday to pick up a few things, my plan had been to buy two half-gallons of milk instead of a full gallon. Why? Because when Fred Meyer has their half-gallon on sale for $1.25, it becomes cheaper to buy it this way. However, this milk won my purchasing loyalty: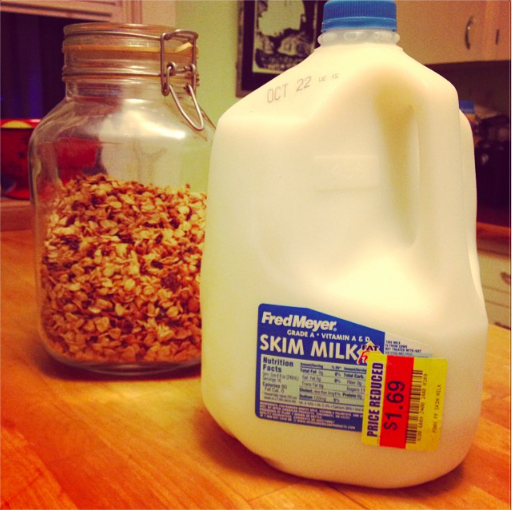 Every day, and every purchasing decision revolves around my frugality.
At this point you may be thinking that my life sounds like an enormous bummer. A life without joy.
You are wrong.
Being frugal is freedom, not a limitation.
I'm able to not panic over the potential news that my husband may be about to go on strike. I'm able to send my sons on amazing exchanges to Japan, which are not cheap. Our bills get paid on time, our cars are paid off and our student loan payments are a thing of the past. (My husband went back to school in 2001-2005.)
We eat bean based soups at least a couple of nights per week and we wear our clothes to death!
And every day we putter along with our unassuming frugal ways.
Do you see your own frugality as a noose to be banished the moment money loosens up, or is it more of a longterm lifestyle? Please share your thoughts in the comments section below.
Katy Wolk-Stanley
"Use it up, wear it out, make it do or do without."