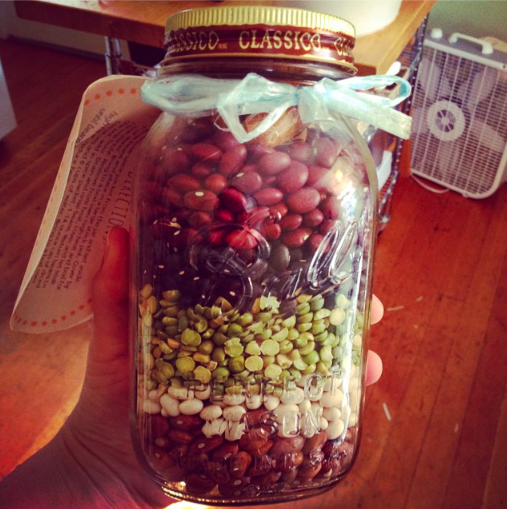 I planned a get together with my friend Leslie today, and instead of going out for coffee, we stayed in and I served tea. She had a Starbucks reward, and used it to pick up some pastries. We then went for a walk and enjoyed a nice long chat. Money spent? Nothing!
I used a $2-off-$5 meat coupon at Fred Meyer to pick up a large pack of drumsticks. I then boiled up the leftover bones to make chicken soup for last night' s dinner. I did have to add a single chicken breast to ensure there was enough meat, but it was still a perfectly nourishing meal.
I foraged in my pantry and forced myself to prepare one of the bean soup mixes I'd put together for Christmas 2012. (Yup, that's no typo!) It was pretty tasty, although the resulting soup pretty much resembled thinned out refried beans once I'd pureed it. Everyone ate it on night #1, but I was the only one who would eat the leftovers. Alright by me, and no one can accuse me of not getting my recommended fiber for the week!
I've been listening to free library audiobooks through the Overdrive app on my iPhone 4. I just finished listening to Anne Lamott's Word by Word, which is a speech she presented at a 2004 writing conference. I loved it so much, that as soon as I was done listening to it, I listened to it all over again. The advice she gives may be directed towards writers, but the lessons about being honest and present in the moment are without category.
My sixteen-year-old son is very good about getting himself up and off to school with time enough to take the city bus. And since he's my only student now, I no longer make the five mile round trip drive to school and back each day. And since the school district provides free bus passes, we're buying a lot less gasoline this year!
Now your turn. What frugal things have you been up to?
Katy Wolk-Stanley
"Use it up, wear it out, make it do or do without."