This giveaway has ended. Congratulations to Barbara and Christie who each won a copy of Ashley English's "Handmade Gatherings."  Thank you to Roost Books for making this giveaway possible!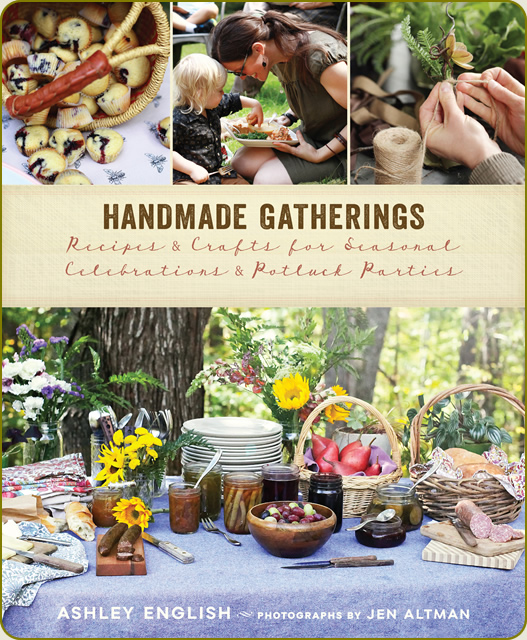 It's been awhile since I've hosted a giveaway on the blog, but today is a very special treat because I have copies of Ashley English's newest book for two, count 'em two lucky readers! (Thank you, Roost Books!) You may remember Ashley English from her previous books A Year of Pies, Keeping Bees, Home Dairy, Canning & Preserving and Keeping Chickens. Yes, this woman is pro-to-the-ductive (and married my my old college friend Glenn!)
Today's giveaway is for Handmade Gatherings: Recipes & Crafts for Seasonal Celebrations & Potluck Parties, and is amazing! I've been carrying it everywhere with me, thinking I couldn't put this giveaway together until I'd finished it. But the book is so massive, I decided to just throw caution to the wind and share my bounty.
This amazing tome is half cookbook, half beautiful photography and half great ideas for inventive potlucks. So many of us refrain from entertaining, as the prospect is downright intimidating, but English shows quite clearly how these events can be put together while still paying the mortgage and keeping one's supposed sanity. And in case you have traumatizing memories of 1970's Jello salad potlucks or college era potlucks of nothing but chips, salsa, and Rolling Rock; English is here to tell you that potlucks have grown up!
To enter to win your own personal copy of Handmade Gatherings, just write your name in comments section below. I will randomly choose two winners, Thursday, October 16th at midnight PST. Please enter one time only.
Good luck!
Katy Wolk-Stanley
"Use it up, wear it out, make it do or do without."