I made a quick trip over to Rite-Aide this evening to buy a tube of anti-itch creme and I came across this item: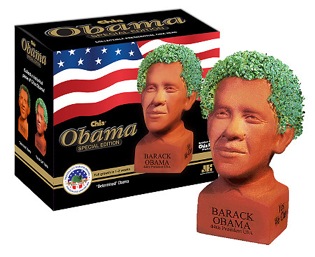 Yup, it's Chia Barack Obama, the very definition of clutter.
You can be assured that you will not be receiving one of these testament of bizarre-itude from me this year, or frankly any year. Even if I found it at Goodwill. And no, it's not because of my political beliefs, as I neither want a Chia Al Gore, nor a Chia Jimmy Carter. (Even though he did put solar panels on The White House.)
What's the most ridiculous item you've seen on the store shelves so far this gift giving season? Please share your stories in the comments section below.
Katy Wolk-Stanley
"Use it up, wear it out, make it do or do without"