It's very easy to replace your Stuff when it gets worn out, but I'm here to tell you that your first step should always be to rejuvenate that item before replacing it. (Of course, if it's a safety issue, then please, replace away!)
My first example of cleaning instead of replacing is the rock wall in my backyard that my sister built four years ago. Yes, I realize that this example is a bit extreme, as very few people would replace a rock wall just because it was looking drab and uninspired, but bear with me. It's a way to get a fresh new look without buying anything new.
Pardon the pun, but the before and afters is powerful. (Because, you know, I used a power washer. Oh . . . never mind.)
The inspiration was that my next-door-neighbors bought a power washer. I am a firm believer in mutual moochiness when it comes to neighborly relations, so I started salivating as I watched my neighbor spray down his this, his that and his everything. Luckily, they were happy to share the wealth, so we set up a time for a how-to lesson and then left me to my own devices.
Here's a before shot of my rock wall. Do you see all the variation in stone? Nope, I didn't think so.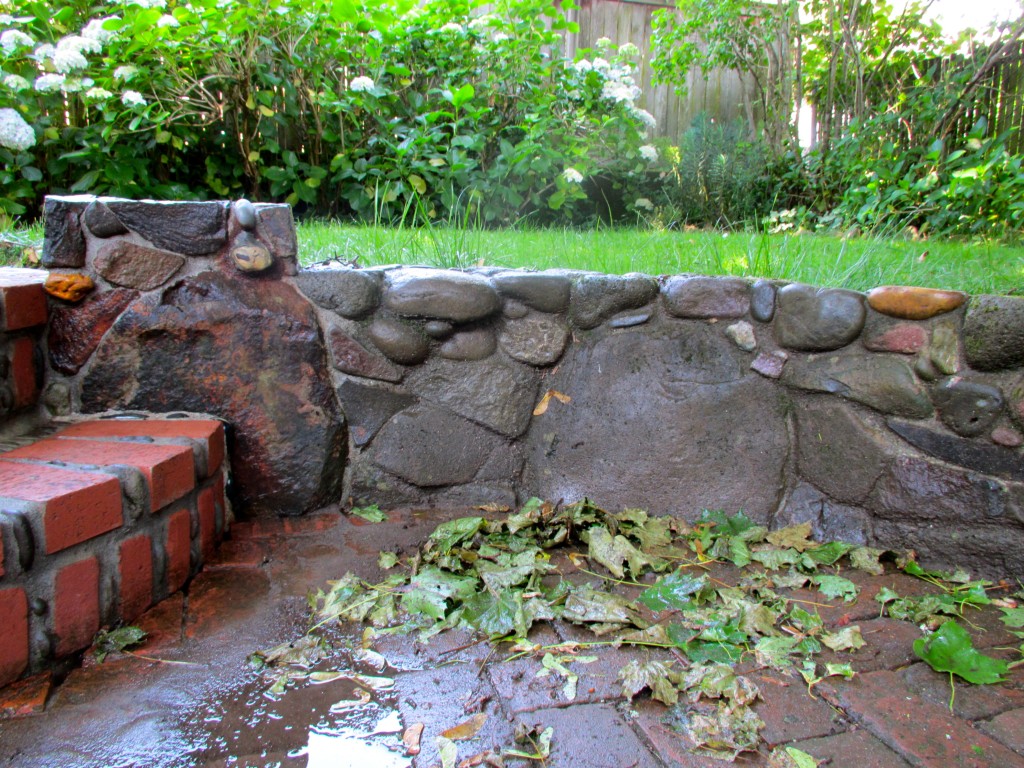 And here's the after shot. Bow down in all the texture in the stone, as well as the rich red iron content of some of the rocks. And if you look to the right side of the picture, you might spy a large chunk of amethyst. I bet it escaped your notice in the first photo. (Please, click on the photos to enlarge them.)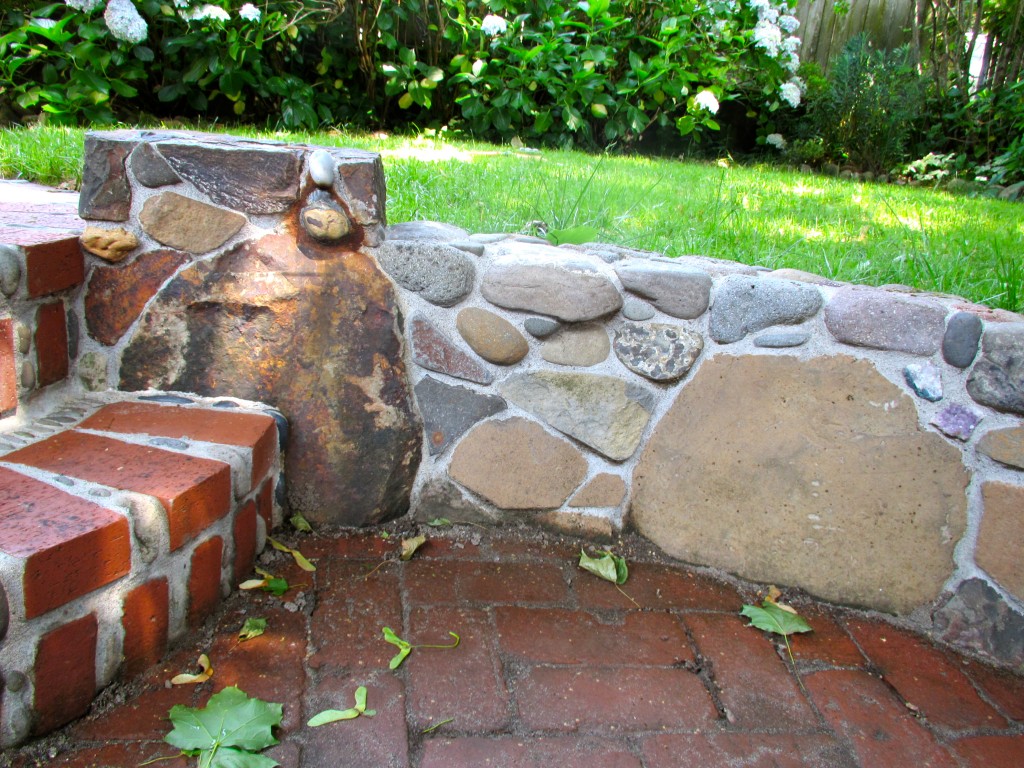 Here's the before photo of the brick steps. Dirt, mildew, moss, we've got it all!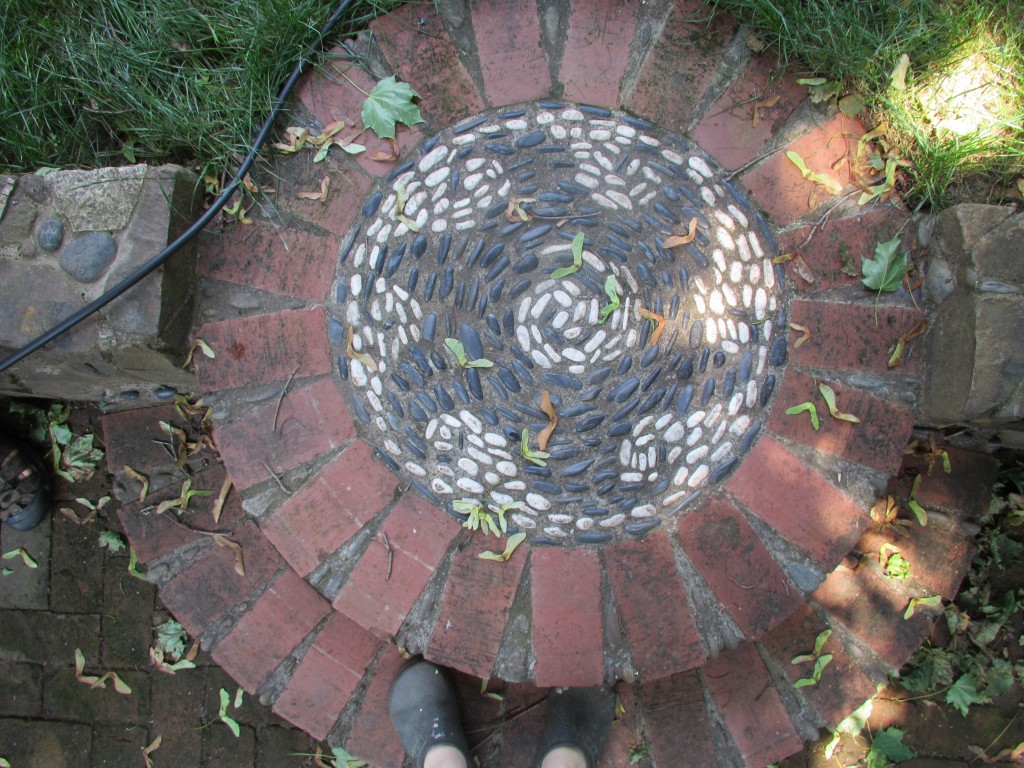 And the after shot. Clean, bright and with chock full of definition! I  highly doubt you noticed the detail of small stones set between the outer circle of bricks in the before photo.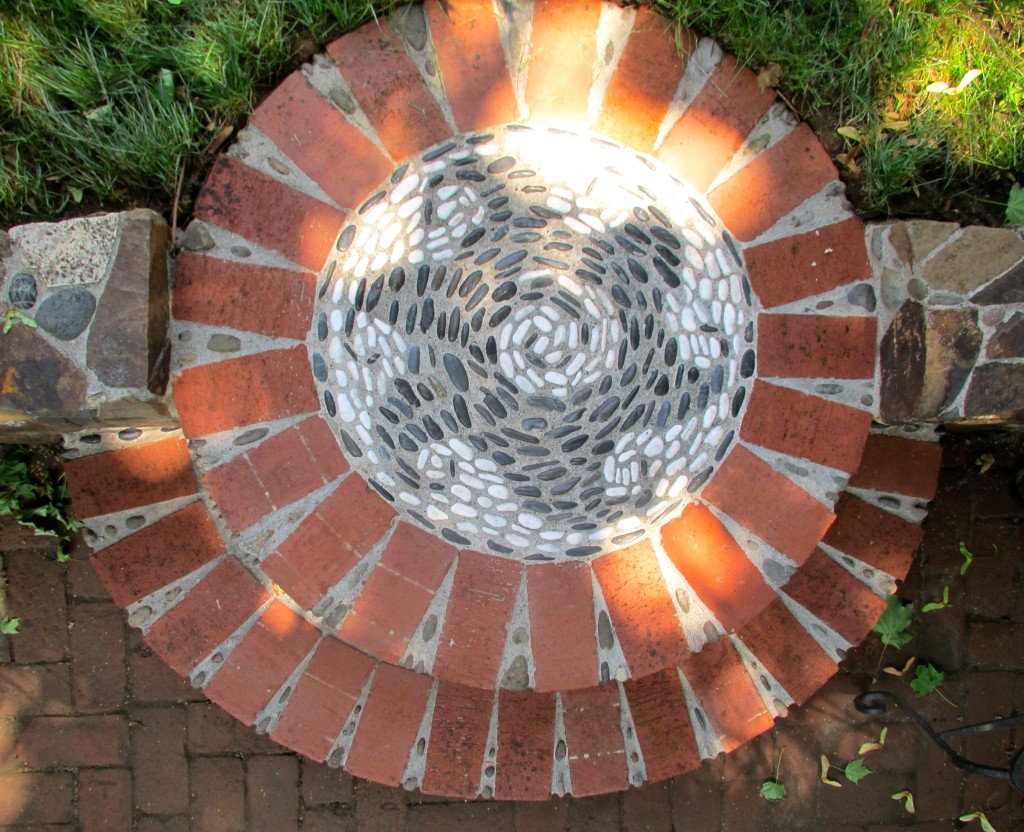 My second example of cleaning instead of replacing is this filthy patio umbrella canopy. My mother, (bless her heart) is not so good about taking her outdoor furnishings out of the elements during the rainy season. (October through mid-July.) So she offered me her old patio umbrella, which was downright nasty looking. Agree?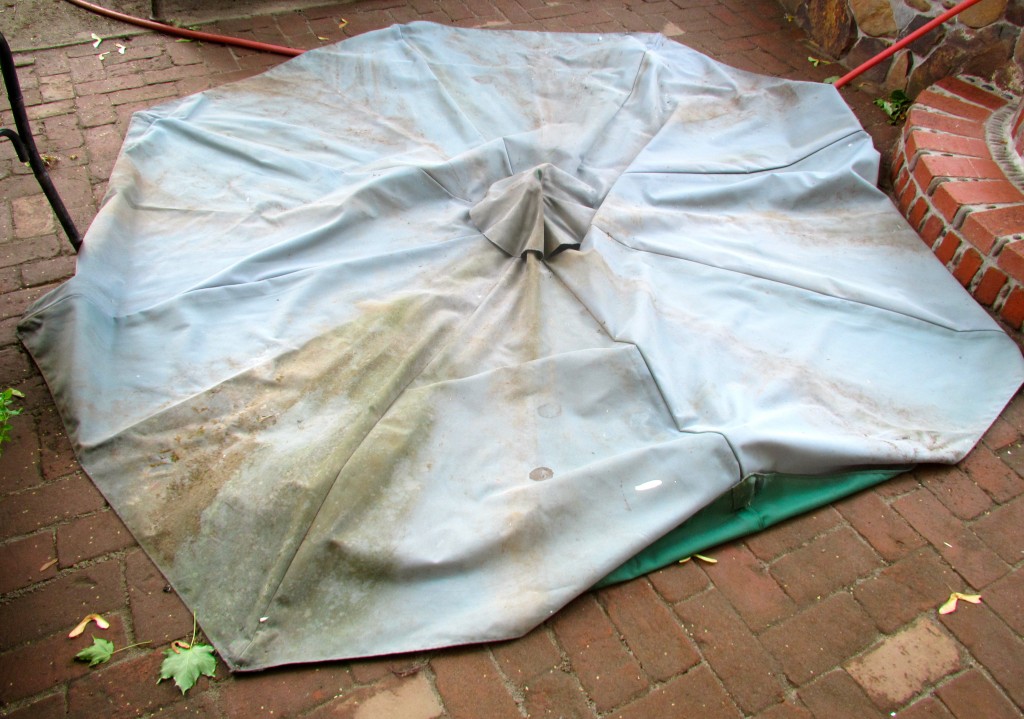 I decided I would run the canopy through the washing machine, which I did adding laundry detergent, enzymatic cleaner and borax and for good measure. I even stopped the cycle for a few hours mid-way so it could enjoy a nice rejuvenating soak. I had thought I'd need to buy a packet of fabric dye to complete its My Fair Lady transformation. But it turned out to be completely unnecessary.
Because all the patio umbrella needed was a simple laundering. It's now in perfect condition, (better than the one I garbage picked last year) and no one will care if the the inner and outer colors show differentiation.
Certainly not me.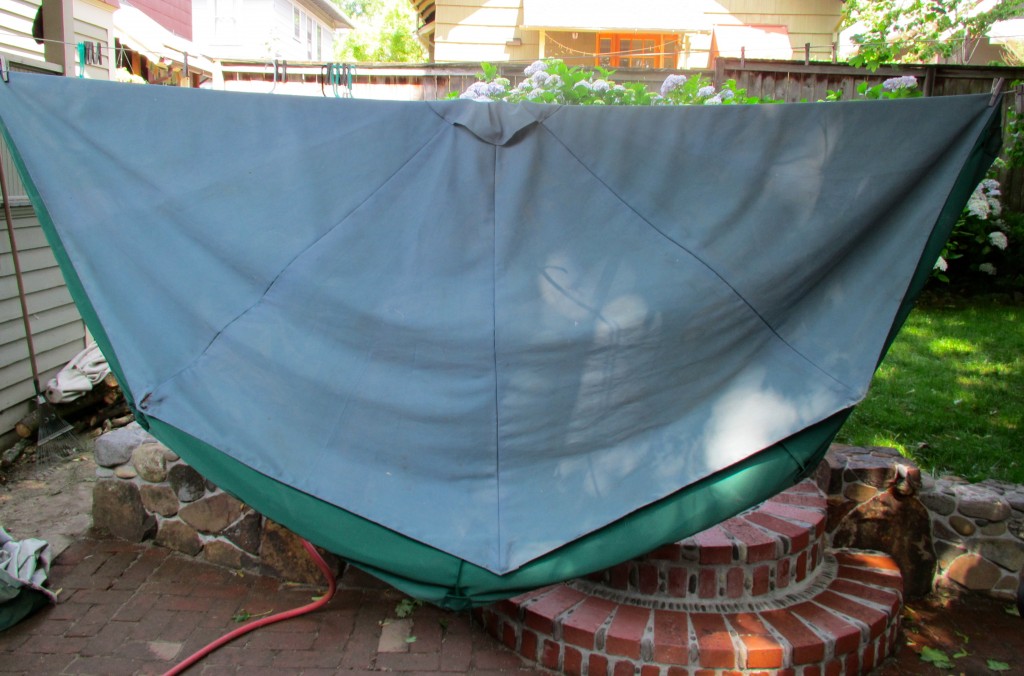 And just for fun, here's a photo of me getting' busy with the power washer, which was super swell fun. (Seriously, it's a blast to use!)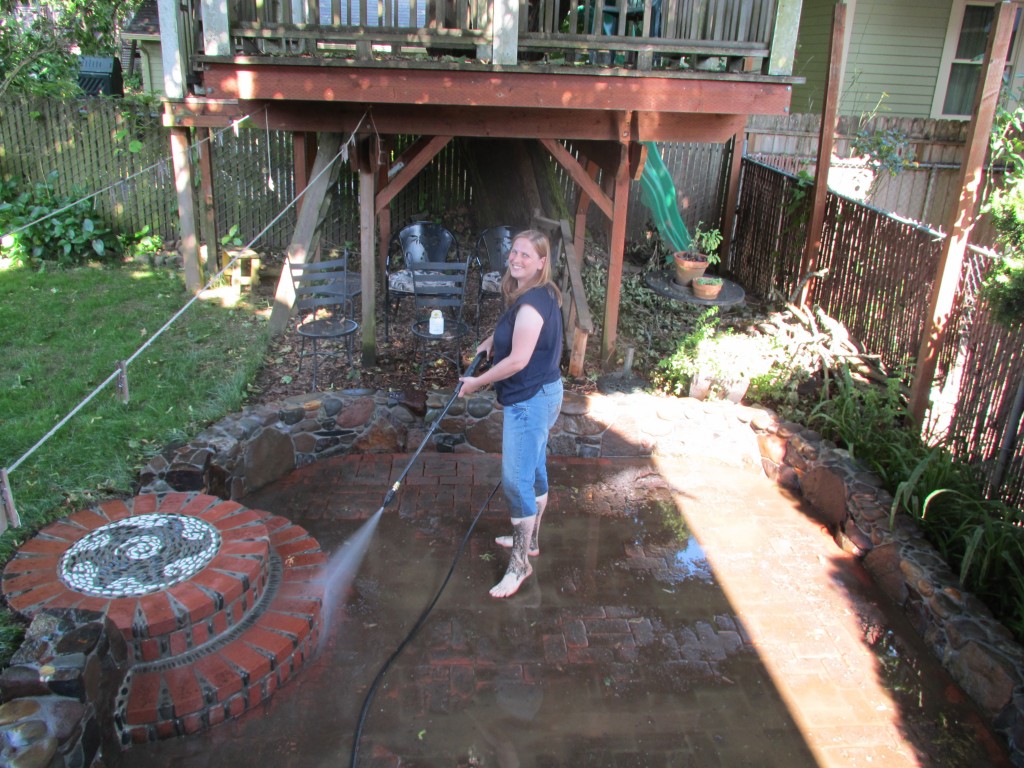 So remember, next time you look at your outdated, filthy or simply uninspiring Stuff, give it a scrub before you give it the ol' heave-ho.
Katy Wolk-Stanley
"Use it up, wear it out, make it do or do without"
Click HERE to follow The Non-Consumer Advocate on Twitter.
Click HERE to join The Non-Consumer Advocate Facebook group.
Click HERE to follow me on Pinterest.