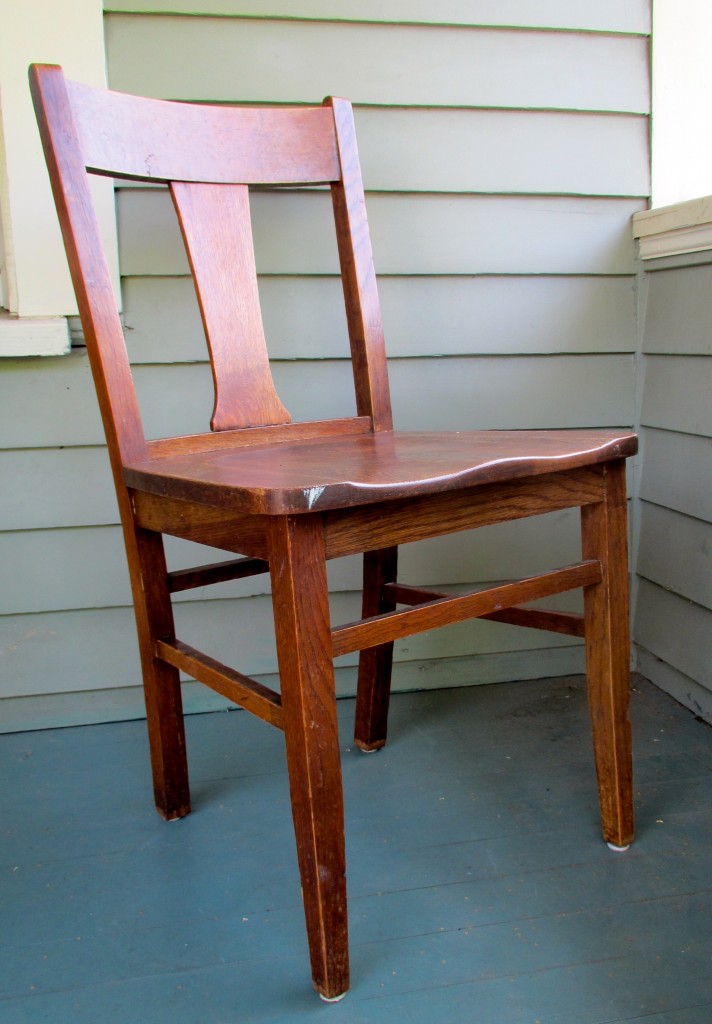 This post came in this morning from Crystal over at the Non-Consumer Advocate Facebook Group:
Total score this morning! While walking our dog (and picking up trash to help clean up the neighborhood), we saw a perfectly good plastic toy wheelbarrow set out by the curb with someone's garbage. My husband and I had just been talking about getting one for when our nieces and nephews come to visit and want to help us in the garden. I told my husband to grab the wheelbarrow and we carried it home. Savings of about $20 over buying new…which we would never do anyway!

Interestingly, I just finishing reading an article about "treasure hunting" (aka trash picking) in The Tightwad Gazette, where Amy listed some of her best finds. It got me to wondering about other peoples' best treasure hunting finds?
Great question, Crystal! Here, I'll start:
My best curbside find was a set of eleven solid antique oak chairs from an old Carnegie library. They were piled with other household goods on someone's porch with a hand lettered sign that read "ARC." (Associated for Retarded Citizens, which picks up donated goods and sells them to for-profit stores like Value Village.) I was on a walk at the time, and by the time I got home I decided I would ask the owners if they would sell the chairs to me. My husband was appalled, as he felt I would be stealing from a charitable organization, but I countered that the owners would be welcome to donate the money to their charity of choice.
I walked back to the house and nervously knocked on the door, where the owner consulted with her partner to come up with the number of $75 for all eleven chairs, which I happily paid. (That's $6.82 apiece.) She told me that her old boss had worked for the library system, and had saved the chairs from being tossed and brought them home, as well as an old library table, which she was keeping. (Needless to say, she was really excited to be getting money for something she thought she was giving away!)
These old chairs look perfect in my 1914 Craftsman-style house, and are sturdy as can be. We ended up using a few of the chairs for parts, as a couple of them were falling apart.
Of course, the chairs aren't exactly a "curbside find," as I paid for them. So I'll share a list of actual favorite curbside finds:
Antique console table.
Antique chest of drawers.
Bag of clothing & miscellaneous stuff which I sold to a resale store.
Wicker plant stand which I sold for $15.
Small metal table which matches my patio furniture.
Countless terra cotta pots.
Black metal arbor.
Rolling cart of drawers.
Antique glass knobs from a broken dresser.
A few nicely framed prints.
A tubular metal papasan chair for my son's room.
Fluffy yellow butterfly chair for my other son's room.
Patio umbrella.
A pair of new-with-tags Levi's which I'll sell to Buffalo Exchange.
A pair of paint splattered Keen Mary-Janes, which I cleaned up and sold for $10.
Bent-wood chair which I painted & reupholstered.
Some cute throw pillows for the settee on my front porch.
Books which sold to Powell's for $18.75.
Recent Sunset Magazines, which included a still-good coupon for free Benjamin Moore paint.
A bedside table, which I painted up cute.
Probably countless other household items.
Whew . . . that's kind of a lot of stuff when added up together! It makes it sound like I'm a big-time hoarder, but I assure you that all of these items are in current use.
Now you, what have been your proudest treasure curbside hunting finds? Please share your stories in the comments section below.
Katy Wolk-Stanley
"Use it up, wear it out, make it do or do without"
Click HERE to follow The Non-Consumer Advocate on Twitter.
Click HERE to join The Non-Consumer Advocate Facebook group.
Click HERE to follow me on Pinterest.