I've been pretty good about not going to Goodwill too often these days. Sure, I possess mad skillz in sorting through the used wobbly Ikea furniture and fake Hummel figurines to find the good stuff, but I also have the self-discipline to walk out empty handed. (An important skill for those of us who do not wish to be featured on Hoarders.) But yesterday's Young House Love blog post about going to Goodwill lit a flame that could only be extinguished with my own thrift shop foray. Plus I recently broke my tea kettle and was needing a replacement, so this trip was a necessity. Right?
The first item that caught my eye was a wool rug with a pretty blue and white floral pattern. I've been keeping an eye out for a bedroom rug, and since this rug had a few superficial stains, I was crossing my fingers that I had found a bargain. (I own a Bissell rug shampooer, so stains are a non-issue.) I unrolled the rug to find that it was from Pier One, and had an original price of $300. The Goodwill price? $149.99.
Pass.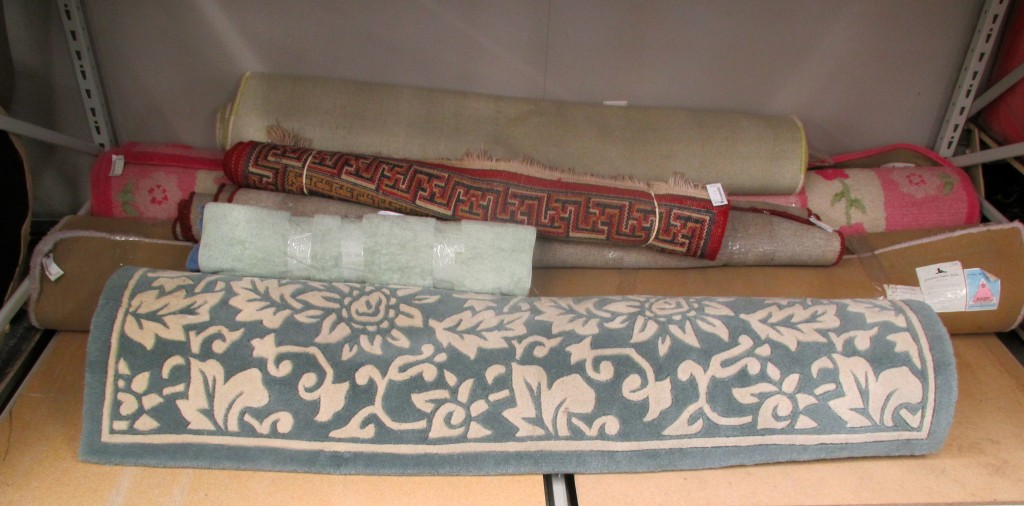 The second item that caught my eye was a large mirrored terra cotta flowerpot. It was pretty much the grooviest thing I'd seen all day. (You know, because my days are filled with nothing but groovy.) It was in excellent condition, but was marked at the non-bargain price of of $12.99. Not enough to force my family out of our house, but hardly a bargain. However, my backyard patio is shaded by the world's largest maple tree and is dark, dark, darkety-dark. And I could totally envisage how this single flowerpot could bring some much needed light into our backyard.
Plus it looked like a disco ball, which was hard to resist. So into the cart it went.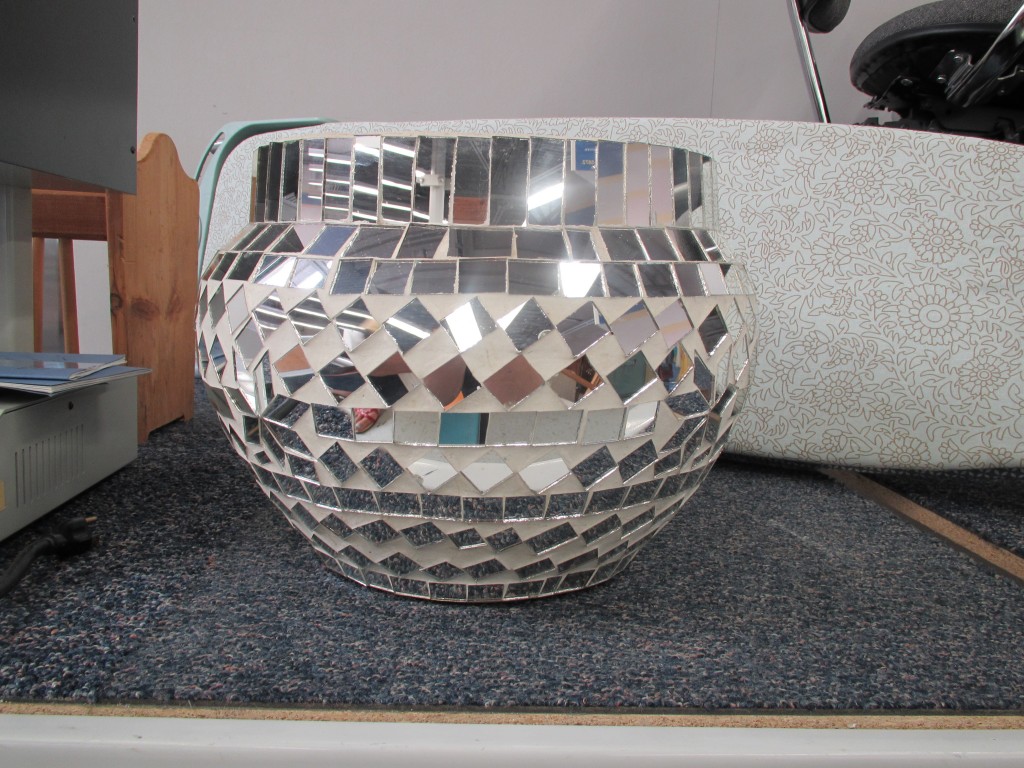 Having fulfilled my quota of expensive heavy unnecessary purchases, I pointed my cart in the direction of the tea kettles, where I came across this sad selection: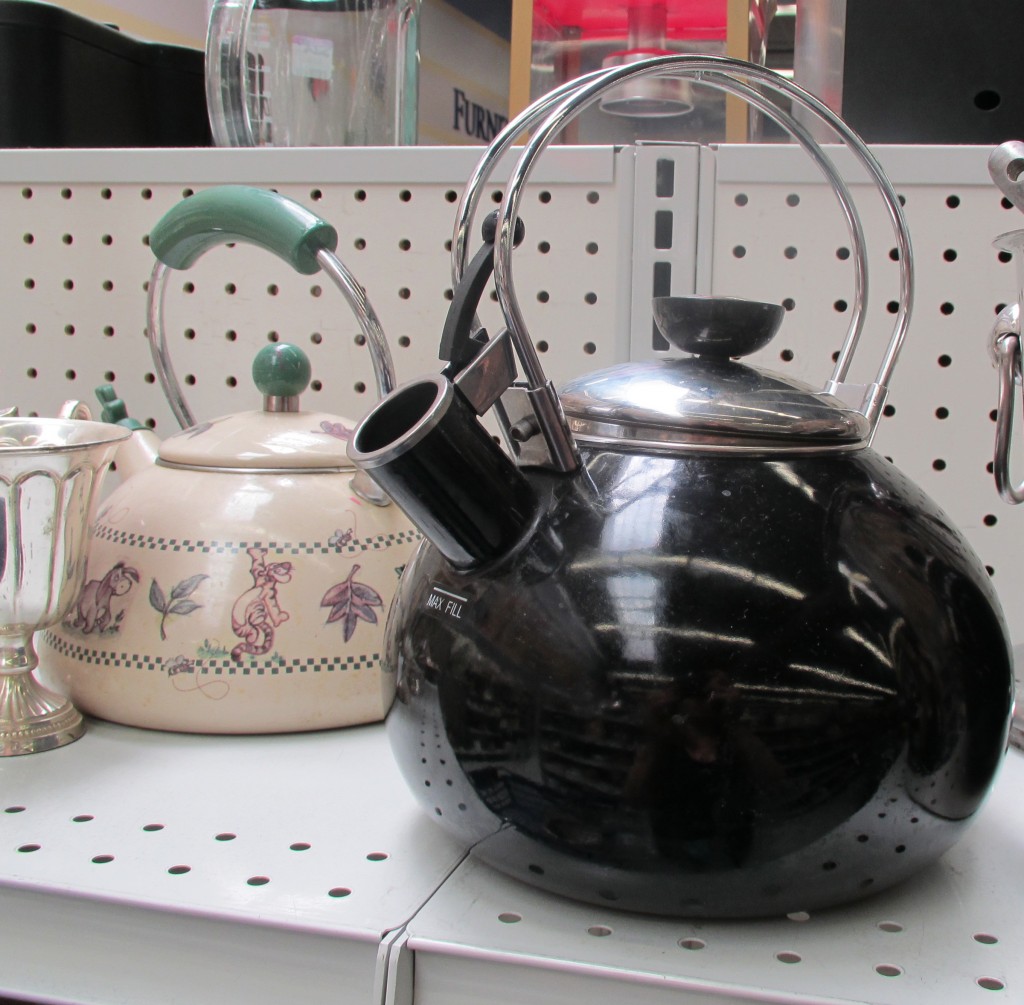 One already broken tea kettle and a Classic Winnie The Pooh kettle. You know, for when you want to make boiling liquids super enticing to children. What's next, Hello Kitty drain cleaner? Needless to say, I bought neither.
I've been keeping an eye out for new condition coasters for making into Mod-Podged gifts, so my eye was drawn to this set: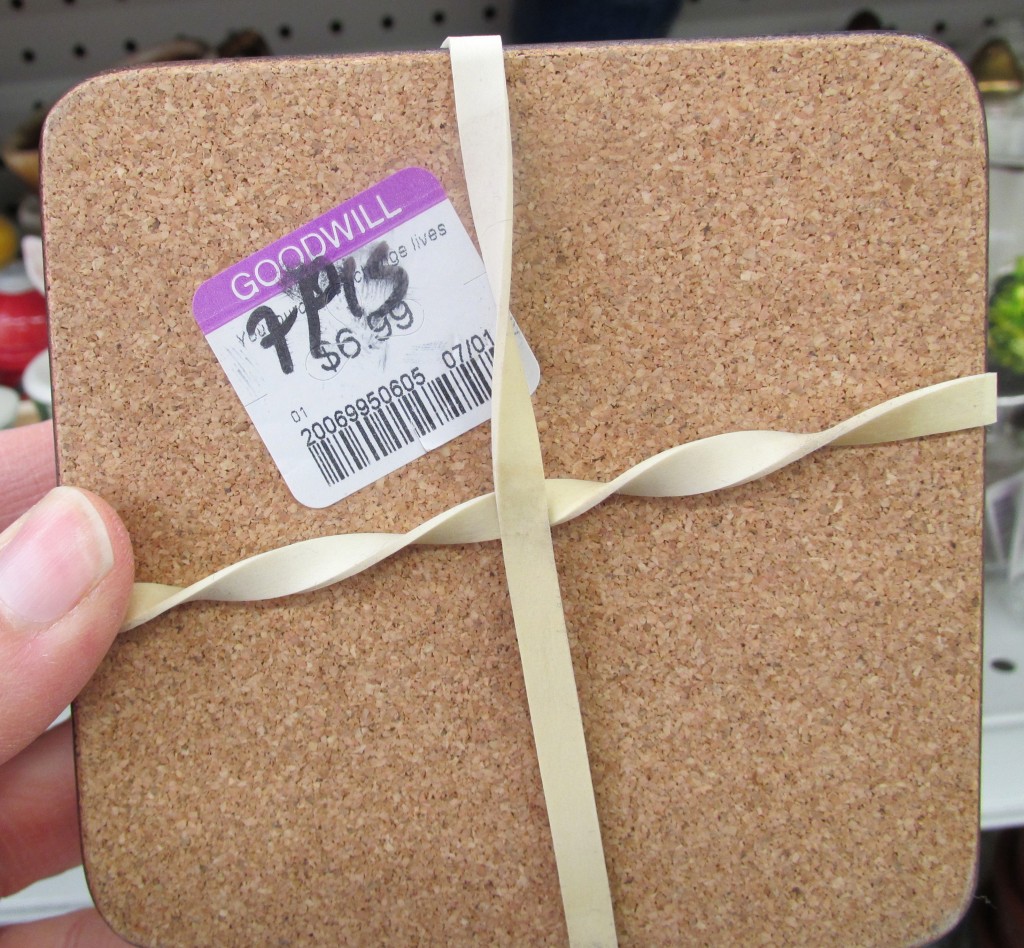 But $6.99 for seven used coasters? That's cray-zay!
Luckily the tide of overconsumption flowed my way, in the form of these still packaged coasters: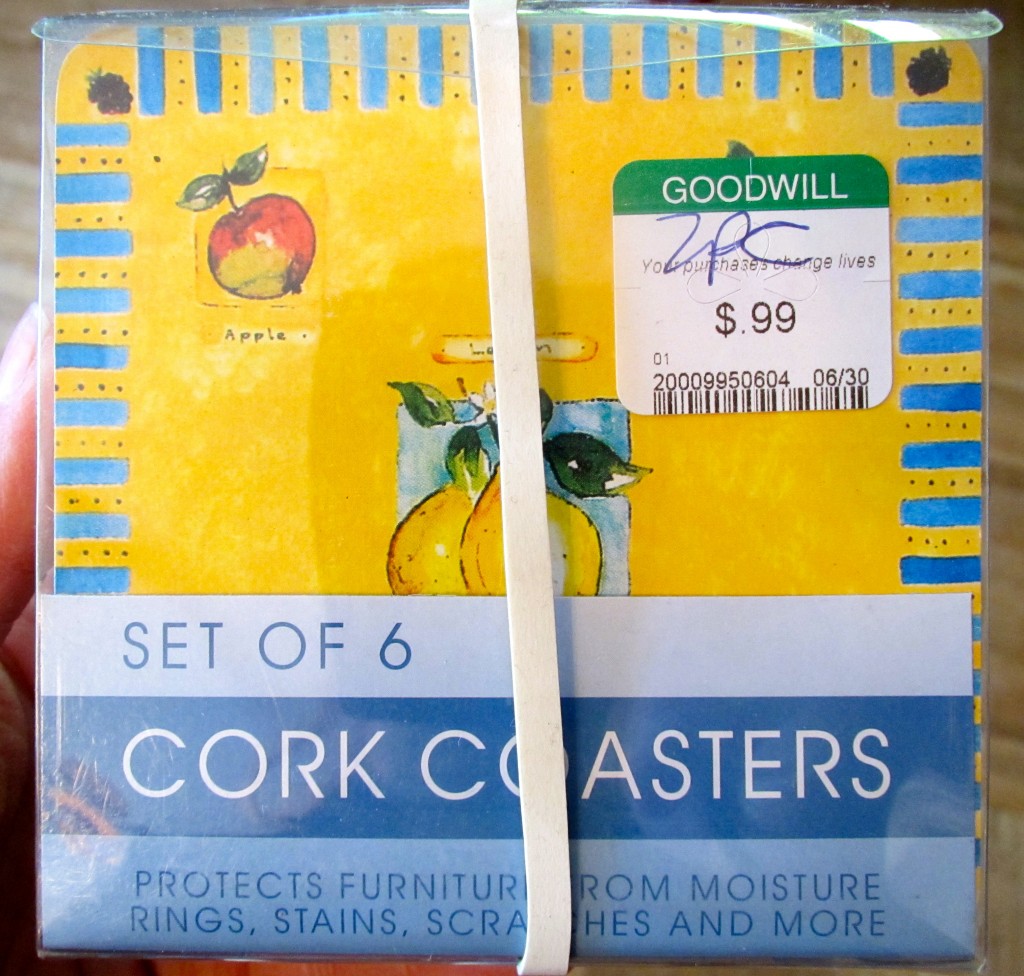 You can't tell from the photo, but that is two, count 'em two sets of six coasters for 99¢. So yes, I did buy these.
I didn't buy anything else, but I did come across these treasures: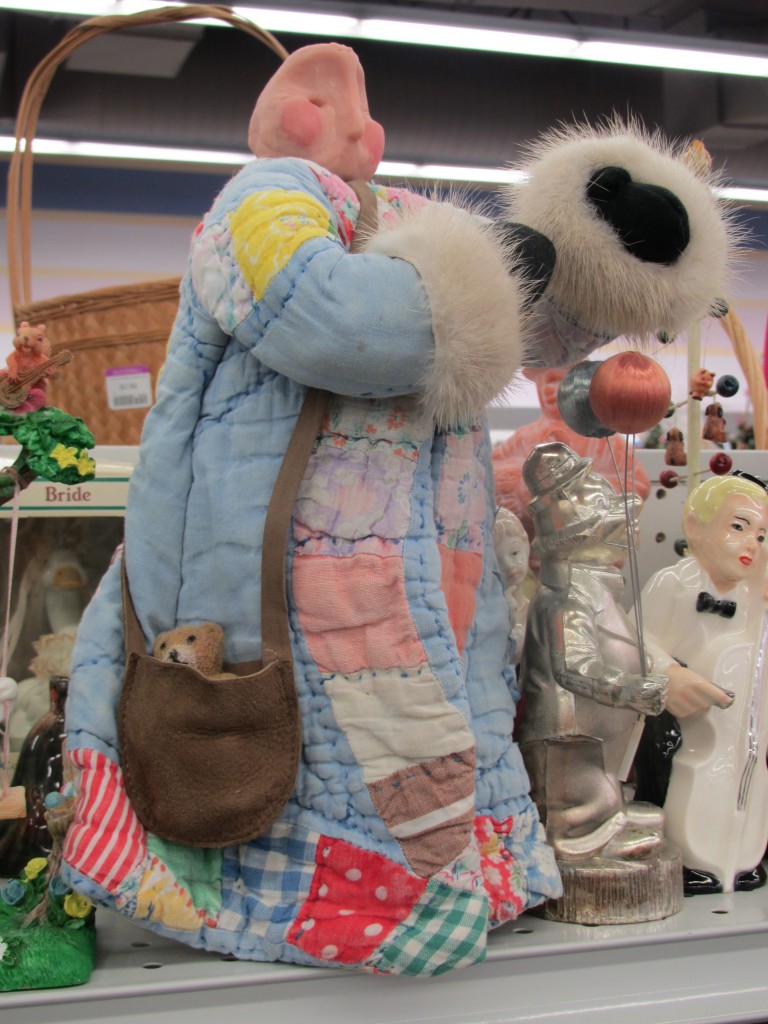 Based on the real fur cuffs and the mittens, I think this figure is a touristy item from Alaska. But was drew my eye was that the full length coat is made from an antique flour-sack quilt. It is so beautiful, yet I have zero use for it. The doll itself is grotesque, but everything else is rather wonderful.
I then spied this Russian nesting doll: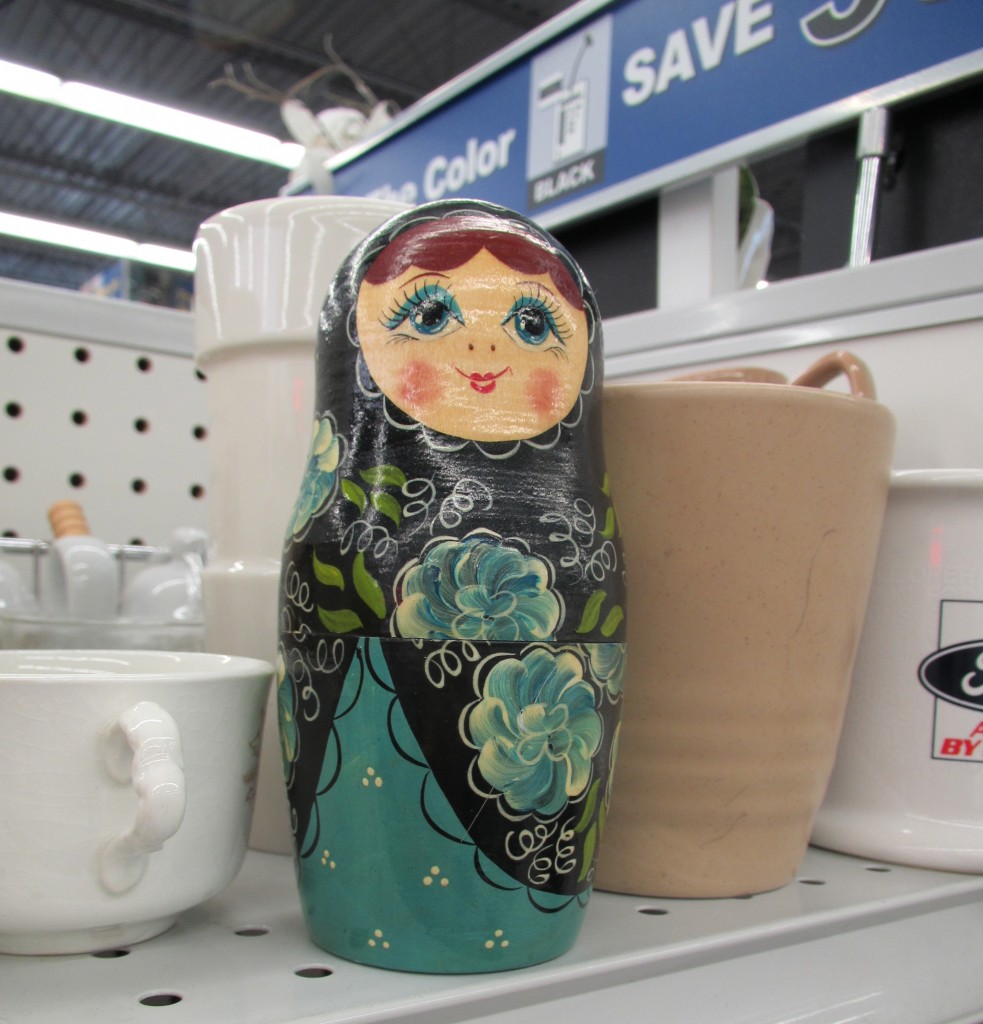 I was curious whether it included the inner dolls, so I opened it up only to find this: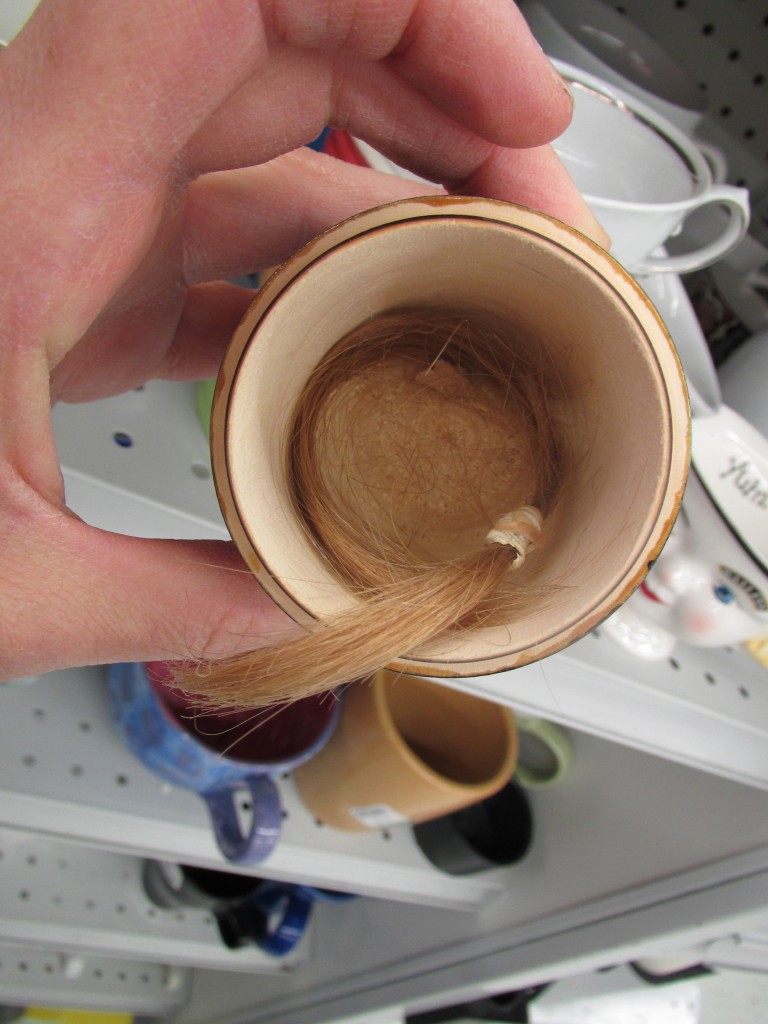 Oh, gag. That is a small bundle of human hair.
At this point I decided that my afternoon at Goodwill was at a close, so I payed my $13.98 and schlepped my heavy purchases to the car. And lo and behold this beauty was parked right in front of me: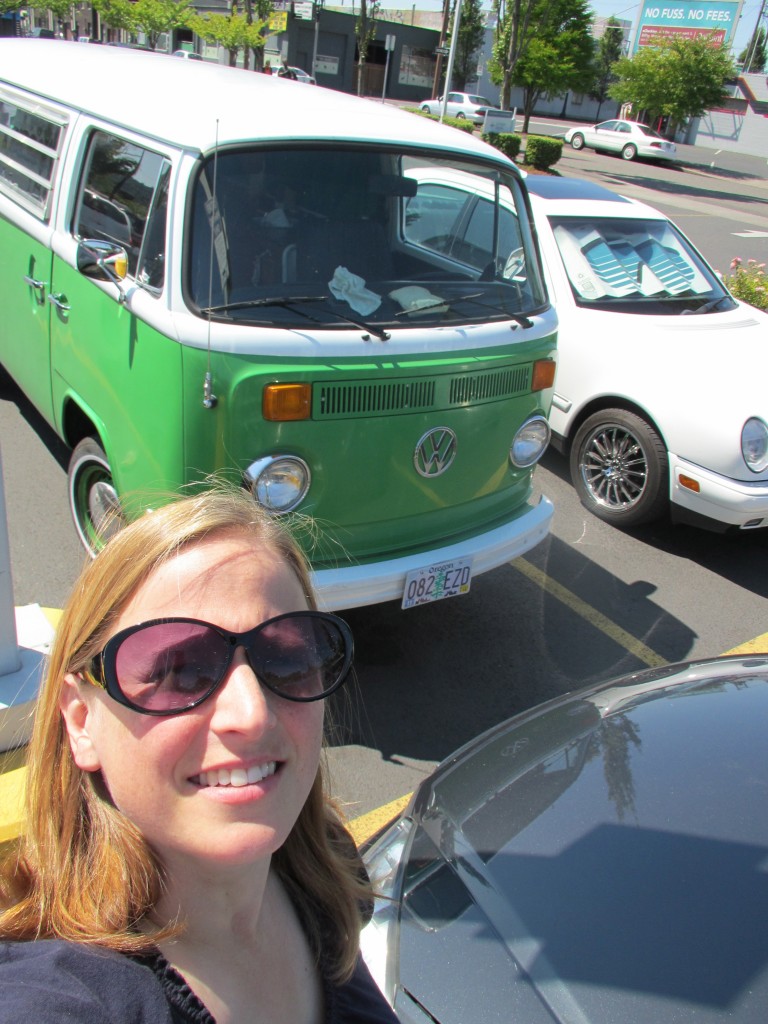 So perfectly kelly green, so perfectly restored, so perfectly bussy. I grew up with a VW bus as our family car. I sat in that thing from Oregon to New York, Oregon to Pittsburgh, Oregon to Nebraska and countless other trips. I even learned to drive on that thing, so VW busses hold a very special place in my heart.
VW busses + Katy = ♥
I am very excited to place my new mirrored flowerpot into my backyard, and will even be power washing the patio today, so the timing is perfect. And the perfect VW bus? It will have to stay living in my dreams.
Are you a lover of The Goodwill? Please share your thoughts in the comments section below.
Katy Wolk-Stanley
"Use it up, wear it out, make it do or do without"
Click HERE to follow The Non-Consumer Advocate on Twitter.
Click HERE to join The Non-Consumer Advocate Facebook group.
Click HERE to follow me on Pinterest.