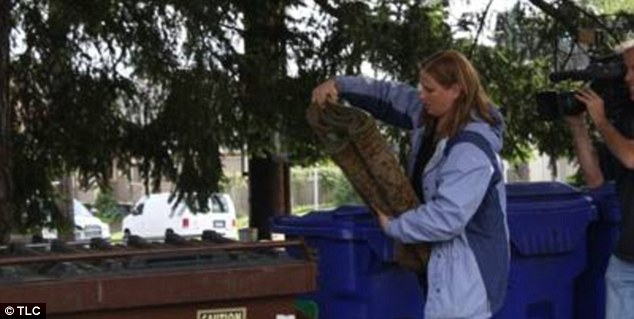 Regular readers know that I was filmed a few months back for a national reality TV show. I was supposed to keep the details on the down low, so I was vague about any details. Then, last week, a British reader spied a newspaper article about the show, which included  a still shot of me dumpster diving a rug. So yeah . . . I figured the secretive part was over, and I announced that I was going to be part of TLC's Extreme Cheapskates.  I did notice that none of the press releases mentioned me, but I figured it was because I was neither weird nor extreme enough to dazzle the media. I was A-OK with that.
The filming experience was certainly interesting, and the actual crew, (many of them local to Portland) were all very nice, especially the director. I enjoyed seeing my kids get comfortable being on camera, and thought it was funny when the director complimented me, saying I was a "good actor,"  to which I replied, "don't you mean sociopath?" Because seriously, pretending to be yourself is as weird and surreal as can be. A socially acceptable personality disorder in modern day society.
But I got a phone call yesterday from someone at the production company telling me that my entire segment had been cut from the show. I had her repeat the news, because I couldn't believe that I had turned over my entire home and family for two 14-hour days for nothing.
Nothing.
I am not looking for fame, and frankly, was less than pleased when I heard the title of the show, as I am neither "Extreme" nor am I a "Cheapskate." In fact, the production company refused to even tell me the title of the show until I was well into the process of participating. The only way I was able to glean this information was to trick a lowly production assistant into spilling the beans.
The person on the phone, (who I had never dealt with before) told me that my segment might be included in a future episode if the show is picked up as a series, but at this point I really don't care either way.
I had hoped national TV exposure would bring new readers to the blog, and even help to get that elusive book contract. I was not looking for a spot on The Real Housewives of Portland. (Can you imagine it? It would hilarious!)
So I'm back to actual reality again. Picking up change, (I found $3.14 yesterday) finagling great free stuff, reselling Goodwill finds and  chilling out with my terrific teenage sons.
Frankly, a much better reality.
Katy Wolk-Stanley
"Use it up, wear it out, make it do or do without"
Click HERE to follow The Non-Consumer Advocate on Twitter.
Click HERE to join The Non-Consumer Advocate Facebook group.
Update: After watching the show I am *really happy* to have not been included in the show. I think I totally dodged a bullet!