The following is a repeat of a previously published post. Enjoy!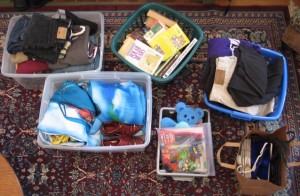 I have been slowly, but steadily working to declutter my house, and as always, if I can combine an activity with income revenue, all the better.
I had sold a few big tickets on Craigslist (snowboard equipment, dress ups and a twin bed) over the past few weeks, which brought in $240. I'd also taken two laundry baskets full of kid books to Powell's bookstore, which earned $10 for each of my sons. (They bought about a third of them.)
So today, I drank an extra shot of liquid courage, (Red Rose tea) and attacked the boys' closets. My 14-year-old son has a huge closet in his room, which means that it doesn't need to be gleaned all that often. This also means it can fill up with clothes he would not wear in a million years, which makes it hard for him to find the clothes he actually likes.
I pulled everything out from the closet and laid it across the bed. This included all the empty toddler size hangers as well as the hand me downs my son would rather die than be caught wearing, (Land's End wide wale courduroy elastic waisted pants with extra fabric across the knees.) I decided which color hanger we had the most of (dark green) and set aside all the rest. I then ruthlessly culled the clothes that, while perfectly good, and often in like-new condition, would never get worn. This was at least 75% of the content of his closet.
I chatted with my Seattle sister while decluttering, and she begged and pleaded with me to set all the pants aside, (her ten-year-old son is not picky about clothes) but my goal here was to get this stuff out of the house. Out. Out! Not set aside — Out!
I then pulled all the clothes from my 11-year-old son's closet and went through the same routine, (he got the blue hangers!)
I organized the clothes into bins for the consignment shop and Goodwill and even grabbed a few extra items like child size Harry Potter sleeping bags, the toddler size hangers, some toys from cleaning out my younger son's room and the laundry basket of kid books that Powell's had rejected.
I am excited (and frankly, surprised) to announce that the children's consignment shop took almost all the clothes, all the hangers, about half of the books as well as the sleeping bags! I won't realize any profit until the stuff sells, but I'm in no hurry.
And really, I have met my goal of Crap out of the house, money in!
And not to toot my own horn, but I batched a few errands since I was driving across town, and bought tons of yummy food at the Grocery Outlet, (including beautifully packaged salmon and organic chai chocolate bars for the Japanese host families) and hormone free milk at Trader Joe's. I hung two loads of laundry to dry, and will be taking my older son to pick up his glasses, which are finally ready.
I will sleep well tonight.
Katy Wolk-Stanley
"Use it up, wear it out, make it do or do without"
Click HERE to follow The Non-Consumer Advocate on Twitter.
Click HERE to join The Non-Consumer Advocate Facebook group.
Click HERE to follow me on Pinterest.