I took one of my frequent walks to Fred Meyer last night to pick up milk, eggs and carrots. I knew it was too late in the day to snag one of their clearance priced milks, so I resigned myself to paying full price for this all important staple. (The horrifying thought of drinking my morning tea without milk is a highly motivating factor!)
I pushed my cart over to the dairy section and grabbed my milk and then crossed the aisle over to the eggs. I looked at the price-per-unit price for the dozen vs. the 18-pack and noticed (once again) that the price is essentially the same. Then a small display to my right caught my eye. A hodgepodge shelf of eggs that were marked as "repackaged," as well as being discounted.
Hello!
Most grocery stores throw away cartons of eggs if there's anything wrong with even a single egg, so I was mightily pleased to discover that my grocery store is working to avoid food waste.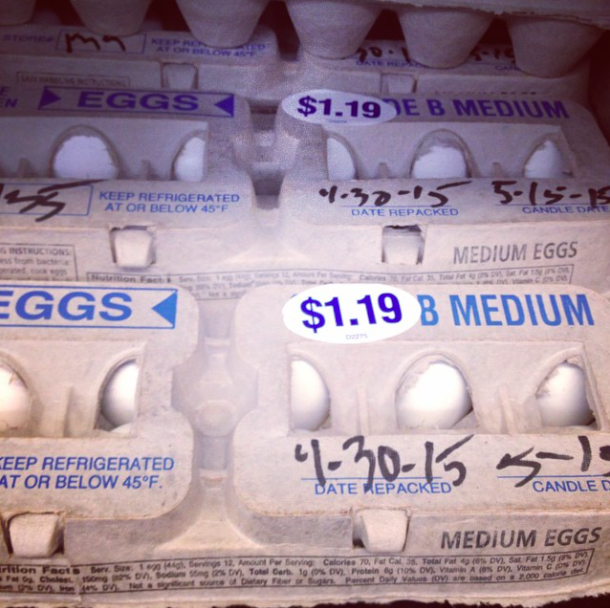 Especially since this single 99¢ carton was lurking in the back. Do you see that half the eggs are brown? Which means they're likely from a free-range/organic pack.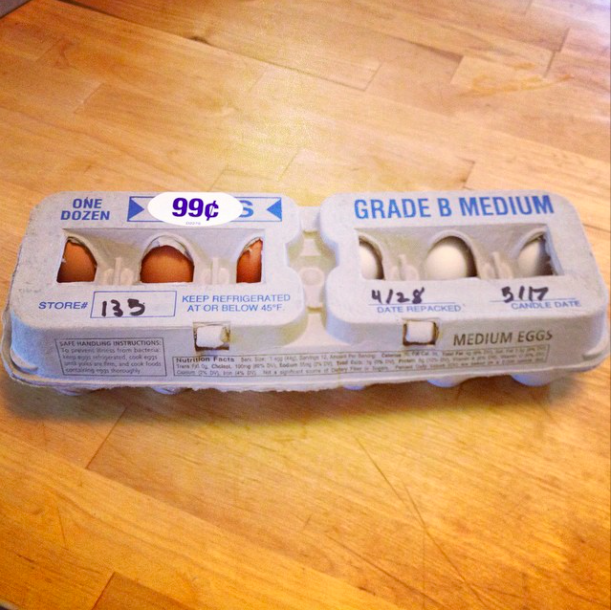 I bought two dozen eggs, which saved me a dollar. A dollar which is now available to be spend in a more meaningful manner. Like sending my sons to college.
Save on the small things, and your money will be available for the big things in life.
Katy Wolk-Stanley
"Use it up, wear it out, make it do or do without."
Click 
HERE
 to follow The Non-Consumer Advocate on 
Twitter
.
Click 
HERE
 to follow The Non-Consumer Advocate on 
Instagram.
Click 
HERE
 to join The Non-Consumer Advocate 
Facebook
 group.
Click 
HERE
 to follow The Non-Consumer Advocate on 
Pinterest.
– See more at: https://thenonconsumeradvocate.com/#sthash.fgrb9gzD.dpuf