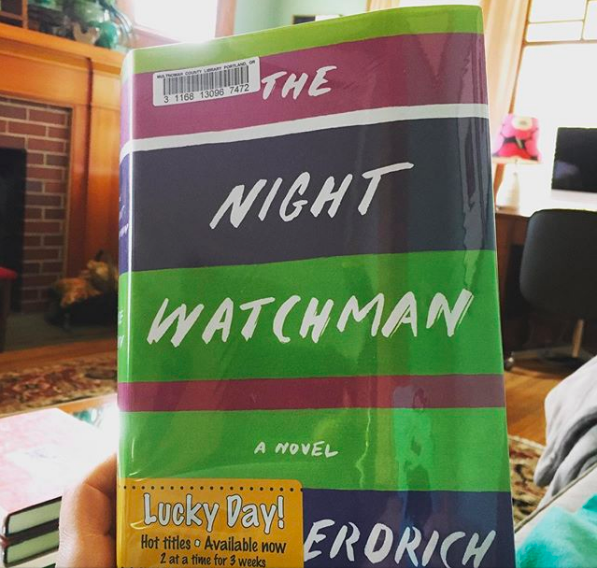 I haven't sold much over the past week or so, which I believe to be due to people's understandable focus on Covid-19 rather than the accumulation of cool quirky vintage items. (Hardly a priority right now!) However I did sell:

• A midcentury dining room chair.

• A lot of embroidery floss.

• A Pendleton travel mug.

• Two double sets of high-end ski gloves that I pulled from a neighbor's free box.

Supposedly I have someone coming by today to buy a jumble of Thule bike rack pieces that I brought home from that same neighbor's free pile. Although I know from experience to not count my chickens before they hatch. Edit: They just now picked everything up!

I haven't been stocking up on groceries any more than usual, although we probably have enough on hand for a couple weeks of meals, especially if we relax our standards about what passes as a normal meal.

"Lasagna with shredded white chocolate chips instead of mozzarella? Okay!"

I'll let you know if we dig into the three jars of handmade fig jam from 2019, 2018 and 2017 from my husband's co-worker.

I really don't like the texture of fig jam!

Portland's brick-and-mortar library system is closed for an indefinite amount of time, (snif!) but their digital services such as Libby and Kanopy continue to serve patrons.

I have three physical library books at the moment, although my focus is pretty scattered right now, so I'm not sure how much reading I'll be doing. I got twenty pages into a library copy of The Night Watchman by Louise Erdrich last night, and will try to prioritize taking time to read, as I've found that I do best when I read in big chunks rather than starting and stopping.

I also have a few meaning to read them books that deserve a bit of love and attention.

Luckily we have Netflix, my mother's Amazon Prime, a friend's Hulu and our own CBS All Access. (Star Trek: Picard!)

My son is coming home from college today for an unspecified amount of time. We'll still have to pay his rent, but it'll be cheaper for him to eat home cooked meals than to pay for separate groceries. This is the only silver lining, (and really only the tiniest sliver) to his university putting all classes online.

I already know that my son is going to be super bummed to spend an extended time away from his friends and community.

My 84/almost 85-year-old father came over for lunch on Friday. We normally walk to a nearby popular Mexican restaurant, but both felt it would be best practice to avoid crowded areas. Instead recreated his normal "Bryan's Bowl" order and presented it as a "Tony's Bowl."

This dish varies seasonally, (as it always includes lots of fresh veggies) but mine consisted of pinto beans, black beans, rice, avocado, sautéed onions and peppers, roasted sweet potato chunks, tortilla chips, cilantro, salsa and avocado salsa. Very frugal, certainly filling and societally responsible.

I didn't buy a Lear Jet or a vulgar gold-plated apartment in the sky.
Now your turn. What frugal things have you been up to?
Katy Wolk-Stanley    
"Use it up, wear it out, make it do or do without."